Rabbit vibrators are fun and all, but sometimes they can get a little uncomfortable to use. After all, everyone's clitoris and G-spot are in different places – there is no one-size-fits-all solution.
Until the We-Vibe Nova came along.
The We-Vibe Nova has a unique flexible design to its clitoris vibrator – allowing you to massage your G-spot deeper and deeper while enjoying comfortable vibrations on your clitoris at the same time.
This can lead to an intense "blended orgasm" between the 2 pleasure zones.
Sound good? Let's get into this We-Vibe Nova review!
Who Are We-Vibe?
We-Vibe has been on the leading edge of couples vibrators and solo toys for many years. They've won a variety of different awards in the past including the XBIZ 2018 Best Couples Sex Toy Award and the AVN Awards 2018 Best Pleasure Product Manufacturer Award. 
They always have something cool to offer.
Many of We-Vibe's toys are app-enabled and interactive, including the Nova. This makes them great to use for both solo and couples play – you can control your partner's pleasure from your smartphone! 
Unsure if the dramatic curve and firm body would be pleasurable or painful, I had no idea what I was holding until I pressed the power button. 
Wow.
The soft silicone ultra-curved clitoral head of the Nova makes a deep c-shape that provides a unique and rumbly vibration deep into your body. 
My legs were shaking!
Pros and Cons for this We-Vibe Nova Review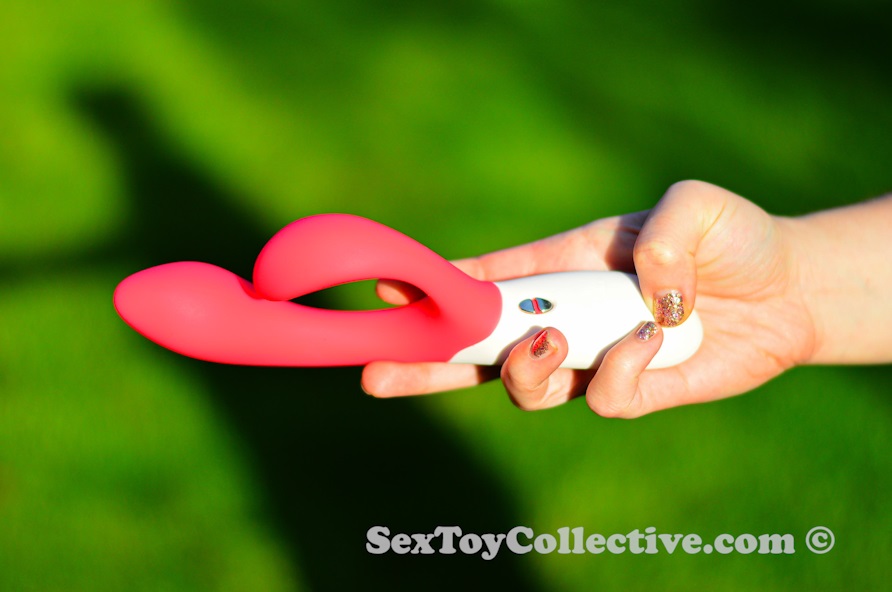 Pros: 
Flexible clitoral stimulator bends & presses against lots of skin
Waterproof – perfect for the bath or shower
Silicone is body-safe & easy to clean 
App-enabled so great for long-distance play
USB charged, so no fuss with batteries! 
Rabbits are often hard to thrust with – Nova is curved so you can thrust! 
Whisper-quiet so you can enjoy this toy anywhere
Cons: 
Only comes in pink – not everyone's thing
Shaft of Nova is very firm and stiff, not squishy or soft
You can only use water-based lubricants with silicone toys
How Is the Nova Different From Other Rabbits?
The irritating limitations of rabbits often frustrate me. Despite them being designed for dual stimulation, if you are someone who enjoys thrusting, there are limitations with normal rabbits on the market. 
Thankfully, We-Vibe listened to our prayers.
This rabbit has dual motors that I could control independently or through the app. The rumbly powerhouse behind the motors curved perfectly for my body and, instead of poking against my skin, the clitoral attachment curved and rounded against me. 
For the first time ever, I could thrust with a rabbit!
The We-Vibe Nova is actually classed as "Best Rabbit" on our Best Vibrators page!
Unique and Flexible Design
The bulbous and gently tapered head of the shaft measures in at 1.3 inches and an insertion of 3 inches. The Nova is pressed firmly against your G-spot. 
The clitoral vibrator mixed with the thrusting vibration of the curved shaft brought me orgasms hard and fast, leaving me staring at the toy in wonder and confusion. 
What magic was this? 
You can explore 10 pre-made vibration modes or hook it up to the We-Connect app for limitless vibration patterns and couples control!
Things to Consider Before Purchasing a We-Vibe Nova 
You might read this We-Vibe Nova review and get excited to buy this toy, but there's some things to consider first!
It's Extremely Powerful
If you are new to dual stimulation toys, it's important to know that the Nova is incredibly powerful. They're not messing around with this toy.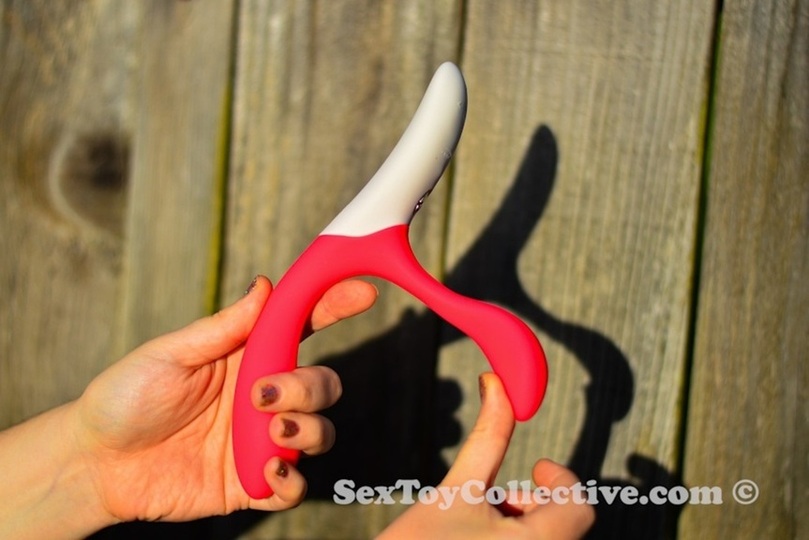 The clitoral attachment moves and bends with your body, providing consistent vibration against you. The G-spot head is also easy to move against your body internally and the two feelings mixed can be quite overwhelming. 
It's important to explore the different vibrations separately before jumping in head first! 
You Should Probably Download the App
If you're worried about navigating an app-enabled sex toy for the first time, don't be! 
The We-Connect app is very easy to navigate and the added settings it provides are more than worth it. You can use this toy without downloading the app, but you'd be missing out on the full experience.
You Might Become Addicted To It
Nova is a dual stimulation toy that gives you a lot of jello-legged fun, and I highly doubt I'll reach for another rabbit so quickly after experiencing it. 
So yes, it's a little addictive!
What Makes The We-Vibe Nova So Good?
App-Enabled – orgasm through your smartphone
You can connect the We-Vibe Nova to the We-Connect app to unleash all its possibilities. So not only can you control Nova from the app by yourself while you're playing, but you can also allow someone else to connect with your toy through bluetooth. 
The app allows you to explore different patterns that you can create yourself, or that others have created. You are also able to drag your finger along the screen and control both different motors from the app with ease. 
Sync sex toys with your long-distance partner(s)
You can sync more than one toy to the We-Connect app, so if your partner(s) have one of their own sex toys from We-Vibe, you both can play together over Wi-Fi! 
We're living in the future.
Directly bringing pleasure to your partner from across the world (or even just across town!) is something I desperately wish I had in past relationships. 
The app is quite easy to connect and navigate and I experienced little to no issues with connectivity during play. If you find a pattern or setting that you both enjoy, it can also be saved on the app and used at a later time when you desire. 
Curved Body & Flexible Clit Stimulator for intense orgasms
The We-Vibe Nova has a curved clitoral stimulator that moves against your body as you maneuver and thrust. Not only that, but the external clitoral vibrator is large enough to cover more area of skin than normal. 
The rumbly vibrators and flexible body contour to you as you play. This allows you to thrust to your heart's content! 
This design is incredibly inventive and unlike anything I have ever experienced from a rabbit before. Nova is a creature of its own and I cannot rave enough about the deep, rumbly vibrations. 
Nova promises a powerful orgasm! 
Waterproof and Body-Safe for peace of mind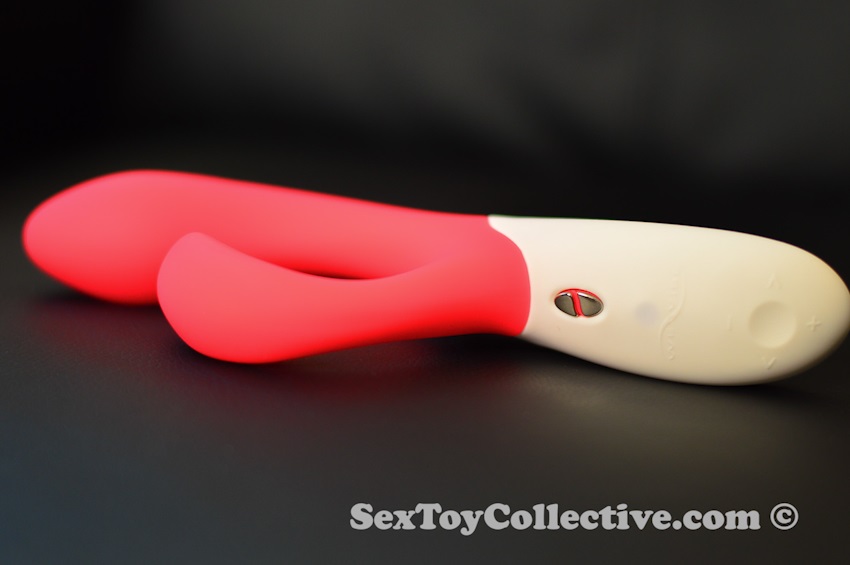 The We-Vibe Nova is completely covered in body-safe smooth silicone which is non-porous, so it can be fully cleaned of all bacteria. 
There are no little nooks and crannies on the toy where your sexy juices can hide. 
Also, because it's completely submersible and waterproof, you can really ensure it's clean. You don't have to worry about breaking the electronics when cleaning the toy with water.
Oh, and don't forget shower and bath time fun!
Whisper quiet for discreet play
Nova's powerful vibrations are whisper-quiet, so there's no fear if you have roommates or are wanting to stay private with this toy.
To be honest, I don't know how they hide all that noise!
So whether you're in the shower or your bedroom, turn it up to high. Once you know you can handle Nova, it does not disappoint and won't give away your naughty little secret. 
Other We-Vibe Nova Review Snippets
It's important to weigh other opinions of toys before purchasing. That being said, it was incredibly hard to find other reviewers that had anything but positive things to say about this delightful rabbit! 
Take a look at some of these We-Vibe Nova Review snippets:
"The We-Vibe Nova is easily the best dual-stimulation vibe I've ever tried, and the one that gives me the best, most consistent orgasms." – Girly Juice
"The We-Vibe Nova is, frankly, revolutionary in the world of rabbit vibrators. Its design successfully enables you to keep contact with your clitoris while thrusting, which is novel for me. And, thanks to its strong, rumbly vibrations, orgasms can fly freely here." – Miss Ruby Reviews
"Let's say that We-Vibe incorporated their renowned, rumbly bullet motor in a generically shaped rabbit vibe, and called it a day. Nobody would have been upset if they did that. But We-Vibe didn't stop there. They listened to sex geeks' gripes about rabbit vibrators and made one whose awesomeness doesn't end on paper." – Super Smash Cache
The Final Word – Should You Buy This Sex Toy?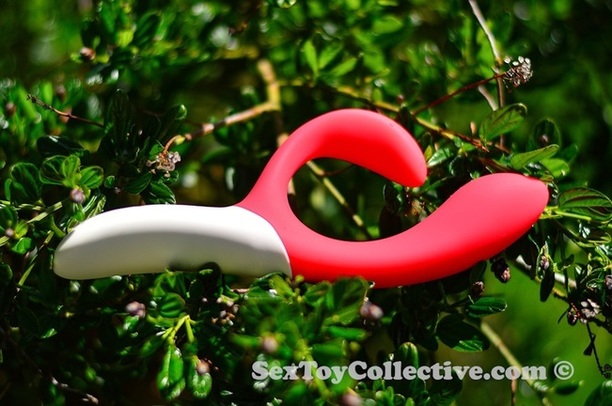 The We-Vibe Nova does everything I've always wanted a rabbit to do. It gives you the control to summon vibrations from both motors at the same time (or each separately) AND it's app-enabled too? 
This toy impressed me immediately.
The Nova produces deep, rumbly vibrations that easily drove me to orgasm over and over again. The handle was easy to hold when thrusting and the flexible clitoral head rolled over me with ease and perfect pressure. 
I thought I was an expert in G-spot play, but it was the tip of the iceberg!
Overall, I'd recommend this toy to anyone looking to up their dual stimulation toy game and get some more punch in their vibration. I also praise We-Vibe for the easy to navigate We-Connect app that allows for a simple and enhanced experience. 
So yes, you should definitely get the We-Vibe Nova!
I hope you enjoyed this We-Vibe Nova review!