Rule 34 on the internet states: if it exists, there's porn for it.
With that maxim in mind, it's no surprise that when VR tech became commercially available, so did adult VR movies. But instead of doing your thing with a handful of VR pornstar videos, consider taking a look at the best VR porn games available in 2023.
From stunning 8K visuals to hentai ladies lusting over you – here's our favorites list.
First Look At Best VR Porn Games
1. DezyRed – Best VR Sex Game Overall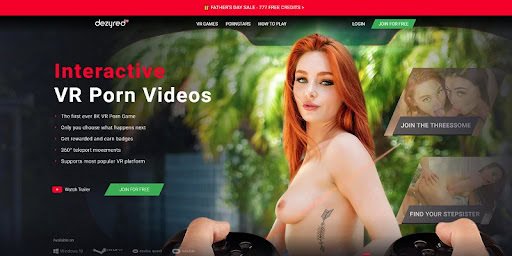 Pros
Supports up to 8K resolution

Play with adult industry superstars

No monthly membership needed

Various payment methods available
Cons
Small game library until now

Requires separate app to launch game
Compatible with:
HTC Vive Pro

Oculus Quest/Quest 2

Oculus Rift S

Microsoft MR
Price: Credit-based, priced at $20 to $100, depending on bundle size.
Genre: Sex simulator
DezyRed is one of the best VR porn games, a trailblazer in the industry, counting itself as the first-ever 8K VR porn game. There's no denying the publisher and its developers have uncovered something truly revolutionary here.
DezyRed lets you take complete control of the in-game scenario, whether you want to see some hot VR bodies or try a virtual reality threesome. Immersive and entertaining, this kinky virtual world puts you in command of how your partner pleases you and is an absolute joy to play. 
Instead of 3D virtual reality porn models, DezyRed's titles use FMV technology, starring A-list porn stars like Angela White, Lacy Lennon, Kyler Quinn, and Cecilia Lion.
DezyRed's freemium structure means you can create an account and play the games for free.  
For new scenes with different positions, though, you will have to purchase them separately using DezyRed's sex game credits.
DezyRed is super accessible, as it's got great headset compatibility, as expected of most performing best VR porn games. A sweet bonus feature even lets you play their games on a 2D screen for those lacking the goggles. 
Click Here to Start Playing this Top Virtual Reality Sex Game Today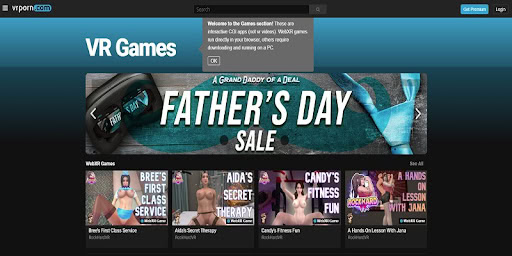 Pros
100% 3D experience

Super customizable features

Complete with voice acting

Free with a VRPorn.com subscription
Cons
Premium VRPorn.com account required

Outmatched by paid VR games on platform
Compatible with:
Price: $7.95 to $19.95 per month
Genre: Virtual reality girlfriend simulator; VR sex simulator
Not only are VRPorn.com's best VR Porn games an excellent virtual-world game gallery but also an online hub for sexy VR experiences. Notably, the site is a superstore for indie porn game developers to showcase their works.
We managed to whittle down the cream of the crop to 3 titles in their virtual reality sex game library: Captain Hardcore, Virt-A-Mate, and Slaves of Rome. 
Captain Hardcore is great, but the graphics on this sex robot simulator are lacking. Slaves of Rome is an amazing "waifu" sex simulator, but it leans heavily toward old-school RPG mechanics. 
Ultimately, we chose Virt-A-Mate as the best VR porn game to check out here. 
Compared to other erotic games out there, the graphics are top-notch. This virtual girlfriend simulator can cater to both fans of VR hentai games and those who prefer more realistic 3D models.
What makes this one of the absolute best VR porn games right now is the amount of customization it offers you. The VR sex simulator allows you to tailor everything from different scenarios to building your character models.
We do love a personalized virtual reality porn session.
Lastly, it's compatible with all major VR goggle brands, from the HTC Vive to the Oculus Quest. Hell, only Google Cardboard users are the ones left out of the fun here!
Play this Engaging VR Sex Game Here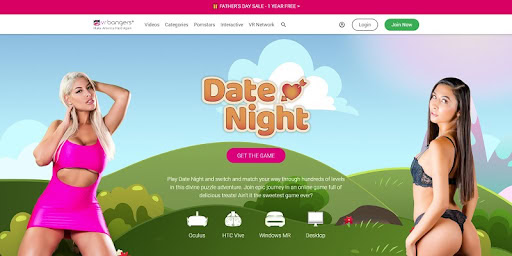 Pros
Comes free with VRBangers subscription

Fun VR game

4K quality

Great for casual VR game players
Cons
Compatible with:
Oculus

HTC Vive

Windows MR

Desktop
Price: VRBangers subscription goes from $15 to $30 per month or $250 for a lifetime membership
Genre: Puzzle game
Date Night is a game developed and published by VRBangers, a leading virtual reality porn site. Honestly, this is one hell of a debut for a company not yet established in the VR porn games industry.
Not only is Date Night one of the best VR porn games, but it's also one of the rare free VR porn games you can find today. It comes with the VRBangers subscription, and you don't have to deal with additional fees or in-game purchases to enjoy this one.
Phew, quick and easy.
Gameplay-wise, this free VR porn game is simple: it's an FMV-based VR porn game that uses puzzle elements similar to Candy Crush. But instead of mindlessly playing levels to no avail, this one rewards you with VR sex scenes you can enjoy.
Each level and achievement unlocks scenes starring the likes of Riley Reid and Mia Malkova. Clearing enough levels will even grant you access to multiple characters and bonus FMVs.
This makes DN great for beginners who want to dip their toes into the interactive VR sex world. It's a fun, quick, casual, free VR porn experience that's ultimately rewarding. 
So much so that even hardcore adult games fans will find this a gem!
Click Here to Have a Piece of the Best Free VR Porn Game
4. SinVR – Super Hot 3D Porn VR Games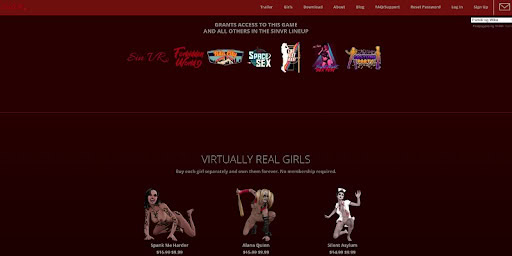 Pros
Free VR porn basic access

Straightforward sex game mechanics

Purely 3D hentai VR sex game

Desktop compatible
Cons
Visual quality not for everyone

Limited headset compatibility
Compatible with:
HTC Vive

Oculus Rift and Quest

Microsoft MR
Price: Free basic access, premium content at $9.99, members-only content from $7.99 to $19.99 per month
Genre: Waifu sex simulator, dominatrix simulator, sex game jank
SinVR is one of the best VR porn games if you're a fan of jank, and you can also play it for free. This 100% 3D virtual reality experience gives you a simple yet charming waifu and dominatrix sex simulator all in one.
The base game is free to play, and all you have to do is download the SinVR app to have fun with this sex game. Additional characters are available for purchase, so you can mix and match to suit whatever kinky scenario you have in mind.
We love the flexibility here.
There's a members-only tier, too, which gives you even more VR porn girls to play with.
As far as 3D VR porn mechanics go, this is a no-nonsense experience that lets you play with as many characters as possible. 
You'll love how SinVR's visuals manage to veer off the usual porn sex game aesthetic. Instead of going for ultra-realistic character models and scenarios, this one aims for a more lo-fi feel.
We highly recommend SinVR if you like free VR porn games that offer free content instead of setting you up for some P2W baloney.
Click Here to Start Playing the Hottest VR 3D Sex Game
5. 3DXChat – Best Multiplayer VR Porn Game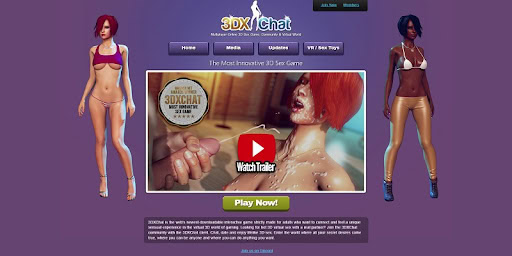 Pros
Immersive MMO experience 

Great VR sex game community

Affordable monthly fees

Great character customization

Compatible with teledildonics
Cons
Super limited goggle options

Relatively hard to find multiplayer partner
Compatible with:
Price: $3.80 to $9.99 monthly
Genre: Virtual reality social simulator
Don't let their dated homepage fool you: 3DXChat is one of the trailblazers when it comes to the best VR porn games. This multiplayer-exclusive virtual reality experience is what happens when The Sims meet the Playboy Mansion.
3DXChat is one of those rare best VR porn games that combines social media elements, MMORPGs, and virtual reality sex. 
It's an expansive package that transports you to exotic locales and destinations to meet real people through VR sex game avatars…
Then you get to have sexy encounters with them.
The character creation options in this VR game are deep, allowing you to craft your avatar's specific features, whether you want big boobs or soft skin in-game. 
Plus, 3DXChat is one of the best VR porn games if you're looking for an experience rife with immersive gameplay.
3DXChat allows you to explore and simulate various sex scenes while working as a dominatrix simulator. You can even hook up your Lovense sex toys– like the Lush G-spot stimulator or the Max 2 male masturbator– for an extra-pleasurable experience.
The fact that the monthly membership fee is so low earns this fantastic work of art one of the best VR porn games title. 
Join Here for the Best Multiplayer Sex Game Action
6. Holodexxx VR – Most Realistic VR Sex Game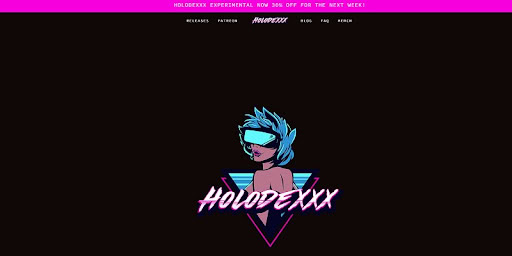 Pros
Superb graphics

Amazing porn star 3D sex game models

One-time purchase required

Highly immersive
Cons
Compatible with:
Rift

Vive

Pimax

Windows MR
Price: $29.99
Genre: Sex simulator
Most VR porn game developers think that slapping together an X-rated FMV featuring an A-list adult movie star and adding interactive choices makes for a great sex game.
Spoiler alert: it doesn't.
Holodexxx VR, on the other hand, found the correct formula, combining top-tier pornographic stars with excellent 3D work. This resulted in VR porn with high-production value, all while staying true to what VR games are in the traditional sense.
This sex simulator can definitely fulfill your fantasies of having sex with a porn actress but don't expect anything too revolutionary about the gameplay.
What truly makes this VR porn game title unique is how it uses 3D scanning to develop the most realistic in-game character models possible. Here, you'll see the likes of Lexi Belle, Dani Jensen, Tori Black, and Jynx Maze in all their VR porn game glory.
Instead of Holodexxx going for a "games as a service" setup where you pay a monthly fee, this game is a one-time purchase. 
No need for any recurring subscriptions or loot boxes.
Click Here to Play One of the Most Realistic Best VR Porn Games
7. XStoryPlayer – Best VR Porn Games with a Creative Touch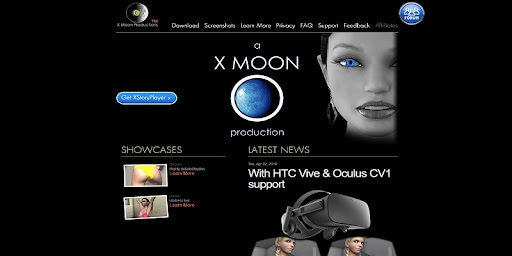 Pros
Cons
Very limited VR goggle compatibility

Very long plots (5-7 hours)
Compatible with:
Price: $18 for the base game; $9 for V.3 upgrade
Genre: XXX dating simulator
Dating sims aren't new in the world of video games, but XStoryPlayer cranks up the entire experience by making this one of the best VR porn games within that genre. 
Instead of a simple VR sex simulator that lets you have sex with a 3D character model, XStoryPlayer lets you put in some elbow grease and choose your own adventure.
It's pretty refreshing to have some degree of plot progression. 
Here, you get to meet a variety of characters– all fully rendered 3D models, not pre-recorded FMVs– who you have to build relationships with. Once you reach a certain point with them, that's when the real fun starts!
The story mode is diverse, with each character having a colorful personality and plot points. 
Plus, it's amazing that XStoryPlayer is one of the few VR sex games that offer one-time purchases of their app instead of opting for recurring payments and micro-transactions.
As of now, XStoryPlayer is only compatible with a couple of VR goggle models, but hopefully, the devs will open up to other brands as well. 
Try Out XStoryPlayer's Creative Virtual Reality Sex Game Here
8. Let's Play with Nanai – Best VR Porn Games Anime Sex Simulator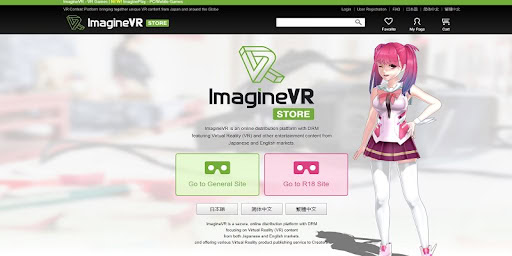 Pros
Cons
Short gameplay experience

Limited VR goggle compatibility
Compatible with:
Price: $30
Genre: Sex simulator/mini-game
It's a shame that Let's Play with Nanai only lasts 10 to 30 mins. 
That said, having a short run time isn't exactly a bad thing for VR porn games. After all, sometimes you just want a quick release and a temporary cure for loneliness.
Let's Play with Nanai is heavily influenced by the hentai anime and manga– from the tropes that the devs use to interact with the titular character right up to the visuals of the game. 
If you're a simp for the hentai, you'll love this.
In this VR porn game, you get to have incredibly hot interactions with an anime-styled schoolgirl. You can customize Nanai's clothes and appearance and change the location where you want to do the virtual reality nasty.
Using your Vive or Rift controllers via hand tracking, you can touch, pinch, and penetrate Nanai in ways that will make you feel like a total weeaboo stud.
The graphics on this VR porn game are hands-down impressive, too. In place of realistic 3D models, Let's Play with Nanai uses cell-shading to come up with that unmistakable anime aesthetic.
You purchase a whole game, which means you don't have to worry about any in-game transactions once you plug it into your device.
Click Here to Play with Nanai in this Fantastic Anime Sex Game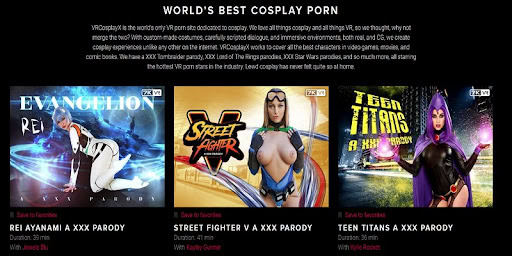 Pros
A huge roster of "characters"

Compatible with nearly all VR goggle models

Comes with VRCosplayX membership

Stable gameplay
Cons
It's not exactly a sex "game"

Relatively expensive for some
Compatible with:
Price: $49.99 monthly or $179 for one year
Alright, alright. We might be stretching what the term "VR games" means here, but it'd be a sin not to include the VRCosplayX Choose Your Character section in our top picks. 
It's all due to how VR games– especially porn games– like this manage to ace fantasy fulfillment. This "game" lets you play with your favorite comic book, anime, video game, and movie characters in ways their publishers won't let you.
Ever imagined what it would feel like to stick your virtual "controller stick" in a slutty version of Toy Story's Jessie? How about seeing Star Wars' Ahsoka Tano take in a whole human lightsaber? 
Well, that's precisely the content you'll find here.
It's the perfect alternative to more traditional VR porn games if you're just looking to relax and rub one out to your favorite superhero or supervillain. It's also great that VRCX accommodates all available VR goggles out there, from the Playstation VR to Google Cardboard.
You can check out VRCX's entire Choose Your Character catalog with a paid membership to their site. There's a veritable who's who of A-list adult movie stars here, all dressed in fun cosplay outfits: amazing value for money.
Enjoy the Spoils of Virtual Reality Cosplay on CYC Today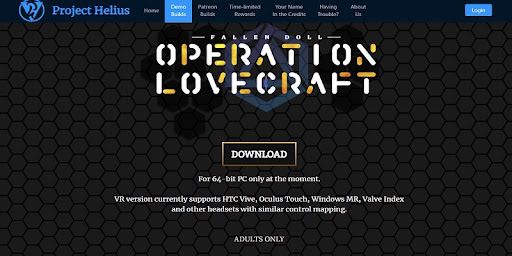 Pros
Features deck building and roguelike elements

Top-tier graphics

Sandbox-style sex simulator

Steady VR connection
Cons
Compatible with:
Price: TBA (demo version is free)
Genre: Roguelike, deck building, strategy, sex simulator
Only a handful of VR porn games can match Project Helius' Fallen Doll Operation Lovecraft in terms of gameplay, graphics, and scope. With no exaggeration, rarely do porn games look as great as this one.
Fallen Doll Operation Lovecraft isn't your typical boning simulator, either. This legitimate RPG combines deck-building strategy and roguelike elements to progress the story. 
At the same time, there's a visually stunning sex and dating simulator in this game, which is done via a sandbox-style setting where up to 10 players can hook up with one another.
Play this amazing title as a single-player campaign or as a multiplayer co-op.
There's a whole harem of sexy 3D characters that you'll find, and you can pretty much play with their jiggly bits if you so choose.
The only downside is that we've yet to get the full version of Fallen Doll Operation Lovecraft, as it's still in beta. But hey, if waiting for a bit more means you can get one of the best VR porn games ever to come out, then so be it.
Plus, a free downloadable demo version will tide you over while you wait for its proper release. 
So, it's a win-win for everybody.
Play One of the Best VR Porn Games with the Most Epic Sex Simulation Here
Top VRporn Sites To Check Out in 2023
These platforms offer the hottest VRporn XXX movies and the best porn games you can find online today, so check them out if you're feeling randy.
1.
SexLikeReal
– Dirtiest VRporn Movies
SexLikeReal is a place that specializes in releasing virtual reality porn movies for fans who want the most immersive XXX experiences they can get via their goggles. 
That's all thanks to how SLR is made up of a ton of different studios that have come together to give you a good time.
You'll easily find a treasure trove of full-length porn on SLR, not to mention a gallery of some of the hottest porn actors around. Seriously, there are more than 50,000 videos they have up there at the moment, with more added every day.
Although not a free VR porn shop, this top VRporn site also offers lifetime memberships. It is perfect if you want unlimited access to their services without worrying about recurring fees. 
Check Out This Raunchy VRPorn Site Here 
2.
Virtual Taboo
– Fetish Haven for Porn VR
Virtual Taboo is the perfect VRporn site if you've ever wanted your immersive adult movies to come with a heavy dose of kink and fetish. 
We're not just talking about the usual whips and ball gags here.
This is a VRporn site that caters to a variety of sexual preferences, whether it's schoolgirl fantasies or stepmother porn. Virtual Taboo is also one of the most accessible VRporn sites around, as it supports a wide variety of VR goggles.
But perhaps the best part about VT is that it doesn't opt for your typical monthly membership structure. Instead, this top VRporn site charges you piecemeal, pricing each video so that you only pay for what you want to watch. 
It's a superb buying alternative in case you're looking for free VR porn scenes during your rainy days.
Click Here to Visit Virtual Taboo's Virtual Reality Porn Haven Here
3.
WankzVR
– Best VRporn Rates
Much like PC or console gaming, VR experiences can be a costly endeavor. Thankfully, there's a VRporn site like WankzVR, which is hands-down one of the most affordable platforms you can choose for all your immersive smut.
Although it's not a free VR porn site, it's very affordable.
Without boring you with all the details, all you should know is that they offer membership deals for as low as $1.99. Memberships here also don't just let you stream your content; you can also download your favorite titles for some offline viewing!
Yes, save some for later.
Make no mistake, though: this isn't some cheap-ass porn site that cuts corners. They offer some of the best first-person POV scenes you can find on the internet today. Plus, their videos feature a gallery of top-tier adult film stars!
Enjoy Some of the Most Affordable Virtual Reality Porn Rates on WankzVR Today
4.
Czech VR
– Delicious Euro VRporn
Czech VR is the perfect porn site if you want the hottest Euro porn stars in all their VR glory. This site comes from the same guys who brought us Czech Casting and Czech Gangbang: two major labels in the adult industry.
Everything on this VRporn site is done in-house, so you'll find that they might not have as large a library as their competitors.
However, they're currently sitting at more than 500 full-length clips right now, with more added regularly. You'll find no shortage of superb European VRporn from this platform. 
All you need to do is sign up for a membership with them and carry the right headset!
Dance with the Sexiest European Baddies on Czech VR's Virtual Reality Porn Site
5.
Naughty America VR
– Top Trusted Brand in Virtual Reality Porn
Naughty America is a name that's become synonymous with true-blue, high-quality porn. One might even say it's as American as apple pie.
With a rich history and stellar reputation for bringing you the best porn actors, Naughty America's VR section is no exception to the site's high standards. Specifically, you're going to enjoy this site if you're a fan of group scenes.
You're getting some of the most depraved VR threesomes, gangbangs, and orgies with this site. All you need to do is boot up your headset and watch as these ladies go to town on you.
As a sweet bonus, subscribing to a Naughty America VR account also grants you access to the leading Naughty America site, with thousands of scenes at your disposal. It's not really a free VR porn offer, but you've got to admit that it does make a sweet bargain.
Join this Virtual Reality Porn Sage for the Best Jerk Off Experience
How To Play the Best VR Porn Games: Brief Guide
Playing the best VR porn games might initially seem daunting, but thanks to recent tech innovations, it's now easier and more convenient to enjoy these X-rated titles. 
Check out our short guide below to help you set up.
Check for VR Compatibility
Now more than ever, VR goggles are commercially available online or at local retailers.
However, not all VR headsets are made equally. 
If you're looking to play the best VR porn games (including the top free VR porn games), you will need a versatile pair of VR goggles compatible with most titles out there.
For instance, some of the best VR porn games like DezyRed are compatible with some of the most sought-after VR kits like HTC Vive Pro, Oculus Rift S plus the Quest series, and the Microsoft MR. 
Picking a different set of kits may alter or water down your VR experience in the end.
Still, here are a few options you can go for:
Whatever you do, just remember all the remaining best VR porn games have different compatibility requirements too. One title might run with Oculus Rift; another might not. 
So, it's important to choose a headset that will be compatible with most– if not all– of the games you want to play in VR.
Set Up Your Space
Unlike PC or console gaming, where you're mostly stationary, some of the best VR porn games, like Virt-A-Mate, might require more physical movement to fully enjoy the experience. As such, you're going to need to find your own adult VR game room.
Ideally, you'll need a minimum of 82 sq. ft. of space to move around while you're in VR. However, that's not a strict rule. What's important is removing any physical obstructions in your play area that you may potentially bump into.
Since we're talking about the best VR porn games, it's also ideal if your play area has a great deal of privacy. 
So, lock those doors!
Boot Up Your Headset
Depending on the model of your VR goggles, you will need to set them up and ensure it's in working order. Some VR goggles have built-in UIs, while some need to be connected to an external device like your PC or game console.
Purchase/Access Your Game
There are different best VR porn games out there. Some, like Operation Lovecraft, are standalone apps that you can download via a store or site and then launch directly. 
Others, like Date Night, require you to visit their online site or download their proprietary app (VRBangers in this case) and the game itself to access them.
All you need to do is follow your game's prompts to launch them correctly.
However, do keep in mind that most VR headsets can't natively run some of these best VR porn games due to restrictions imposed by their app stores. To go around this, you can choose either of these methods:
Use a PC Connection
First, you must download your chosen best VR porn games to your PC to use this method.
You're then going to need a USB-C cable that's compatible with your VR goggles. By linking your PC to your headset, you're using your PC's UI to access your selected best VR porn games with your goggles.
Sideloading
Sideloading is a process that allows you to run apps (including the best VR porn games) on your headset using the SideQuest or App Lab app. The process requires a bit of technical know-how. 
Thankfully, you can easily find the steps for it online.
Enjoy Your VRPorn Game
Whether your game and headset require a wired connection or otherwise, all that's left now is for you to run the game using the touch controls that come with your VR headset.
Have fun with all the VR titties you'll see from these games.
Best VR Porn Games FAQs
Are There Any Free VR Porn Games?
Yes, there are free VR porn games that you can check out. 
Titles like Date Night and Virt-a-Mate are free to play, although you'll need a paid subscription to the free VR porn sites hosting them.
On the other hand, free VR porn games like SinVR have 100% free versions to try out. 
Is It Safe to Use VR?
Yes, it is safe to use VR. 
However, there are a few things you might want to consider to maintain a level of safety when you're using your VR goggles:
As with console and PC gaming, lengthy exposure to VR images can lead to

eye strain.

Don't forget to rest your eyes now and then when playing games using this platform.

Make sure you

have ample space

to move around. Most VR games require physical movement to control them. So a good area clear of any obstacles or hindrances is needed to avoid any accidents during your sessions.

"VR sickness"

is real. It's

motion sickness

that comes from fast-moving images in front of you. Gradually familiarize yourself with VR images before fully diving into them to avoid this unpleasant feeling.
How Do I Watch VRporn?
To watch VRporn with your headset, simply visit the VRporn site of your choice and access the VR videos, including the top free VR porn games you want to play. 
You can use your headset's native internet browser (if available) or your laptop or mobile device via a wired or wireless connection.
How Much Do the Best VR Porn Games Cost?
The cost of the best VR porn games varies from one title to another. On average, expect to spend anywhere from $15 to $30, depending on the specific VRporn game that you want to play.
Games like Let's Play with Nanai, Holodexxx VR, and Fallen Doll Operation Lovecraft, are some best VR porn games you can purchase straight from their respective sites and then run on your system.
However, you should also know that subscription-based best VR porn games, such as 3DXChat, the VRCosplayX Choose Your Character section, or SinVR's Members-only tier, are available today.
You can also go for the free VR porn games like Date Night, which comes with a VRBanger subscription.
Do I Need To Connect My VR Headset to a PC to Watch VRporn?
You don't necessarily have to connect your VR goggles to a PC to watch VRporn. It doesn't matter if you're playing one of the free VR porn games. 
VR headsets like HTC Vive or the Oculus Quest have built-in web browsers allowing you to access any virtual reality porn site you want to watch your movies from.
Which Are the Best VR Porn Games?
Picking the best VR porn games will depend on your tastes and unique preferences. This is because every virtual reality sex game has its own gameplay that you may or may not find appealing.
That said… 
The best VR porn games like DezyRed and Virt-a-Mate are just a few of the hottest adult interactive titles you can check out. 
You can also check out Date Night for some free VR porn play if your pockets are currently not in the best condition.
Just slap on a decent pair of VRporn goggles and get ready to be blasted away by the best VR porn games of the year.
Adios!
Related reading: Best VR porn sites