Tips & Tricks
This tool helps you design and print dildos with a 3D printer.  You can use the prints as models to cast molds.  The mold can be used again and again to make a bounty of silicone dongs.
If you don't have a 3D printer, you can still download your dildo's .STL file from the publish section and upload it to an online 3D printing service like 3Dhubs.  They will mail you your dildo print for $5 – $20 depending on the size.
Here are the results of printing a few dildos and butt plugs with the tool: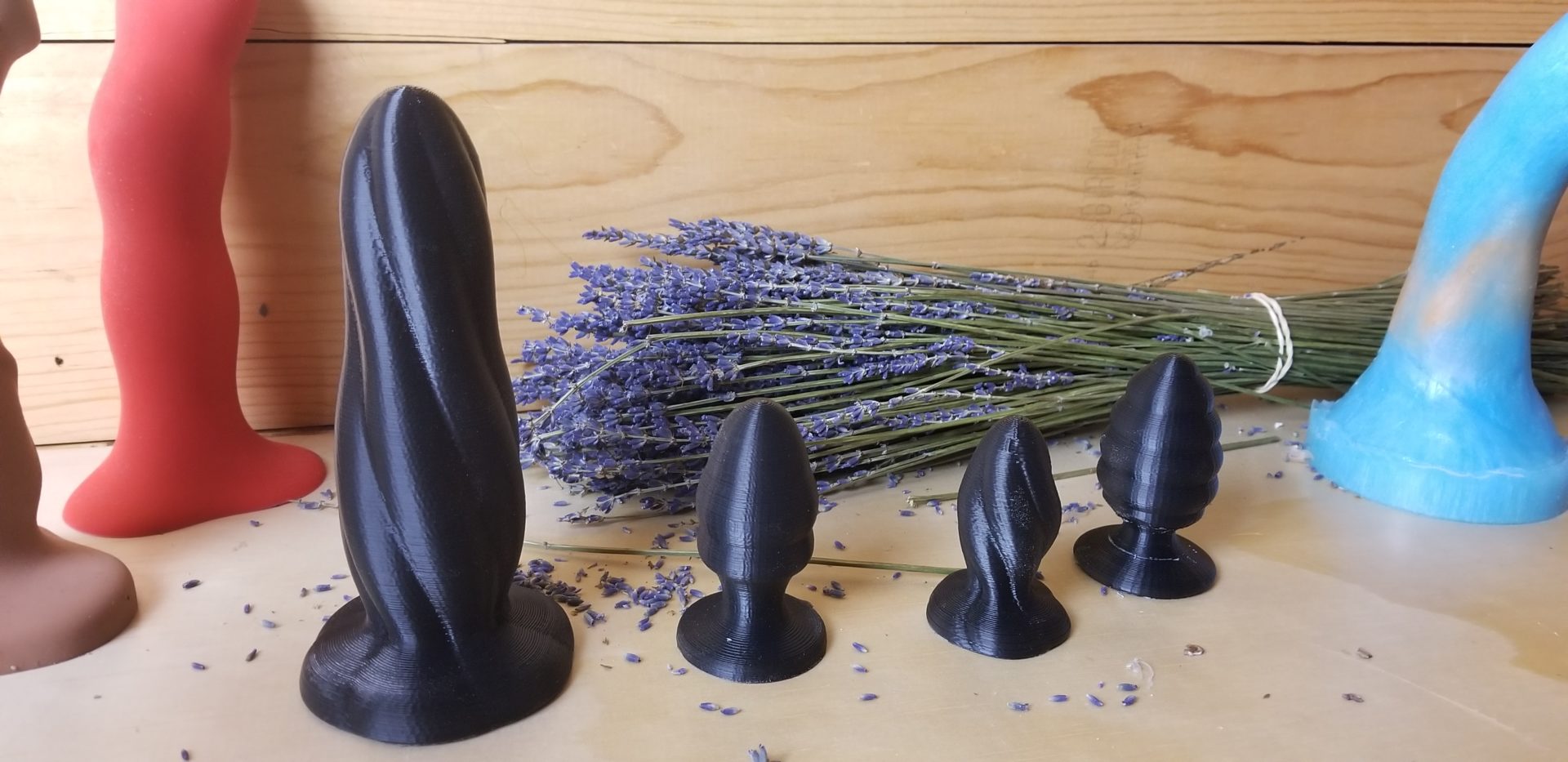 For the shapes above i used ABS plastic as the 3D printer material, which has a bit of a texture to it.  To get rid of that texture I sand it down with medium-grit sandpaper.
After sanding it, I use the print to make a mold, which is a negative, or cavity of your dildo's shape (the purple cylinder shown below).
Once you have the mold, you can pour silicone into it to create a dildo.  The silicone will need to cure for about 4 hours before it turns into rubber, then you can pull it out.
In the image below i used a mixture of pink and white pigment and ecoflex 00-30 silicone from Amazon, both are non-toxic and body-safe materials.  To prevent the silicone from sticking to the mold, I also used Smooth-on's Ease Release 200.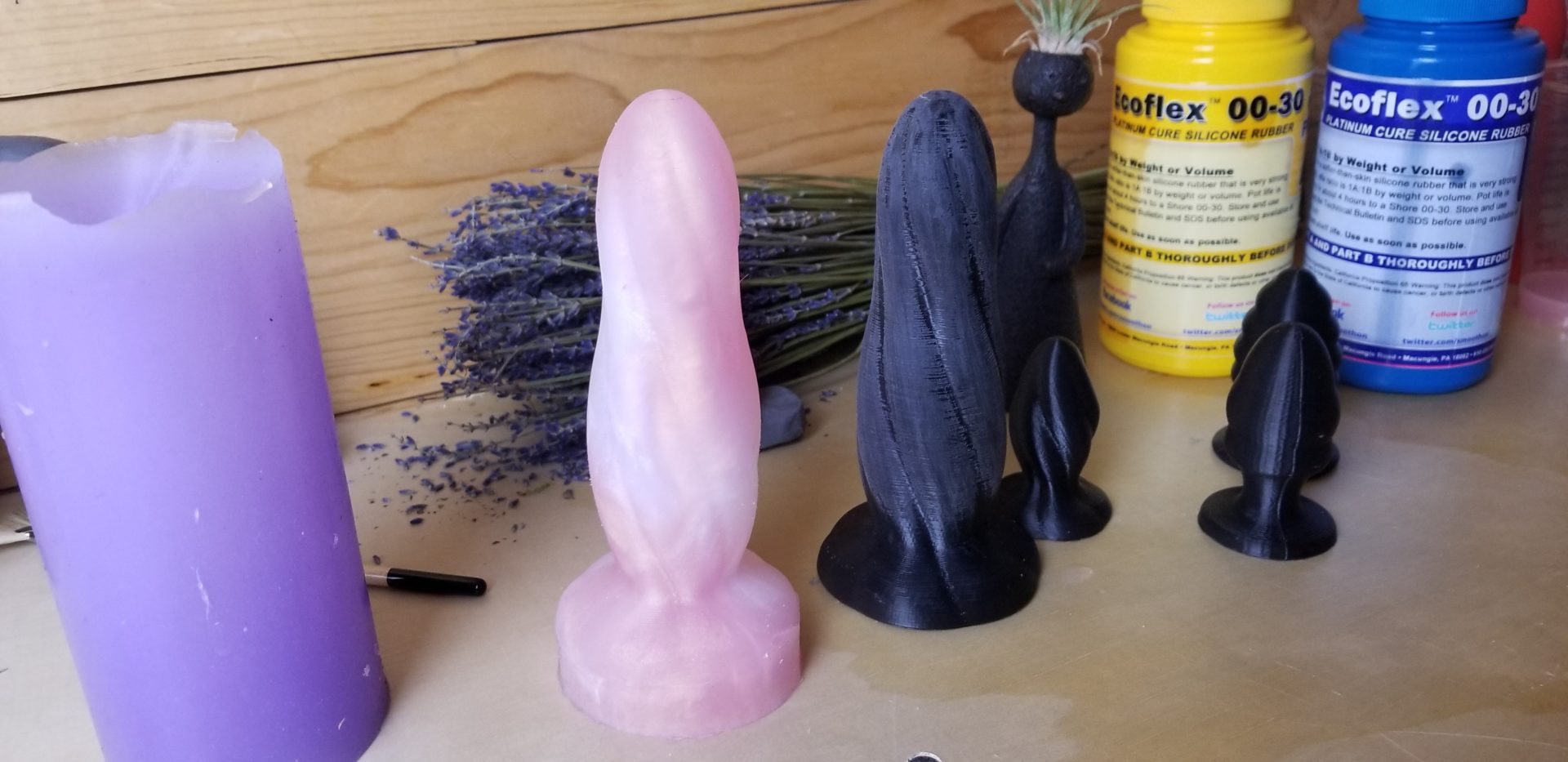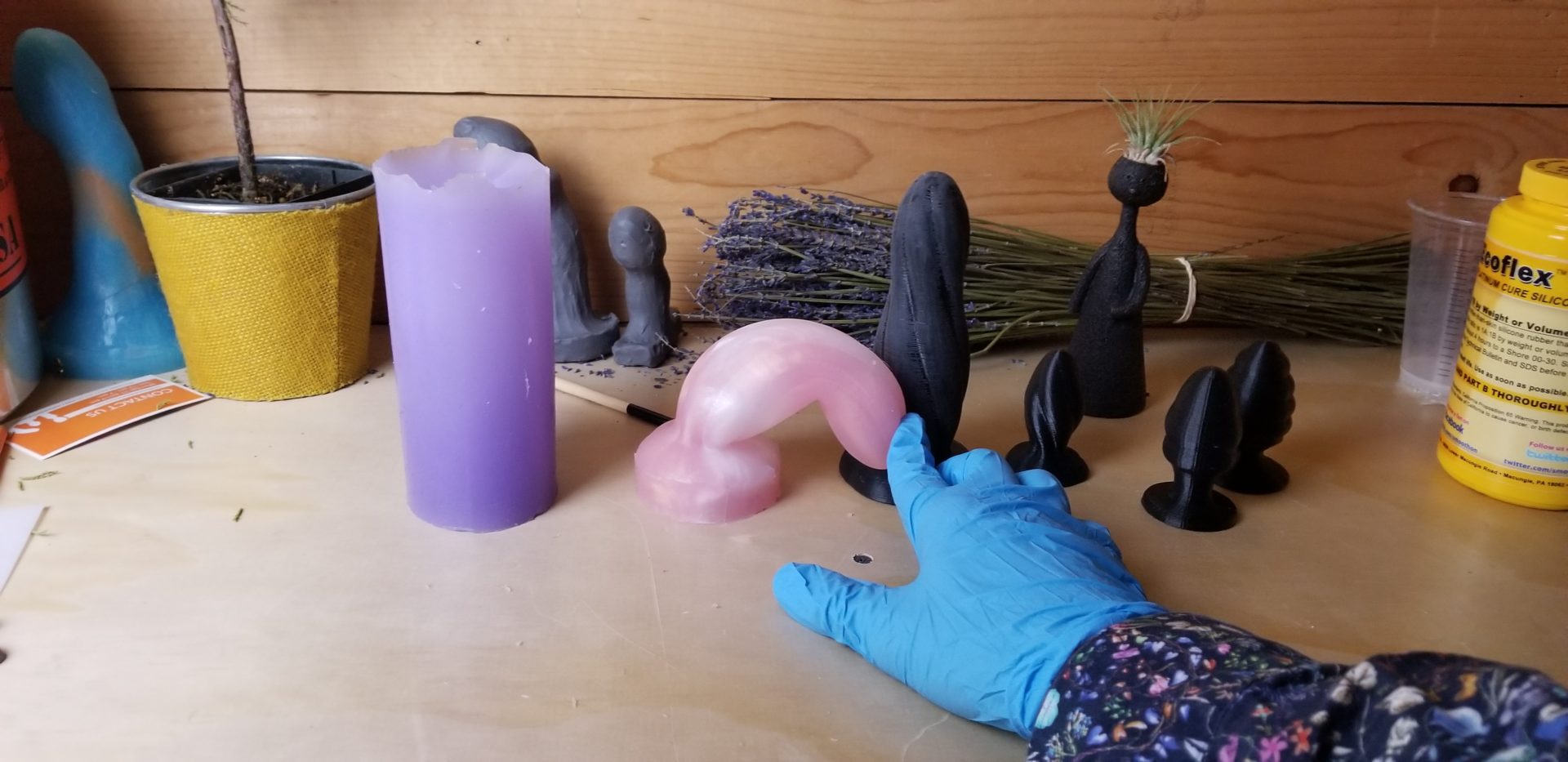 Adding your dildo to the gallery
If you don't want to print your dildo, you can still share it by clicking add to gallery in the publish section.  You'll be asked to fill in a few details about your dildo and take a screenshot.  Then your dildo will be added to the gallery below for everyone to see!  You can like other peoples dildos or click them to see their details and load the shape.
Shaping and FX
Double click on the 2D curve to add new points.  You can then adjust the shape by dragging the point and its handles.  To delete a point just click on it and then press the delete key.
The FX section lets you add and layer different FX.  This section currently has 3 FX that are tweakable with sliders.  If anyone has ideas for more, please send me an email and I'll try to add them.
Stats
The stats section shows the width, height, and volume of your dildo.  It also shows the cost in silicone, which is really useful for budgeting your future projects.  The cost is only to pour one dildo, and doesn't include the mold which can be 2 to 3 times as much silicone.
Let me know if you would like to see any new features or if you find any bugs.  If you are looking for some inspiration check out my dildo guide for a big list of interesting shapes.