We-Vibe has been on the leading edge of couple's vibrators and toys for as long as I can remember. There are countless times when I'd inquire about a good vibrator to use with my partner and was steered right into their C-shaped, silicone toys. That being said, I had previously tried a few of their toys several years ago and was not entirely blown away by the power and comfort.
Until I took the We-Vibe Chorus for a spin in this review, of course. As soon as I held it in my hand I knew they had improved greatly on the older designs and was elated to see if it 'left me singing'. Along with a squishy controller and large (but stylish) charging port, I was ready to take the plunge with my Chorus.
One of 5 different app-enabled, couple's vibrators they have available, the Chorus is currently the most intuitive vibrator We-Vibe has rolled out yet!
Pros:
Both the controller and toy are covered in body-safe silicone.
Can be used for solo play as well as couple's play.
Curved for G-spot stimulation.
USB rechargeable through their stylish charging port.
Connects to the We-Vibe App for long-distance partner play and countless vibration settings.
Touch Sense: As you play, your movement will control the vibrations.
The control has squeeze control, increasing in vibration the harder you squeeze.
Waterproof! Take it in the bath or in the shower with you.
Cons
Hard to sync to the app at first, providing some confusion and extra time ESPECIALLY if you have synced an old We-Vibe toy previously.
Connection is iffy during long-distance play.
Not for anal use, this toy is primarily for penis-in-vagina play or solo clitoral play.
The We-Vibe Chorus left me elated and buzzing to try it with my partner. Aside from the slight connection issues I faced getting everything set up, I found the stable connection to be highly satisfying, the toy comfortable during insertion, and the squeeze remote to be an incredible addition. The deep, rumbly vibrations were far more than I anticipated and I was pleasantly surprised by the powerful G-spot stimulation.
Finding a toy that remains comfortably inserted inside you and providing powerful, rumbly sensations during intercourse was something I thought unobtainable. I was blown away by how snug and secure Chorus felt inside me, no matter the levels of foreplay and different positions I used.
Things to Consider before Purchasing a Chorus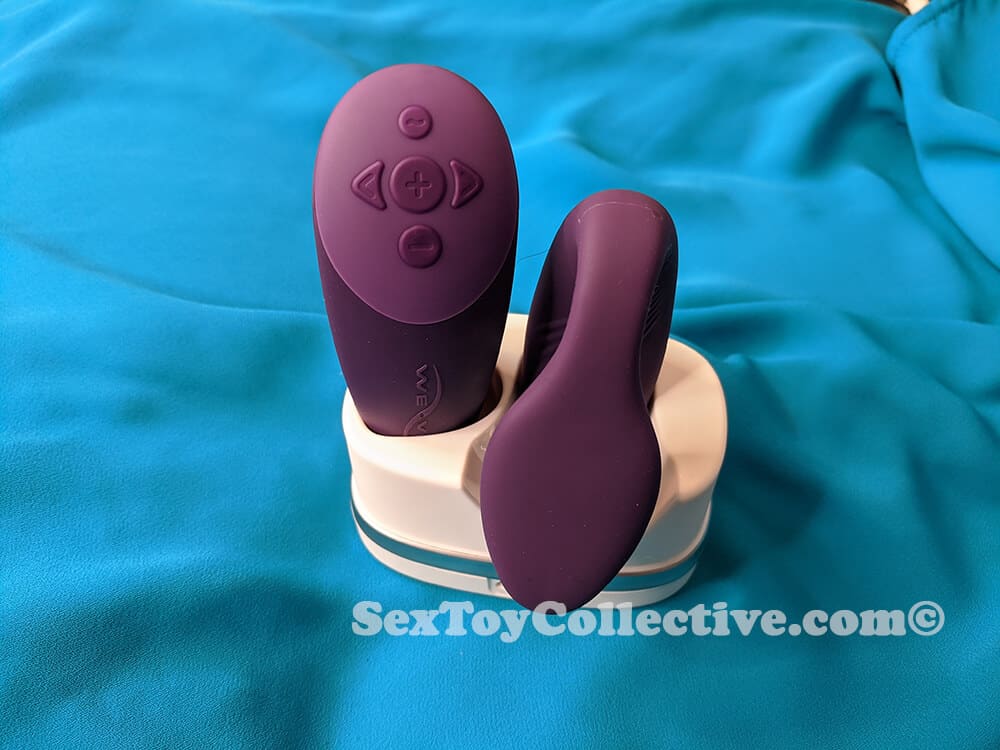 If you're looking for a toy that delivers both G-spot and clitoral stimulation that can remain inserted during penis-in-vagina sex, Chorus remains unmatched. That being said, if you're looking to get this toy for long-distance app enabled play, the connection can be a bit spotty. Their AnkorLink (TM) technology keeps you connected to the free we-connect app locally without problems, but when we tried while my partner was a few states away, it had a few spotty connection issues.
I believe Chorus is fantastic for local couple's play and solo play and the adjustable fit shapes and contours to your body, holding the position against the desired area of vibration. The deep, rumbly vibrations were easily able to provide me with a clitoral orgasm and cascade through my partner's penis during insertion, reportedly delivering a far more powerful orgasm for both of us.
Never have I tried a couple's vibrator meant for penis-in-vagina insertion that was as comfortable and versatile.
Features and Benefits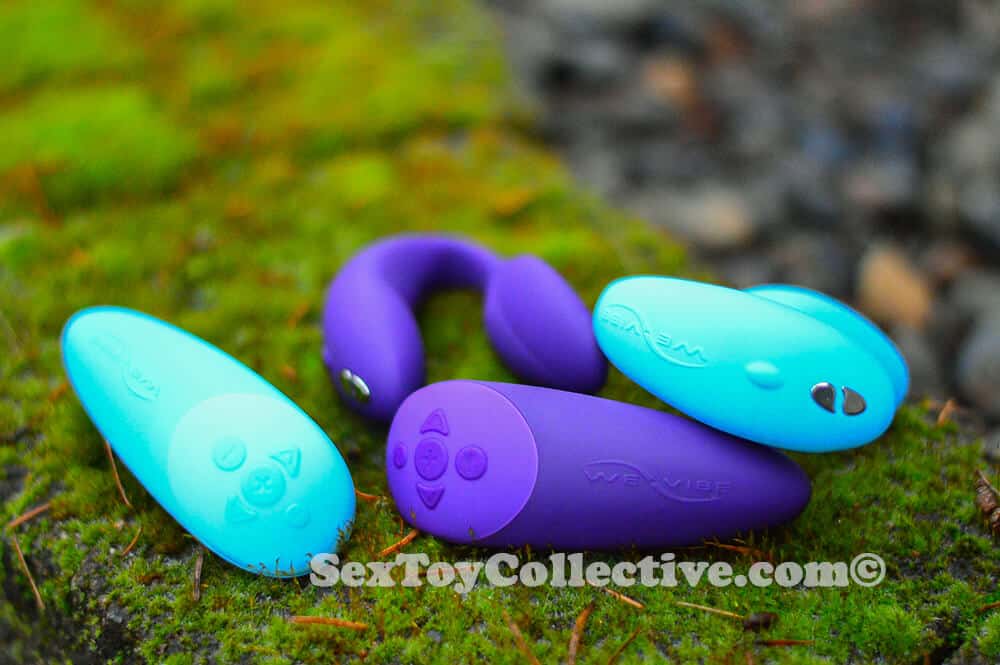 App-Enabled
The We-Vibe Chorus connects to the we-connect app providing countless different vibration settings and functions you can create by yourself, or with partners. If you have several other We-Vibe toys that have connected in the past, make sure they are nowhere near the app when you're syncing your new Chorus! It can provide some delay and issues during connecting.
Once connected, the app provides a lot of different settings and updates from the older version. You are able to drag your finger to create a 'pattern' for your pleasure and change the vibration intensity. There's also a sync-to-music option where you can vibe along with your favorite tunes on your phone (I highly recommend making this a game with your partner and sending each other songs to explore).
Although there's also a long-distance, Bluetooth connection capability, it's a bit spotty for distances farther than local. I had issues keeping a connection with my partner when he was states away and certainly think you should keep this in mind if it's your primary interest when purchasing a toy.
Squeeze Control Function
The Chorus comes with a squeeze remote that changes the different vibration modes and intensities the harder you squeeze it. Along with providing five different, silicone-covered buttons to pinpoint your desired pattern or power, the Chorus squeeze gives you a chance to get in 'the moment' and use your own squeezing to navigate. This also eliminates the discomfort of holding a piece of plastic in your hands and attempting to last-minute navigate speeds in the midst of an orgasm.
I felt like it was a stress ball for my orgasm and that alone was enough to capture my heart.
Adjustable Fit
The Chorus itself has an adjustable head that allows you to tighten the C-shape or expand it depending on your body and where you want the vibrations. I was in love with this feature because NOT ALL BODIES ARE THE SAME! It's so important to have a toy that can be adjusted to fit the users without breaking something in half. Allowing the ability to adjust let me pinpoint the rumbly vibrations right on my clitoris and G-spot while keeping the toy comfortably inside me for a perfect fit.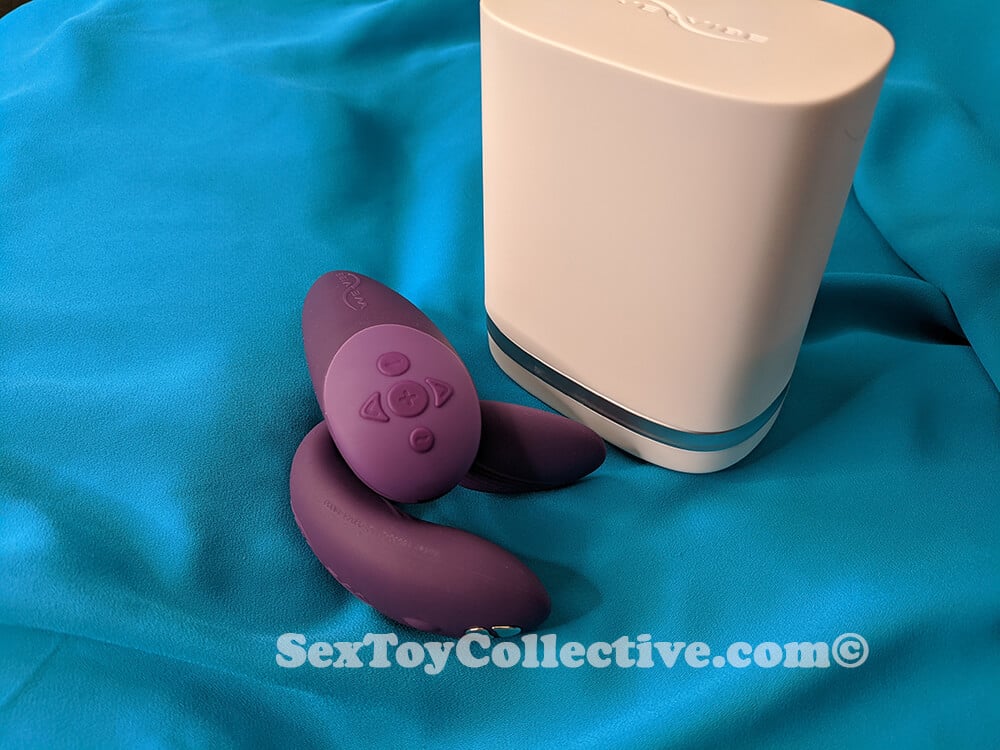 Touch-Sense and Comfortable During Peneration
Chorus is intended for penis-in-vagina play and although that is not a necessity for any toy and there are other options for pleasure during foreplay and with your partner, I was elated. It's not often I come across a toy intended for such a purpose that actually WORKS. During penetration in the past, my partner and myself had issues keeping a toy comfortable and inside me. With the adjustable fit, the Chorus remained inside me and against my G-spot and clitoris, also providing him with pleasure.
The We-Vibe Chorus also has a touch-sense setting that allows the toy to respond to your touch. Which meant, as penetration intensified and sped up, as did the vibrations. This gave us both a hands-free way to finish things off with a bang. Pun absolutely intended. This also made it easier for me to take out and put aside after the grand finale without wanting to throw it across the room in an attempt to get away from powerful vibrations.
Other Reviews of the We-Vibe Chorus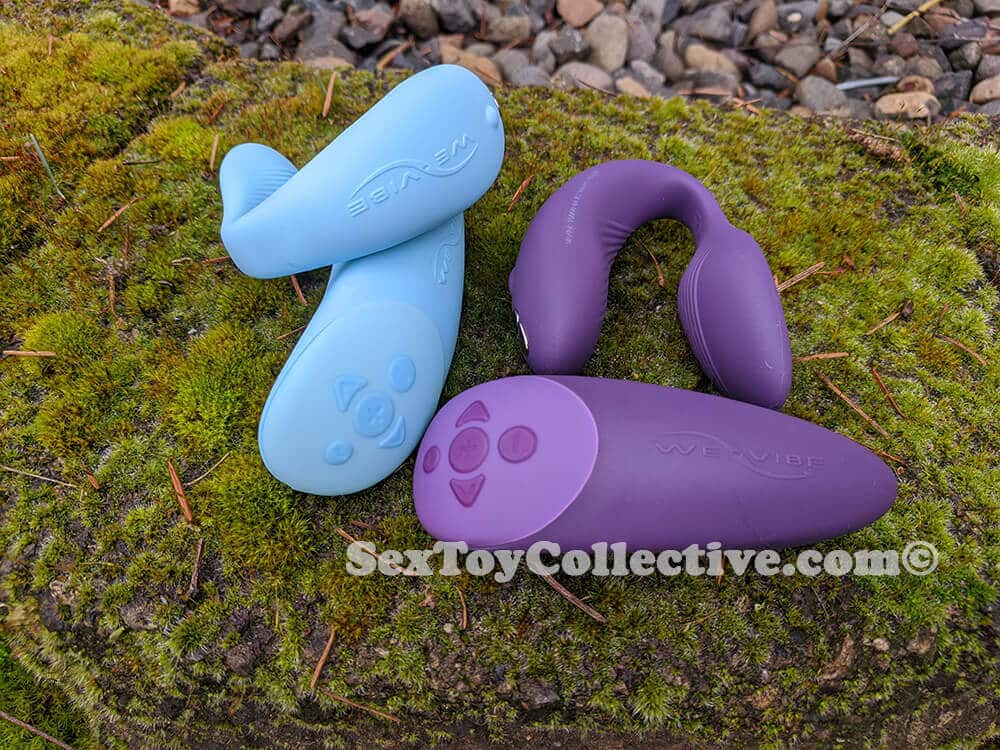 I was a big fan of this toy aside from the issues with long-distance connectivity. But don't just listen to my review, here's some words from other sexperts!
"And for a touchy-feely person like me, Chorus' squeeze remote takes the rumbly vibes to the next level. This toy is hot to wear around inside a pair of spandex shorts. And it's pretty damn quiet!" – Phallophile Reviews
"It does not disappoint: it's waterproof and rechargeable, the vibrations are rumbly and strong, and you can use standard-sized wand attachments with it but it's more ergonomic and sleek than your average wand. There are some problems with the controls scheme on mine (I'll say more about that when I do a full review), but overall I'm quite pleased with this toy. " – Girly Juice
Final Cum'Clusion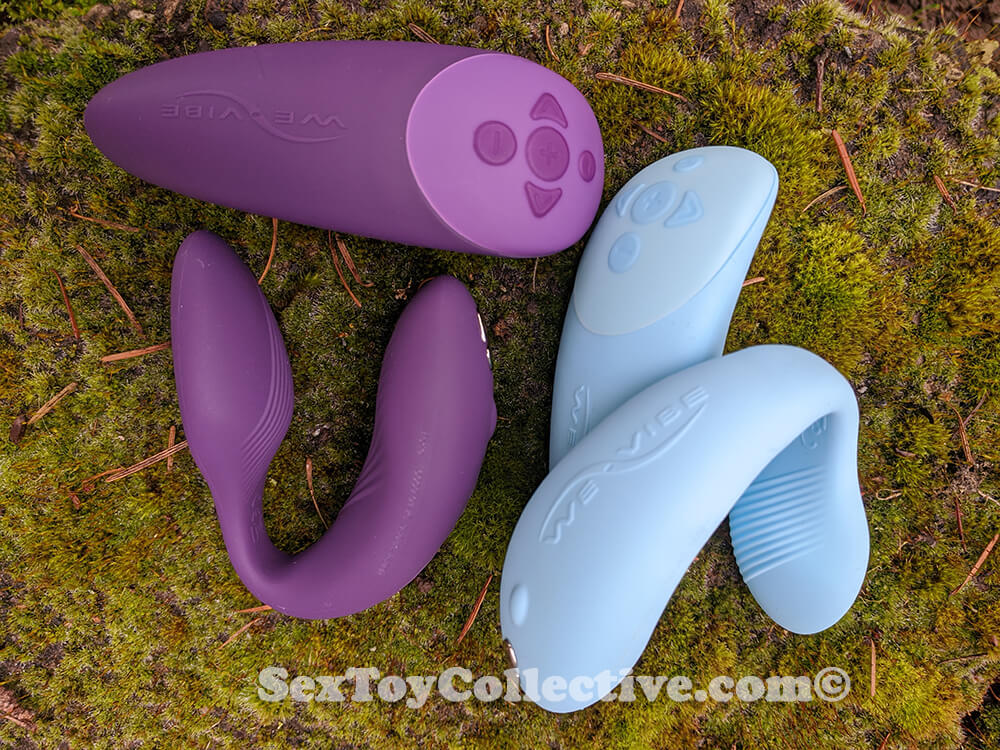 The We-Vibe Chorus was a toy I was blessed to be able to review. It destroyed the previous 'eh' feelings I had about some of the C-shaped couple's toys and the rumbly vibration on my clitoris and G-spot was A+. This toy is incredibly powerful and the option to have the squeeze remote, free we-connect app, and Touch-sense gave both my partner and myself unlimited choices during intercourse and foreplay.
If you're looking for a long-distance toy, don't rule out Chorus, but keep in mind it's not the best I've encountered for long-distance connectivity. If that's the main reason you're looking to purchase this toy, I recommend taking a look at the Lovense Nora or others in the Lovense line, as they seem to be the best for long-distance play.
Still, I found myself grabbing for my Chorus regularly during couple's play and solo play, whether it be blowjob teasing, insertion, or whenever I want to add a little something extra. It really assists with orgasms during sex as I'm someone who tends to lean toward clitoral orgasms over internal and the ability to have that rumbly and powerful feeling during sex was one I could hardly pass up. I loved the different sensation options like the 'stress ball style' controller and found myself using it even when it wasn't necessary just to have some extra fun.
The Chorus was a delight to behold and review, I cannot wait to see what they add next!