WankzVR is an independent VR porn studio with much to offer from their own models to scenes you've never seen before, all created under the Wankz umbrella directly. Not only is the content fresh and different, but the pricing seems fair, too (more on that below in our Wankz VR review).
Click here to visit WankzVR directly

To put it bluntly, Wankz isn't brimming with additional features. It's mainly for those who are seriously into sex VR and possibly using their toys with it.
Our WankzVR covers the most essential bits you need to know about this site to decide if it's worth your VR experience or not.
In this article, we answer:
Is WankzVR legit?
Does the site steal your credit card information?
Is it worth getting the lifetime subscription?
What is the cancellation process like?
Which devices can I use with this site?
WankzVR at a Glance
Benefits
Lifetime subscription available
Independent virtual reality porn studio (AKA they create their own content)
Receive new scenes uploaded weekly (no aggregator here)
Good for discovering new amateur content
Drawbacks
WankzVR, you need to improve the overall UI experience (slow and janky)
Not as much variety as porn site aggregators
Mostly 180-degree, 7K VR videos (meh)
WankzVR: Company Overview
WankzVR location: United States
Founded: 2016
Company size: 16
Awards: Best Virtual Reality Site by AVN, Zombie Slayers Wins Best VR Sex Scene, WankzVR nominated for Best 2019 VR Porn Site of the Year
Sister bonus websites: MilfVR, TranzVR
New scenes: Three times weekly
Number of scenes: 688 so far…
Click here to visit WankzVR directly
WankzVR Experience: From Categories To Models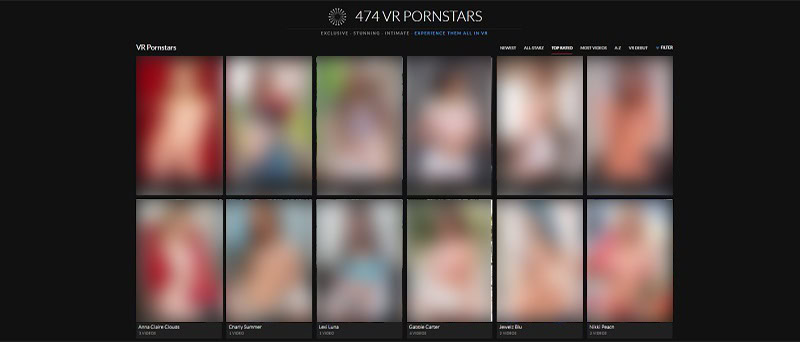 You will be pleased to know that WankzVR only produces its own WankzVR scenes – that means WankzVR models (close to 500 of them to be precise).
Luckily, this virtual reality porn site is not like PornHubVR where all the scenes are jacked from other VR porn sites. 
All VR porn scenes on WankzVR are 100% original and fresh.
You could say good management makes for an even better community, because real WankzVR users leave feedback on the scenes, too, all the better for us when we're craving the best VR porn games and VR porn scenes available.
Popular Niches on WankzVR
Well, according to WankzVR, niches aren't a problem here because they cover "virtually every niche" – hardcore stuff included, from "cum on ass" to "creampies" and "threesomes."
You can also go as soft and subtle as you want, such as "kissing".
Swoon.
One category is 60 FPS. Anyone who is familiar with YouTube knows that 60 Frames Per Second gives any video a bit of motion. More like motion sickness rocking on the boat. 
Luckily, the video quality on WankzVR, even though it's not the best, does not make it look artificial but delivers a natural feel through VR.
The main downside with WankzVR's niches? 
The group sex category is lacking, and to that we says "boo…" – there are only 23 group sex scenes listed until now. We hope that changes soon.

RELATED READING: Sex Like Real Review
Recommended VR Sex Scenes on WankzVR
The top VR scenes on WankzVR for this year include:
Runner-ups:
Zombie Slayer with Megan Rain and Adriana Chechik
Little Cummer Toy (adult Christmas theme) with Gina Valentina
Wild Wild Westgate with Whitney Westgate
Santa's WankzShop with Zoey Monroe
On Set with Riley Reid
Be My Valentine with Naomi Woods
V for Vagina with Natalie Porkman
Christmas Bonus with Aaliyah Love
Happy Ending with Mia Malkova
Most bang like there is no tomorrow. These girls let it all hang out, providing ample masturbation time to your daily schedule. Yippie!

RELATED READING: VRporn.com Review
How To Sign Up for WankzVR
WankzVR works really well with a browser. Just go to www.wankzVR.com, select a scene and watch. You must sign up with a username, email, and add a payment method in order to download any VR scenes. 
You can also download the DEOVR app to really enhance the experience. From personal experience, the fully immersive, interactive section broadcasts better through the app. Also, the binaural sound makes the virtual reality scenes sound even more real.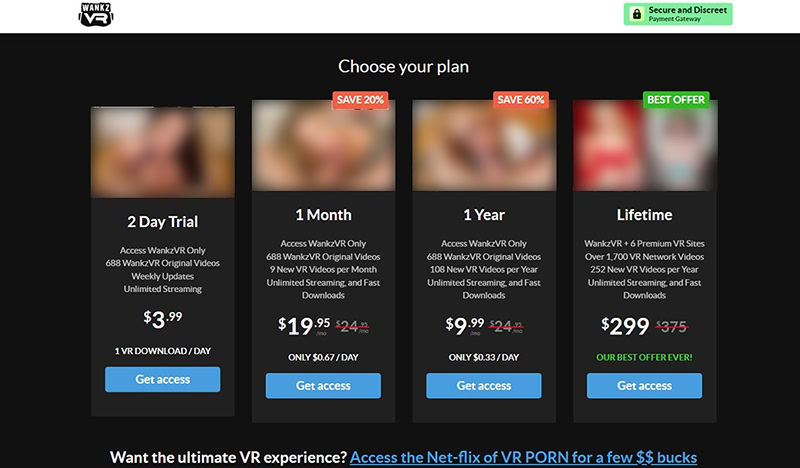 WankzVR Membership Fees & Prices
2-Day trial which gives you access to two free downloads 
$20 for one month
Roughly $120 per year
$299 for an entire lifetime
Sex Toy Compatibility
Fleshlight Launch
Kiiro Keon (FeelMe App)
Onyx+
Handy
Vorze
VR Headset Compatibility

Wankz IS compatible with all the top VR headsets for porn:
GearVR
HTC Vive
Meta Go
Meta Rift
Smartphone (Android and Apple)
Windows MIxed Reality
Google Cardboard
Daydream
PlayStationVR
Valve Index
WankzVR Cancellation Process
WankzVR does business with Epoch. That alone should let you know that it's easy to cancel a membership. 
Epoch is very good at cancellations. All you need to do is call them, request the cancellation, and they will likely honor your request in minutes.
Boom!
Click here to visit WankzVR directly
Additionally, processing your payment through PayPal provides an added layer of protections. PayPal usually does not do business with adult sites, so if they allow WankzVR to have an account with them, it really speaks volumes.
PayPal has no problem putting a payment on hold and investigating to see which site of the deal will collect the funds. 
WankzVR Payment Options
WankzVr takes the following payments:
Visa
Mastercard
Discover
Cryptocurrency (Bitcoin, Ethereum, etc.)
WankzVR Site Reviews from Around the World
A poster asked whether WankzVr is worth giving your credit card info. Well, the answer is right here for the taking. 
As a side note, Epoch is very good with billing. I requested a refund for some money they took from a porn subscription that I completely forgot about. I was off the phone with my money back within a few minutes.
However, let's check out the negative review. 
Well, it seems that this person likes other virtual reality porn sites more than WankzVR. I don't blame them and actually agree with that assessment.
Even some of the bad reviews are not so bad. This one is taken from the UK TrustPilot site – the only one I could find there. 
Obviously, this review needs just an unlimited internet connection.
WankzVR Recap and Final Scores
WankzVR isn't one to write home about, so to speak. Porn aggregator sites definitely have a step up in terms of selection. 
Click here to visit WankzVR directly
On the positive side, WankzVR has created original scenes you will not find anywhere else. If you enjoy supporting independent models and businesses, you can definitely have a good time here. Just don't expect loads to choose from…yet.
Originality: 8/10
User experience: 5/10
Video quality: 7/10
Creativity: 5.5/10
Variety: 10/10
Money's worth: 6.5/10
RELATED READING: Best VR porn sites