If you're bored of standard porn videos but are looking for your next release, you might want to consider the best VR porn sites this year. 
Thanks to human ingenuity and technology, vrporn can feel as close as possible to having sex with a real-life pornstar.
If you're ready to wade into this fully-immersive experience, let us take you through some of the best VR porn sites right now. 
First Look – Best VR Porn Sites
1.
VR Bangers
– Best VR Porn Site Overall

Subscription Fees
One month – $0.50 per day

One year BOGO – $0.27 per day

Lifetime package – $250
Features
Ultra HD 6K videos
Up to 40 minute runtimes
Around since 2015
Works with Oculus Rift & Playstation VR
It's hard to imagine that vrporn sites have been around since about 2010 and are still only booming now. VR Bangers is a perfect example of this: it's a vrporn site that has steadily honed its services and offerings since it launched in 2015.

And you won't be mistaken to think that it has become better than ever (and still improving with each innovation it spearheads and adopts).

For one, VR Bangers has perhaps the highest resolution offered among its competitors in the porn VR scene, solely providing 6K HD films. You'd be hard-pressed to find virtual reality XXX movies as clear and crisp as the ones this company provides its members.

Be careful, though: there's a huge chance you might not take off your VR goggles once you start watching the movies on VR Bangers. It almost exclusively produces long-form VR porn movies that go for as long as 40 minutes.

In between the elaborate set designs and the amazingly filthy cinematography provided, VR Bangers makes sure that each and every one of its releases is peerless in the biz.
RELATED: Full VRBangers Review HERE

When it comes to which VR goggles you can use, we're happy to report that you won't have a problem on this end: the site is open to nearly all of the popular brands available, such as Playstation VR and Oculus Rift, to name a couple.

VR Bangers also makes it convenient for members to get their virtual reality smut wherever they might be, thanks to a handy mobile app. Our only wish is that this VR Bangers app also becomes available to iOS users since it's only been on Android until now.
Oh, and did we mention VR Porn Games?
Lastly, there's a unique bonus that comes with a Banger membership: access to VR Bangers' interactive sex games! While it might not be a free VR porn site, it is definitely our best VR porn site overall.
>>Visit VR Bangers, our best VR porn sites overall
2.
SexLikeReal
– Best VR Porn Sites for VRporn Scenes

Subscription Fees
One-month pass – $37.99

Annual subscription – $19.99 per month (or $239.99 per year)

Lifetime access – $699.99 (one-time charge)
Features
50,000 VR porn videos to choose from!
Compatible with almost all VR headsets
Pay-Per-View options
Catalog of 50 VR porn studios
SexLikeReal is one of the best VR porn sites to check out right now, and we're not exaggerating, folks: this particular purveyor of virtual reality porn has made it a mission not just to provide quality, immersive adult films, but make it so viewers get the widest selection of titles available today.

As you'd expect from a premium porn service like SLR, it works on a subscription basis. Despite not offering free VR porn, the rates are highly reasonable. Even more enticing is the PPV (pay-per-view) option that allows you to pay for specific vrporn titles one by one.
With a gargantuan library made up of 50,000 vrporn titles (with more added regularly), it's no surprise that SLR also has the most diverse selection of porn genres and categories you can find on any given vrporn website.

That's all thanks to how this company is actually a conglomerate of 50 production studios that make porn VR movies for their fans. So, yeah, it's a bit overwhelming in all the right ways!

As far as compatibility with VR goggles goes, SLR isn't too picky. You can access clips from this site with pretty much any VR headset out there, whether it's a pair of HTC Live goggles or Samsung Gear VR.

SLR also lets you download your favorite titles for offline viewing: something that most other vrporn sites don't offer.

New SLR members also get to enjoy a sign-up bonus made up of 24 free videos. And speaking of these hot vrporn movies, you can find ones that give you a quick fix for about 10 minutes to more hardcore, interactive full-length features that go for as long as 2 hours!

Remember to keep yourself lubricated, people. You'll need it with these best VR porn sites and top VR porn games we're giving you!
>>Check out SexLikeReal, the largest vrporn library of all times
3.
VRCosplayX
– Best Porn VR for Cosplay Fans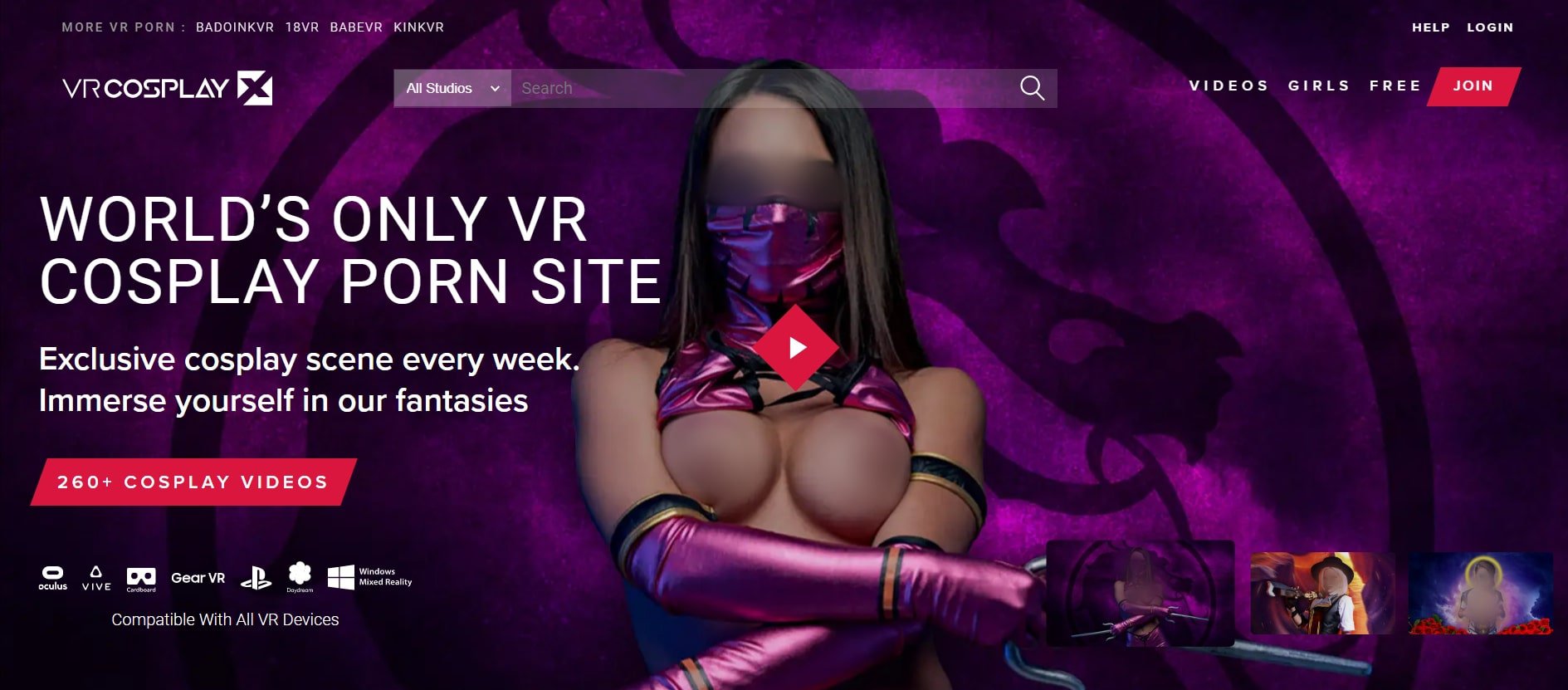 Subscription Fees
Features
Unique cosplay & fantasy scenarios
Your favorite comic book, video game, anime characters
High production values
150+ titles
VRCosplayX is a bit of an oddity in the porn VR site industry, and what a delicious oddity it is! Instead of catering to as many niches and genres as possible, VRCX traverses the road less traveled and focuses on one specific category: VR cosplay porn.

That said, both casual fans and hardcore geeks can enjoy what this top vrporn site has to offer.

There are videos featuring your favorite porn stars dressed up as some of the most popular comic book, video game, and anime characters doing stuff that you're most likely not going to see from their original publishers.

So, if you've ever wondered what it's like to stick your pole inside a gender-bent Mario or if you want to see Miles Tails getting knuckled by, well, Knuckles the Echidna, then this is one of the best VR porn sites to check out.

As you'd expect from a laser-focused porn site like VRCX, the selection of porn VR titles isn't the most abundant. As with any other XXX movie with high production values, coming up with lavish costumes and set decorations requires time to produce.

At the time of writing, there's a humble library of VR porn scenes amounting to 150 titles. You'll be happy to find that all of these are full-length features that run for around an hour or more.

There's a VRCX mobile app as well, so seeing your filthy nerd dreams come true is as convenient as possible. And it's available both on iOS and Android devices, making it one of the most easily accessible VR porn apps out right now. 
What more could you want from one of the best VR porn sites?
>>Head over to VRCosplayX, the best porn VR for cosplay
4.
Pornhub VR
– Best Free VR Porn Site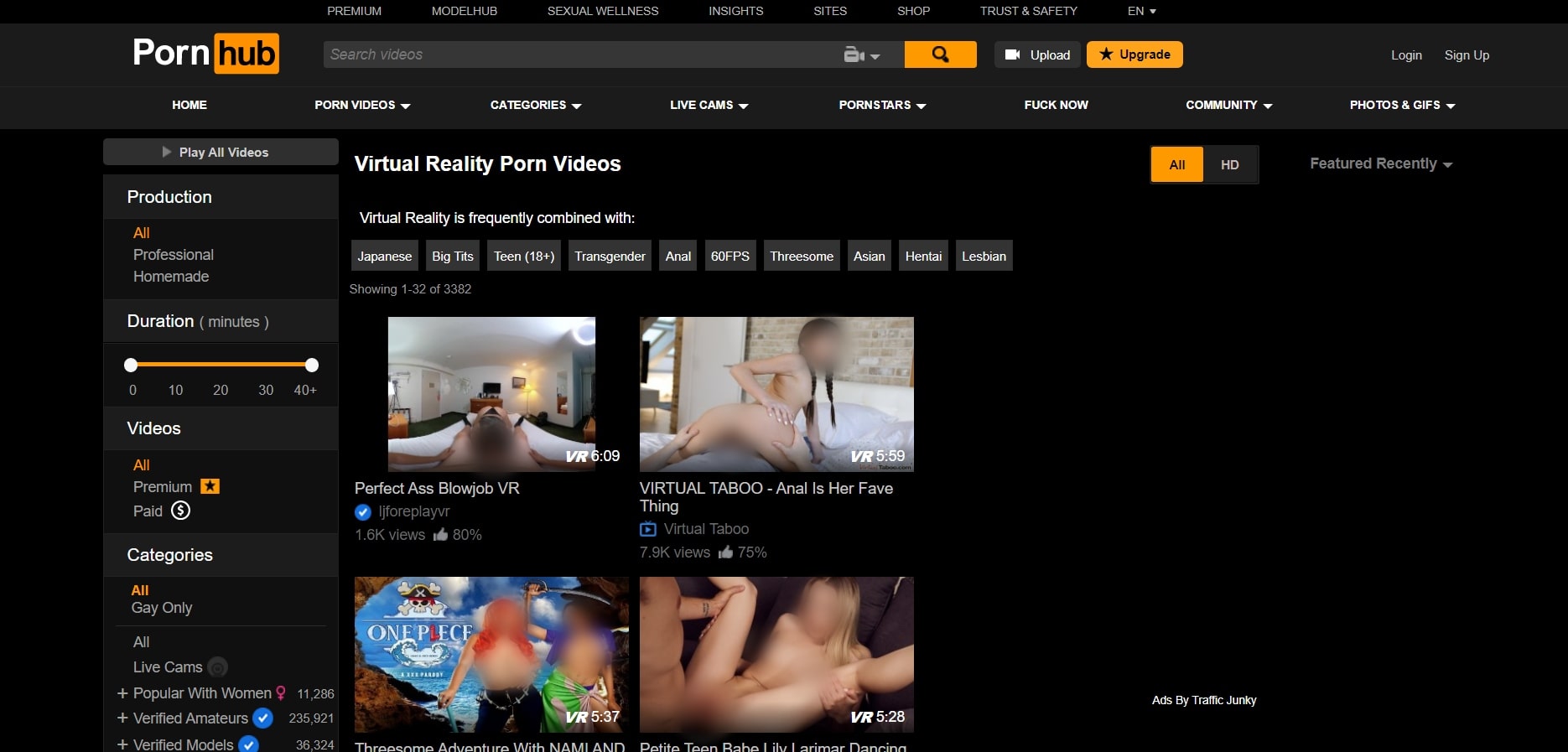 Subscription Fees
Features
Safe, famous porn site's VR version
Over 200 free VR porn clips available
You won't be wrong to say that Pornhub is the biggest free VR porn site active in the industry today, especially when you're looking at it within the context of free XXX sites.

It's basically YouTube for porn!

However, you'd be wrong to think that Pornhub is just good for all the free stuff. It's actually one of the most active companies when it comes to keeping with the times and continually providing improvements and additions to what's on offer.

Case in point: Pornhub VR is the company's answer to fans looking for hot free VR porn clips.

Pornhub VR is a section within the main Pornhub site, and the company has partnered with 30 other VR porn studios to provide users with some nice virtual reality XXX content. As of now, you'll find over 200 free VR porn clips available.

Keep in mind, though, that the quality of these free VR porn movies varies wildly, depending on which one you're watching, so a bit of research is required to find the right fit for you.

There are legit 5K HD VR porn movies, while there are other clips that are simply first-person POV ones in regular quality.

As you'd expect from Pornhub, the VR section is available for both laptop/desktop and mobile users, which makes it a convenient option for free VR porn pervs on the go. You should note, though, that Pornhub VR only works using the VR player app, and honestly? It's not the best.

Hey, peons can't be picky. If you ask us, accessing free VR porn with Pornhub VR is more than enough for you to immerse yourself in some of the hottest virtual reality XXX movies out there, and that's why it made it onto our list of the best VR porn sites.
>>Watch Pornhub VR, our top free VR porn site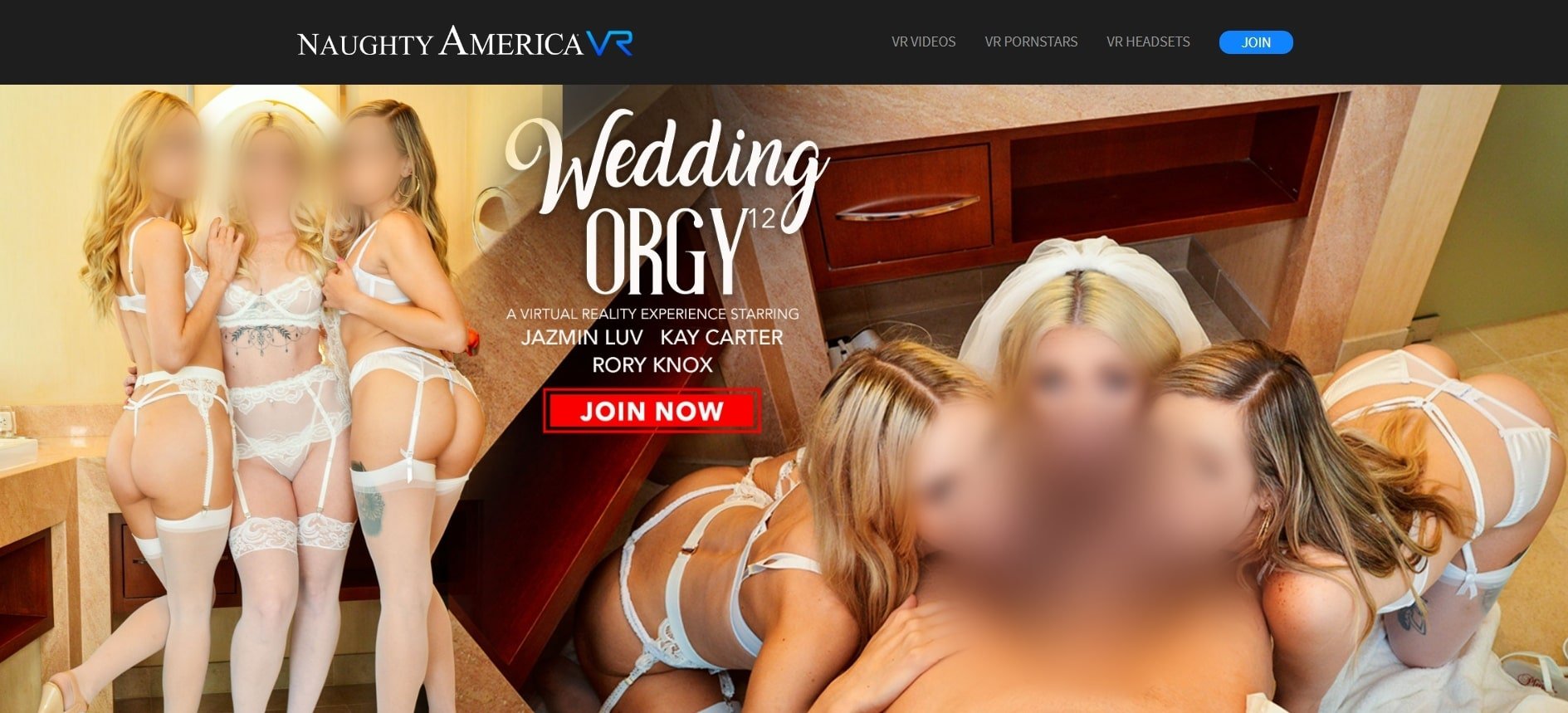 Subscription Fees
Three-day trial – $1.95

One month – $29.95

One year – $95.40, approx. $7.95 per month

One-year bundle – $239.40, approx. $19.95 per month (7 bonus sites included)
Features
Famous pornstars
Includes VR porn & 2D films
500+ VR porn films
6k UHD resolution
There's no denying that Naughty America has cemented itself as one of the biggest, most popular, and most trusted porn production companies out there.

Having said that, Naughty America VR is the company's way of joining the fray and proving it's more than capable of adapting new techniques to film its hot porn movies. And we have to say: NA is doing an amazing job.

For one, Naughty America undeniably has some of the biggest porn stars working with them, so you can expect superstar talents like Mia Malkova, Kendra Lust, and Faye Raegan to do their thing in an unprecedentedly immersive platform like VR porn.

Subscribing to this VR porn site service won't just grant you access to the virtual reality content, but it'll also provide you with a full membership to the main Naughty America platform. That means you get a whole load of 2D porn movies as well!

When it comes to the VR porn videos that NAVR has in store for its members, we're happy to let you know you won't find a shortage of hot categories here, which range from full-blown group scenes to nice solo clips. And by clips, we mean full-length VR porn videos, too.

No truncated 3-minute offerings to be had here!

The VR porn library isn't huge, but it's not small either, with around 500 movies to enjoy. Don't worry, though, because you'll find new stuff on a regular basis.

On the downside, we'd be lying if we told you that NAVR doesn't have any flaws. The novelty of the VR platform is obvious in that not all of their options are 6K UHD resolution. You'll still find some regular old HD stragglers here, but it's not enough to make you feel short-changed at all.

Lastly, this site is super user-friendly!

If you've already familiarized yourself with the classic Naughty America site, then you won't have a problem filtering and searching the numerous categories in this best VR porn sites library.
>>Head over to Naughty America VR and experience the best group scenes in vrporn
6.
Virtual Taboo
– Top Porn VR Site for Kinks and Fetishes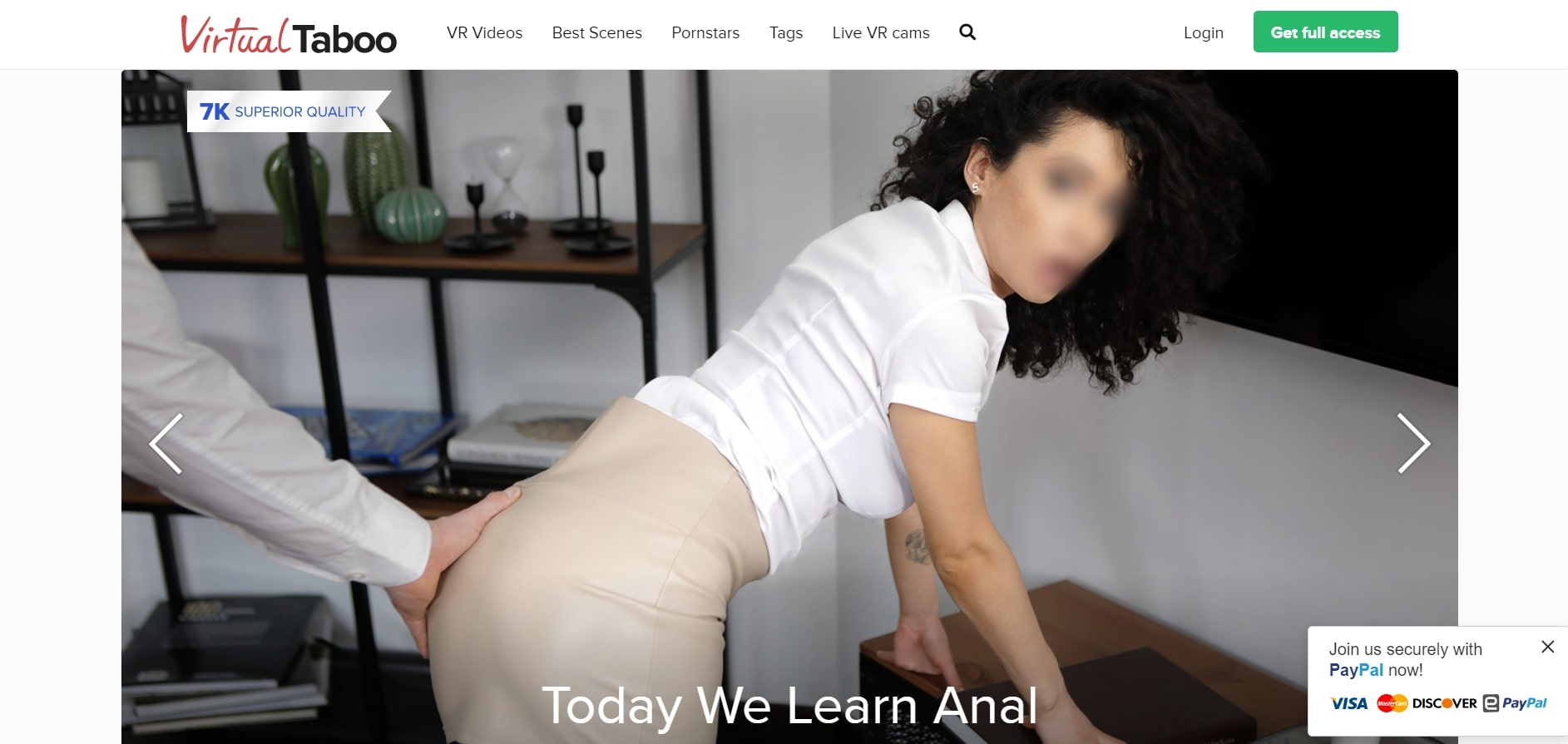 Subscription Fees
Per-video price – 7.95 Euros

One month – 12.95 Euros

Three months – 24.95 Euros

One year – 59.95 Euro
Features
Multiple categories (stepmom porn, fantasy, POV)
7K UHD VR porn movies
Easy to filter different movies
Work with PS VR & Oculus Rift
Virtual Taboo is another uncommon VR porn site that prefers to specialize in certain genres and categories versus covering the whole spread. It's working well for VT because it's established itself as one of the best VR porn sites for fans of fetish and alternative porn.

Once you hook up your Playstation VR set or Oculus Rift, you'll be treated to some nice wish fulfillment with the VR porn movies on offer. VT offers a diverse selection of immersive XXX movies that range from BDSM to stepmom fantasy porn…

It's saucy, to say the least.

And just because we mentioned PS VR and Oculus Rift doesn't mean those two VR goggles are the only brands compatible with VT. The company is open to most VR goggle models out there, and it's quite an accessible VR porn site in that regard.

What we love about the best VR porn sites is that it's one of those rare platforms that actually has an efficient tagging system. You'll easily find the fetish you want with a quick browse of their site.

Oh yeah!

VT is also rather prolific when it comes to producing new VR porn content for its members. On average, the site drops a new title every week.
Whilst it isn't a free VR porn site, there are VR porn videos with resolutions that run as high as 7K UHD, which is more than enough to make you feel like you're in the same room as the hot porn stars you're watching.

VT is one of the best VR porn sites because it doesn't just focus on streaming, either; members are allowed to download high-quality movies for some fun, offline viewing.

Also, there are too few VR porn sites like VT that allow new members to just dip their toes into the whole virtual reality porn scene. Instead of strictly offering monthly memberships, you have the option of just buying piecemeal VR porn clips from the site at a nicely affordable price.
That makes up for the fact there is no free VR porn here. 
>>Watch Virtual Taboo, the best porn VR website for kinks and fetishes
7.
Wankz VR
– Most Affordable Porn VR Site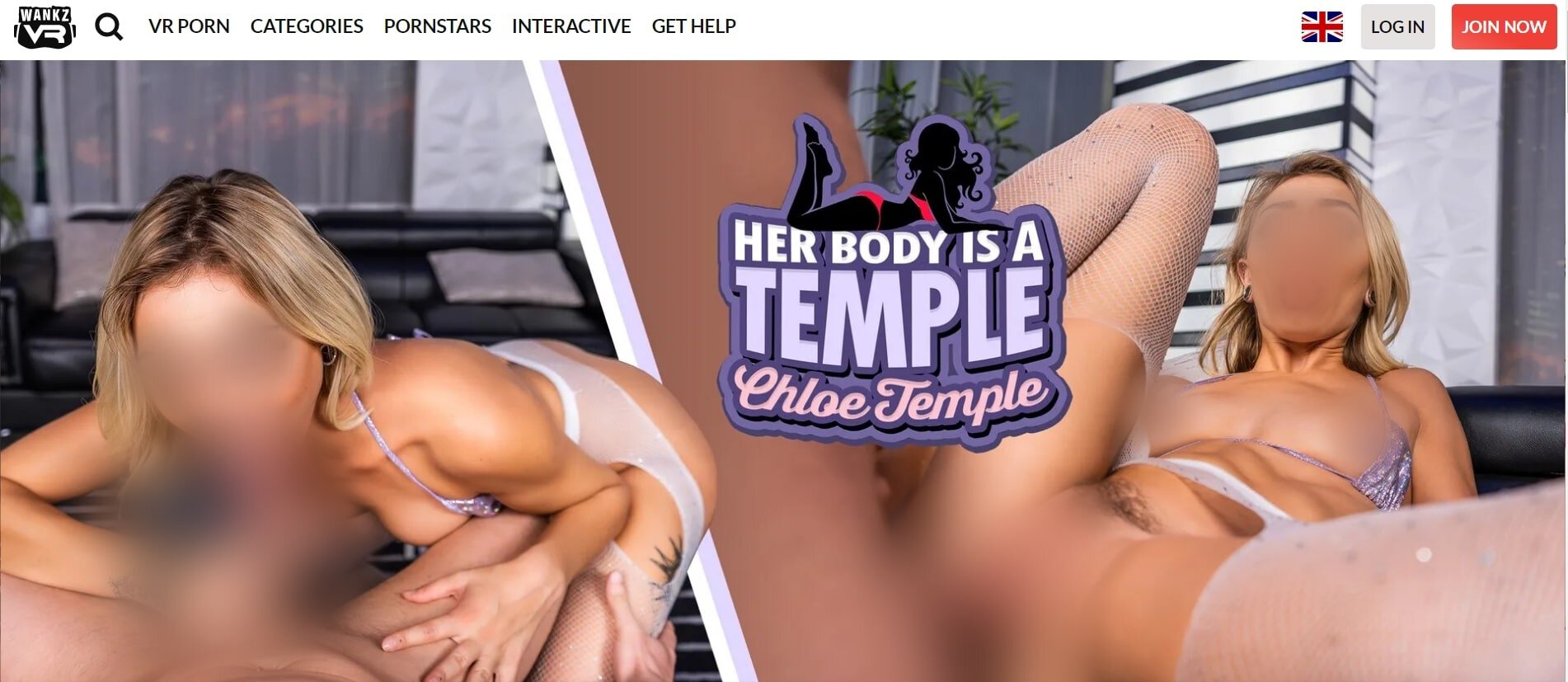 Subscription Fees
Two-day trial – $1.99 (limited to one download daily)

One month – $14.95 (unlimited downloads/streaming and nine new videos per month)

One year – $79.95 (also unlimited with 108 new videos yearly)

Lifetime access – $375 (unlimited, exclusive releases and 168 new videos yearly)



Features
Although VR porn has reached an unprecedented level of popularity these days, we can't deny that it's not a cheap option for watching XXX content, from the goggles to membership fees.

BUT…

WankzVR helps you on one end of the problem. While it's not a free VR porn site, it's definitely the most affordable VR porn site that you can join right now, with fees as low as $1.99 up to a relatively modest $375 for a lifetime membership with the site.

This isn't a case of something that's too good to be true, either, because WankzVR is as legit as they come. It's one of the best VR porn sites if you're looking for popular adult film performers doing VR scenes in mostly UHD video resolution.

You can find industry stalwarts like Kali Rose, Gina Valentina, and Uma Jolie providing their fans with some relief with the help of VR technology.

We also love how this site specializes in producing first-person POV VR porn movies, and these aren't just your basic VR fare, either. The site offers 360 and 180-degree VR POVs, which basically means you're fully immersed as soon as you put your VR goggles on.

A yummy immersion it is!

And speaking of VR goggles, this is where WankzVR falls a bit short. Long story short, they don't have the best compatibility when it comes to the brands you can use on the site. Right now, you can only access their hot offerings with either Oculus Rift or PlayStation VR goggles.

If you can access WankzVR, though, it's all smooth sailing from there. The site features one of the best user interfaces around, so you'll have an easy time signing up and ultimately enjoying this best VR porn sites video selection of 1000 titles and counting.

When it comes to the categories on offer, you'll find ten primary genres available. It might not seem like a lot, but keep in mind these categories are further subdivided for your taste.

Hell, you can even download the videos, and this applies to non-members too! That's right; non-members can check out free VR porn clips and more without even signing up.

WankzVR memberships come with access to the company's sister sites. There are 31 of them, mostly offering traditional 2D porn movies, and it's a welcome addition for sure. This is hands-down one of the best VR porn sites there is right now. 
>>Enjoy WankzVR, our most affordable porn VR site
8.
BaDoinkVR
– Best VR Porn Sites for Compatibility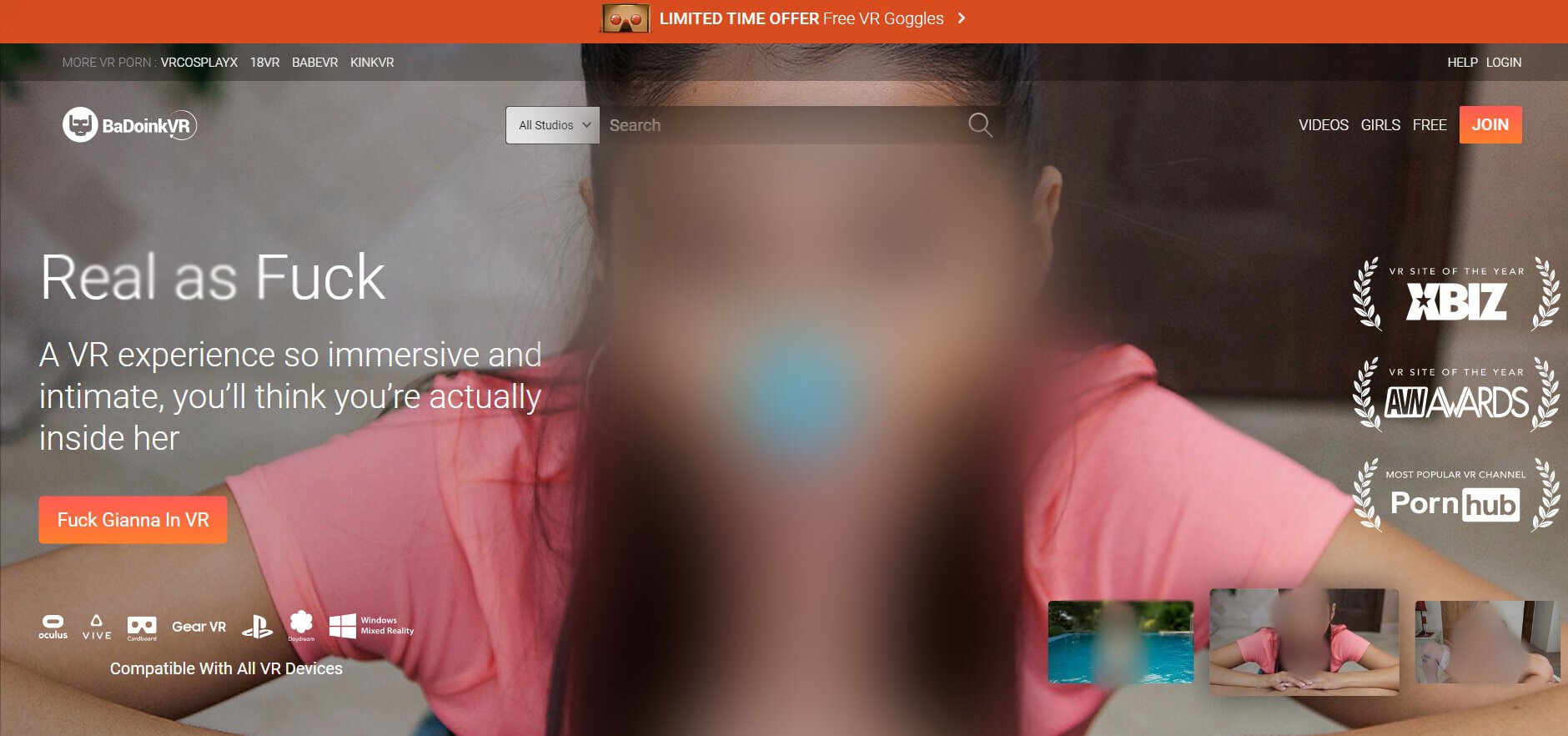 Subscription Fees
Trial package – $1 (Mobile streaming and one download only)

One month – $9.95

One year – $71.40

Lifetime package – $249.95
Features
200+ pornstars featured
300+ VR porn movies
Mobile app version
BadoinkVR is one of the most popular and accessible names in the VR porn biz right now. It's quite impressive since the site is on the younger side compared to some others on our list.

Signing up for an account is quick and easy too.

You'll need to download their first-party VR player app, though. Thankfully, BVR has one of the most reliable and user-friendly players compared to its competitors, so you won't be wanting for another app to get your VR porn fix.

Phew.

And if you're on the go, don't worry: BVR has a mobile app option with all the same features as the main site. Suffice to say, convenience is where BVR stands out.

But, we will have to say its library of VR porn videos and the porn star roster are both humble at best. As of now, they possess around 300 VR porn titles with 200 porn stars working with them.

On the upside, BVR provides members with weekly updates, so the library is steadily growing, and more performers are signing up with them on a regular basis.

BVR shines where compatibility is concerned as well.

From more popular makes and models like Samsung Gear VR, Oculus Rift, and PlayStation VR to lesser-known ones like Windows Mixed Reality and Daydream, BVR pretty much allows you to check out what they have to offer regardless of what goggle brand you use.
You won't find many that do this, which is why it's on our best VR porn sites list.
>> Head over to BadoinkVR, the best VR porn sites for compatibility
9.
CzechVR
– Best VR Porn Sites for Euro Porn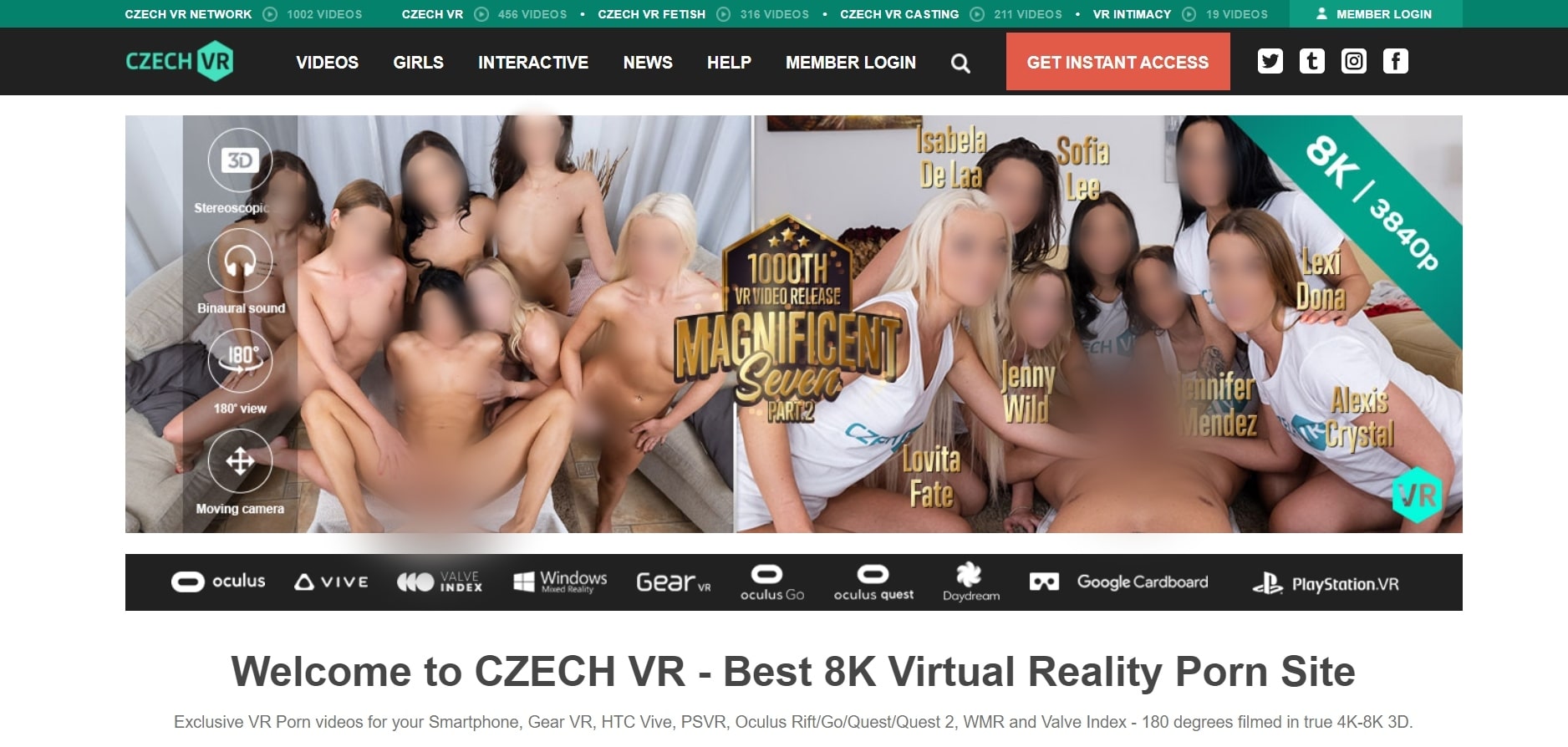 Subscription Fees
One month – $24.95

Three months – $16.65 per month, billed once at $49.95

Six months – $14.16 per month, billed once at $84.95
Features
Unique European VR porn scenes
300+ VR movies
30-minute runtimes
Downloadable image sets
We don't know if it's the climate out there or what, but there's just something about Eastern European porn that makes it way hotter than what we see elsewhere. With CzechVR, you're just a click away from some of the most deliciously filthy porn videos you can find.
Even more amazing is the fact that at just two years old, the studio has already dropped an impressive 300 VR porn titles and counting. What makes the porn-y pot all the sweeter is how your membership entails access to Czech VR's affiliate sites!

It's a win, to say the least.

As good as they are at producing XXX VR content, the technical aspects need a tad of improvement. As of now, the site only offers 180-degree POVs with its VR porn movies. But every VR porn clip here is in 5K HD resolution.

Members can both stream and download these VR adult films, and Czech VR even offers downloadable image sets, which definitely makes up for the lack of 360-degree viewing.

On average, Czech VR videos have a runtime of around 30 minutes, which is more than enough time for you to get immersed in all the European booties bouncing around in front of your eyes! Definitely a plus for one of the best VR porn sites out there. 
>>Check out CzechVR, the best VR porn sites for Euro porn
How To Use VR Porn Sites
For the uninitiated, using VR goggles to watch some hot porn movies might seem like an overly tedious task. However, the whole setup process is relatively easy and quick.
You need to sort out the following to make it happen:
Computer or mobile device with the right specs

Stable, high-speed internet connection

VR headset/goggles

VR player app or program
Once you have those tools ready, follow these steps, and you'll be enjoying the best VR porn sites in no time:

1. Make sure your internet connection is steady and working with the necessary speed required to properly stream or download your free VR porn movies. Given their high video resolutions, the file sizes on these clips go for at least 1GB.

2. Download an appropriate VR player app or program. Your VR headset comes with this software. Keep in mind that depending on the VR porn site you're using, you might have to download a different VR player app.

3. Make sure your mobile device or computer is properly connected to your VR headset. Each VR headset model has its own connectivity settings, so check your user manual accordingly.

4. Next, head over to your best VR porn sites. Whether you choose Naughty America VR or SexLikeReal, all you have to do now is use your VR headset's touch controls to visit your chosen website and start watching some hot XXX VR movies!
Top VR Porn Sites, Find VR Porn Games FAQs
How Do I Watch VRporn Online?
To watch VRporn online on one of the best VR porn sites, all you need is a stable internet connection and a compatible VR headset.
Depending on the headset you choose among the best VR headsets for porn, you will either need to connect via a device like a laptop/desktop, mobile, or a games console, or they will automatically connect you directly to the VRporn of your choice. 
What Does VRporn Feel Like?
VRporn feels like you are in a room with your favorite pornstars. Porn VR mimics everything you see IRL. You'll have either a 360-degree or 180-degree view of the room, giving you a first-person perspective of what is happening.
What better way to spend your solo pleasure time? If you want to check out the best VR porn sites, have a read through this review.
What Is the Best VR Porn Site?
The best VR porn site with top VR porn scenes is VRBangers. All of the porn VR on this site is in 6k HD, meaning you get clear, crisp XXX movies showing all the details you want. 
Is It Safe to Watch VRporn?
Yes, it is safe to watch VRporn. There are no health concerns around using porn VR; in fact, masturbation is healthy and can reduce stress, as well as help you understand what you like sexually. 
Choose from free VR porn sites or one of the best VR porn sites in our review to get started. 
>>Why masturbation is good for you
Are There Any Free VR Porn Sites?
Yes, the best free VR porn site is Pornhub VR. You can find over 200 free VR porn clips on the site and watch them on either your laptop/desktop or on your mobile. 
Conclusion: The Best VR Porn Sites
There you have it, our best VR porn sites right now. Whether you're an experienced pro or a complete newbie, you'll soon be enjoying XXX adult content while having fully immersive experiences.
Just hook up that VR headset and check out one of our best VR porn sites, like VR Bangers, SexLikeReal, or VRCosplayX. 
Just remember to come back to reality from these incredibly hot porn VR videos once in a while…if you can!