There's no denying that sex toys for men have grown in popularity over the past couple of years.
And if recent trends are anything to go by, male masturbators are here to stay, especially as men become more comfortable exploring their pleasure points further.
High-quality male masturbators are perfectly safe and can be used frequently without any negative effects. The trick is to invest in top-drawer products designed by renowned manufacturers using safe, high-quality materials.
But with several sex toys for men available, it can be daunting to choose between different types, especially when getting started.
Lucky for you, we've conducted a thorough review of 10 of the best male masturbators, from Fleshlights to cock rings, automatic masturbators, and a wide range of anal toys.
Read on to learn the main features, pros, cons, and uses of the best sex toys for men.
How We Ranked the Best Sex Toys For Men – 7 Factors
When ranking the best sex toys for men, we considered the following factors.
What's the Price? One of the most important considerations to make when investing in male masturbators is the cost. While we reviewed both affordable and expensive toys, the final choice should come down to your budget and needs.

Build quality: The last thing you want is to spend tons of cash on a male sex toy that won't serve you long enough. All male sex toys that made it to our review are made of quality materials, both internally and externally.

Brand reputation: With 1000s of male sex toy manufacturers out there, it's vital to buy from trusted brands. All products in our review are manufactured by industry leaders, with all using hypoallergenic materials and durable casing.

Is it easy to use?: Another crucial factor we considered when listing the top male sex toys is their usability. We blended several products, from compact to large-sized toys, to give you enough options when choosing the best male sex toy.

Functionality: When investing in male masturbators, you ideally want toys that let you switch between vibration patterns, amp up the speed and even tap into features like remote play with your partner.

Easy to clean?: It's vital to clean your male sex toy regularly, at least if you want to avoid infections and prolong its useful life. Most male masturbators are easy to clean, while others, like Fleshlights, are relatively challenging.
What's it actually for?: Every male masturbator is designed to perform a specific role. We chose a balance of penis stimulators, anal toys, and hybrid toys to help you choose one that suits you best.
With this information, we were able to whittle down a list of the best male sex toy products.
Best Male Sex Toy – First Look
1. Autoblow AI – The Best Male Sex Toy Overall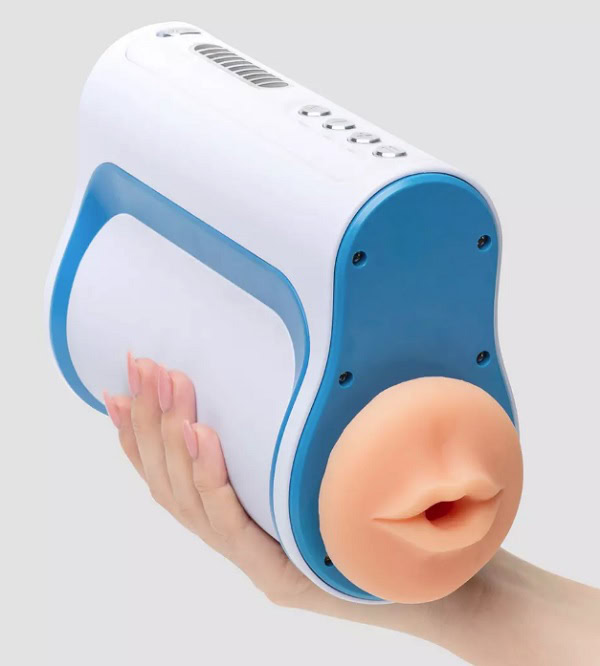 Top Features
Full stroke experience (top to bottom)
Adjustable penis gripper
Wi-fi connectivity
Voice & remote control features
Interchangeable (easy to clean) silicone sleeves
Cost
The Autoblow AI is designed to deliver powerful (and customizable) strokes that'll blow your mind away, making it one of the best sex toys for men around.
And as the name suggests, the Autoblow AI uses artificial intelligence to streamline its motion technology. Yerp, you'll have AI replicating a wide range of oral sex techniques.
Amazing.
Oh, and did we mention the Autoblow AI comes with 10 unique intensity levels? You can choose from a full stroke (strokes the entire length), intense edge (full strokes for 3 seconds with 1-2 seconds pauses), fast edge, top stroke, and bottom stroke, among other intensities.
There's also the Full AI Experience, an intensity level that switches up between different techniques. Just sit back and let your new best friend do the rest!
And it's super quiet, too.
Not big on battery-powered devices? No problem! The Autoblow AI comes with a power cord that fires it up, allowing you to enjoy the slow (or fast) strokes for hours on end without interruption.
You can enjoy your alone time for hours with this one!
It's also nice that the Autoblow AI is easy to use, despite its fairly intimidating look. You'll be using the power button to fire up the male sex toy and switch between patterns, while the + and – buttons allow you to regulate the overall speed.
>>Check the best deal for the Autoblow AI here<<
2. Lelo TOR 2 – Best Vibrating Cock Ring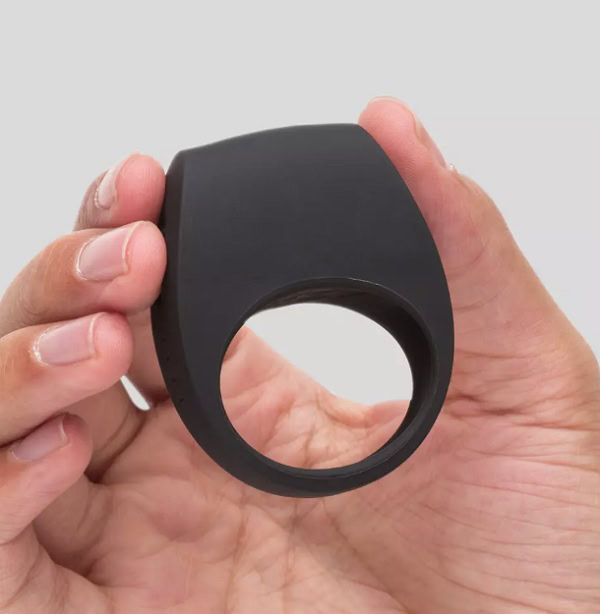 Top Features
100% waterproof
6 vibrating settings
2-button interface (highly intuitive)
Fully flexible (can fit all sizes)
Couple-friendly
Cost
Made of body-safe silicone, the Lelo TOR 2 sits comfortably atop the list of the most powerful vibrating cock rings.
It's designed with simplicity in mind, a feature that is evident in its highly intuitive 2-button interface. No need for several buttons, just turn the bad boy on and choose your preferred intensity.
Convenient.
Scared that size matters? Well, it doesn't, at least not when it comes to the Lelo TOR 2. The male sex toy's flexible design ensures it can fit any size –just slide it in!
You can use it in any position or tag it to the pool or bath, as it's 100% waterproof. No need to hold the toy in place, just set it up, and turn your wildest fantasy into reality.
Say hi to your newest team member!
To get started, all you'll need to do is turn on the male sex toy and choose your preferred setting (from the 6 available styles). And with a 50dB maximum noise level, there's no need to worry about 'excessive noise' – not unless we're talking about your moans.
On top of all this, it also boasts a fairly powerful battery that'll keep it running for up to 1.5 hours.
>>Get the best Lelo Tor 2 deal here<<
3. Aneros Helix Syn – Good Beginner Prostate Massager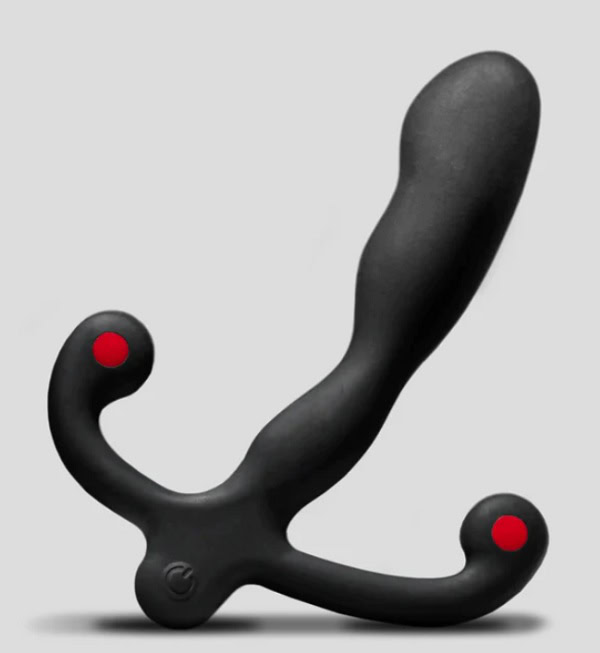 Top Features
Simultaneously stimulates 4 erogenous zones
Angled head for focused stimulation
Comfortable & easy to use
Suitable for hands-free pleasure
Cost
Big on prostate stimulation? If so, then the Aneros Helix Syn is the ideal anal toy to get you jazzed about butt play.
Before we get 'deeper' in this Aneros Helix Syn review, let's address the elephant in the room by stating the male sex toy is pretty small and easy to slide in and out.
So if you've never slid anything up your butt before, the Aneros Helix Syn is your best bet.
The soft handles not only make the anal toy easy to remove, but they also ensure it stays firmly in position. In addition to gently nudging your prostate, the Helix Syn massages your anal canal, allowing you to drift off into ecstasy.
And since the anal toy is hands-free, just slide it in and go about your day.
The trick to making your experience as enjoyable as possible is applying a generous amount of lube and relaxing your anal muscles.
Lay comfortably in bed, preferably on your side, before sliding your well-lubed toy inside. Once in, it's time to get your hands off and relax (and contract) your pelvic muscles until your orgasm comes knocking.
It takes some practice, but you'll thank us later.
>>Kickstart your handsfree anal play adventure with the Aneros Helix Syn here<<
Top Features
Compact design
Either end can act as an entryway
Easy clean up
Circular, extra comfortable wave-like texture
Sleeve caps (convenient storage)
Cost
If you're looking for a compact, budget-friendly male sex toy, then you need not look any further than the Fleshlight Quickshot Vantage.
The Quickshot Vantage is almost 3 times smaller than your typical Fleshlight, meaning you can tag it anywhere your fantasies take you. It also comes packed with sleeve caps that make storage a breeze, ensuring your tiny male sex toy stays super hygienic and ready for use.
The best part? It's ice clear, so you get to view your main man responding to the strokes.
And the Fleshlight Quickshot Vantage is not just for solo play, you can spice up your blowjobs courtesy of its open-ended design.
Speaking of the open-ended design, cleaning a toy has never been easier, as you can even turn this bad boy inside out for a thorough clean.
The 'major' problem with the Fleshlight Quickshot Vantage is that size matters. Sadly, its compact design means it isn't suitable for guys with enormous girth sizes above 5.5 inches.
The good news, however, is that Fleshlight is easy to use and clean. Plus, it's super durable, meaning you can tag it along on your multiple adventures wherever work or play takes you.
>>Check the best prices for the Fleshlight Quickshot Vantage here<<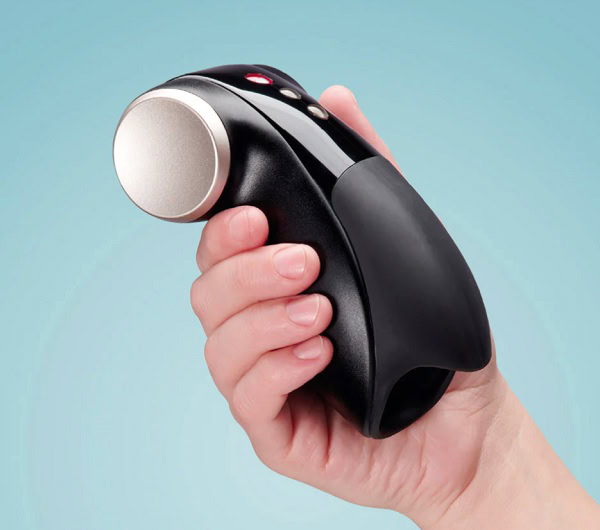 Top Features
Two powerful motors
Perfect for hands-free pleasure
Suitable for couple play
Waterproof
40-120 minute battery life
Cost
It's impossible to leave out the Fun Factory Cobra Libre when discussing badass penis vibrators.
Sure, you won't get wi-fi connectivity with this male sex toy, but its two powerful motors are more than enough to give you that coveted spine-tingling sensation.
And while you can use the Cobra Libre II with one hand, it's perfectly suited for hands-free use. Oh, and you can use it solo or invite your partner on top to join in on the fun.
Versatile.
It's also waterproof and comes with a travel lock that makes it the perfect companion.
Unlike a cock ring that sends vibration from the bottom of your penis, the Cobra Libre II focuses more on the head, creating that light suction that'll get and keep you hard.
There's no need to stroke, squeeze, or thrust. Just lay down and leave the rest to the toy.
You'll enjoy the 40-120 minute battery life, while the charging level indicator makes charging a straightforward affair.
>>Check the best price for the Cobra Libre II here<<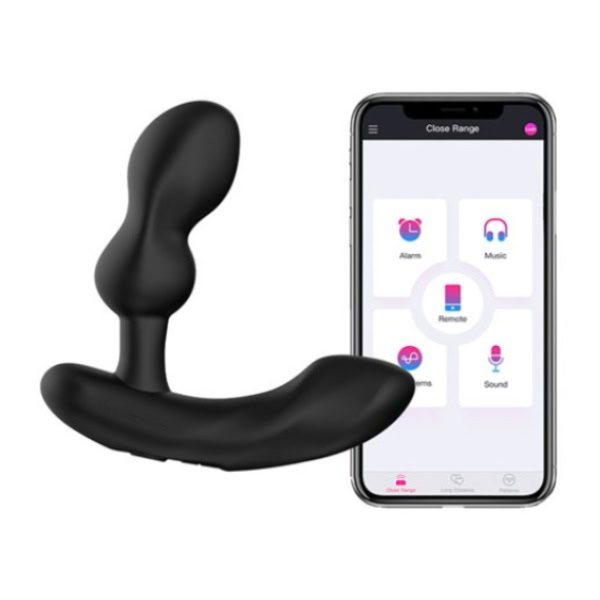 Top Features
Slim, easily adjustable neck
Dual ends perfect for perineum & P-spot stimulation
Intelligent functions like music sync & long-distance play
Ultra-strong dual motors
Cost
The Lovense Edge 2 can keep a secret, but can you? Dubbed the best prostate vibrator by thousands across the globe, the Edge 2 is known to be whisper-quiet despite packing a decent amount of power.
And that the male sex toy integrates intelligent functions only makes it even more convenient. Besides jamming to your favorite jams while enjoying some P-spot stimulation, you can take advantage of Edge 2's use of teledildonic tech for some long-distance play.
Talk about tech making things easier!
The Lovense Edge 2 is ideal for both beginners and experienced users as it's made from 100% body-safe and super soft silicone. So just lube up and slide it in for the ultimate pleasure.
Handsfree pleasure, to be precise!
The battery seems to be powerful, too, as a 100-minute charge should be enough for an hour's-long play. A full charge will leave you moaning for hours as your partner controls the vibrations.
To make the most of this capable male sex toy, it's highly advisable to download the Lovense remote app. You'll get access to over 10,000 patterns and get unlimited music sync functionality.
>>Check the latest Lovense Edge 2 pricing here<<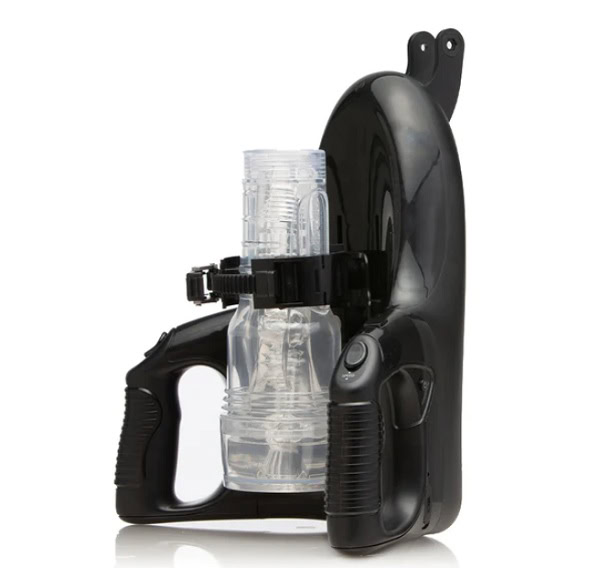 Top Features
Fits any regular-sized Fleshlight
Up to 250 strokes per minute
Universal smartphone mount
Easy to set up and use
Cost
$199.95 (Fleshlight also needed)
The Fleshlight Universal Launch is ranked among the best sex toys for men due to its ease of use and functionality.
While the Fleshlight manufactured toy has 'universal' in its title, it's worth noting it won't fit all Fleshlight toys – just the regular-sized STU-style toys (the larger ones).
To get started, you'll need to strap your compatible stroker using the Launch's Ratcheting System.
Next is to slide your toy and use the latch to tighten the grip. Once your toy is perfectly set up, you can proceed to power up the Universal Launch, using the rocker switches to regulate stroke lengths and speeds.
The good thing with the Fleshlight Universal Launch is it allows you to shorten or increase the stroke length to stimulate the shaft, tip, or base.
And it gets even better as a universal smartphone mount ensures you can enjoy an entirely hands-free experience while watching your favorite adult stars in action.
Killing two birds with one stone has never been easier!
But before you enjoy the Universal Launch's 250 strokes per minute, it's worth noting that the device isn't waterproof and is better suited for stable surfaces.
That said, you'll enjoy the Fleshlight Universal Launch if you're big on hands-free pleasure and love experimenting with a wide range of strokers.
>>Check the best price for the Fleshlight Universal Launch here<<
8. NJOY Pure Wand – Best Anal Toy For Any Gender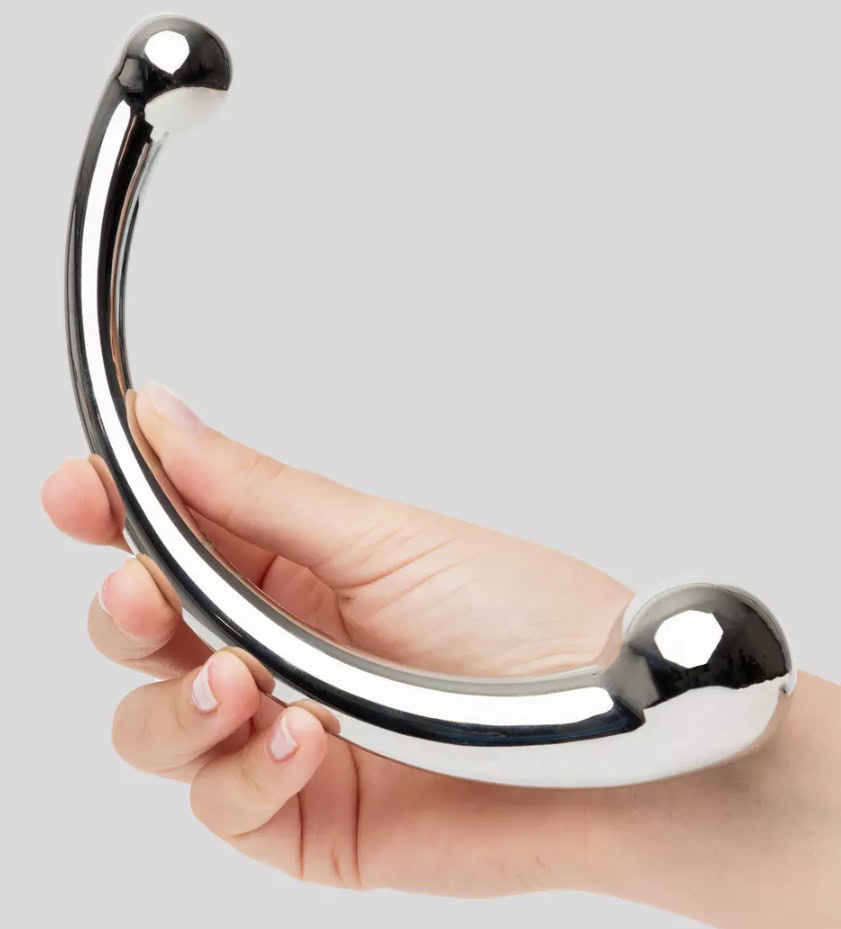 Top Features
Made of 316-grade stainless steel
Perfect curvature for the ideal experience
Easy to clean and maintain
G-spot and P-spot stimulation for ANYONE
Cost
The NJoy Pure Wand is among the most popular sex toys for men, women, and just about everyone… and for a good reason, too.
Not only is the design of this stainless steel wand simplistic, but the anal toy is easy to clean and use. It's nice that one end is girthier than the other, allowing for a gradual introduction to anal play.
Oh, and that the NJOY Pure Wand is made of medical-grade stainless steel means that it'll never corrode or degrade, making it one of the most durable male masturbators out there.
One thing to note about the NJOY Pure Wand, however, is that it's pretty heavy and might need some getting used to. As such, it's best to start with the smaller side as you work your way up.
Trust me, it's totally worth the wait (and experience).
Let's be honest, cleaning up is usually the least fun part of toy play. But with the NJOY Pure Wand's simplistic design, you won't need to worry about rinsing, drying, or storing your toy.
Warm soapy water should do the trick after use. It's also advisable to always rinse your Pure Wand with clean water before use (regardless of how safely it was stored).
>>Check the best deals for the NJoy Pure Wand here<<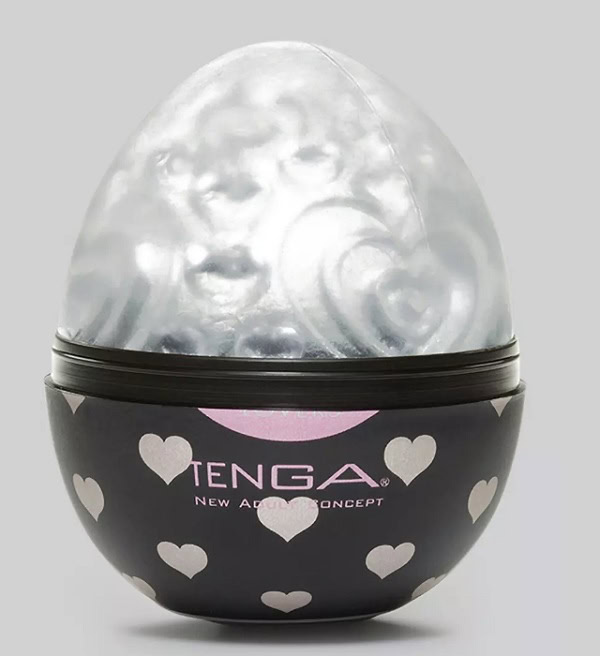 Top Features
Affordable penis stroker
Made of super-stretchy material (fits all sizes)
Designed for single use
Comes with lubricant
Pricing
Don't be fooled by the Lovers Heart's tiny size, as this compact toy can keep up with most standard strokers.
While you'll need to do the stroking yourself, you'll appreciate that the egg comes packed with its own lube, which makes it among the easiest-to-use sex toys for males.
Besides its compact size, the Tenga Egg Lovers Heart is super stretchable, meaning it can expand enough to fit any size.
And the best part? You can choose to use the male sex toy for self-arousal or use it as part of intense foreplay with your partner.
Versatile.
Did I mention that the egg warms up to your body temperature? Yep, you get to feel like you're penetrating the real deal, and it's super intense!
And if you fancy something other than the Egg Lover's heart, you can easily choose from Tenga's wide range of Eggs, which come with their unique sensations.
Cleaning up after use is also super easy, especially since the Eggs come in convenient packaging that allows you to insert the used egg for convenient, covert disposal.
>>Check the best price for the Tenga Egg Lovers Heart here<<
10. Lovense Max 2 – Automatic Cock Sucking/Vibrating Machine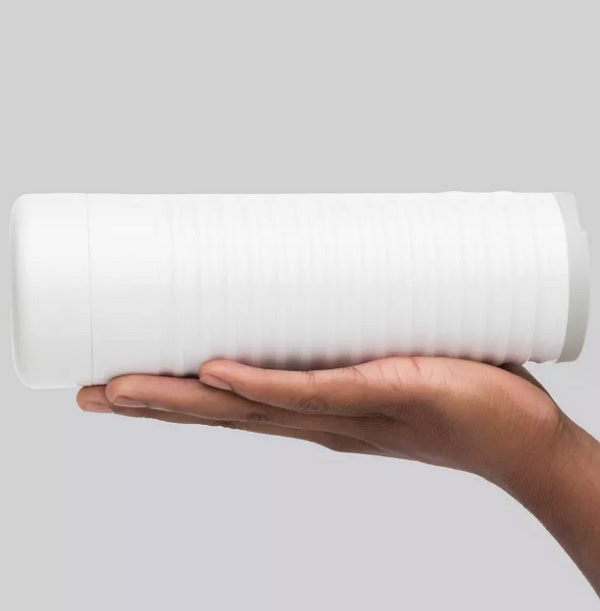 Top Features
Adjustable air vent (for controlled suction)
3DXChat capability (interactive adult game)
100% hypoallergenic
Penis vibrations, contractions, and suction
Cost
You won't find many male masturbators that prioritize dual stimulation like the Lovense Max 2. Featuring a simplistic 2-button design, you can easily control the vibration speed with one button while using the other to increase or decrease the suction to suit your preferences.
The sensations you get from this male sex toy are unmatched, courtesy of its realistic-feeling, multi-textured sleeve.
And if you're a lover of interactive adult games or videos, you'll appreciate the Max 2's ability to sync with other devices for that realistic sexual experience.
So, in addition to enjoying solo pattern play, you can also take advantage of the male sex toy's long-distance play and sync capabilities.
Perfect for long-distance relationships.
It's also worth noting that although not 100% waterproof, the Lovense Max 2 is designed to resist heavy splashes of water, which makes cleaning a rather straightforward process.
Downloading the Lovense Remote app will allow you to make the most of your automatic sucking machine. The app is compatible with iPhones and iPads (iOS 11 and later), Android (5.0 and later), and Mac devices with Bluetooth 4.0 enabled.
Get into it.
>>Check the best deals for the Lovense Max 2 here<<
What Are The Main Types of Male Sex Toy? The 4 Main Kinds
Sex toys for men come in different shapes and sizes, as they're designed to perform a wide range of roles.
Let's look at the main types of male masturbators that you should probably know about.
Fleshlights & Male Masturbators
Fleshlights and male masturbators are unique sex toys meant to help men enhance their solo or couple sexual experiences.
On most occasions, Fleshlights and male masturbators are shaped like an anus or vagina and usually feature soft internal material such as TPE or silicone.
Fleshlight is a well-known male sex toy brand that specializes in creating quality products to help men achieve orgasms solo or with the help of a partner. With Fleshlight, you get a wide variety of orifice options, from oral to anal and vaginal.
Take your pick!
What makes Fleshlights unique is their use of super soft sleeves that recreate the actual sexual experience. The company took the initiative to create its patented SuperSkin sleeve that enhances the masturbation experience by imitating the targeted orifices.
With Fleshlight, you can choose from vibrating models, handheld models, and even automatic strokers to bring your wildest fantasies to life.
While there are some light Fleshlight models that are perfectly suited for manual stroking, the heavier ones are better suited for hands-free use.
Other top male masturbators use silicone as their inner sleeves while also integrating a variety of technological enhancements to further streamline the masturbation experience.
Although simple male masturbators are usually easy to clean, you may need to pay more attention when cleaning your Fleshlight toys.
The good news, however, is that almost all male masturbators (Fleshlight included) come with detailed user manuals that guide you on everything from usage to cleaning.
Cock Rings (and Vibrating Cock Rings)
Cock rings are male sex toys designed to be worn or placed at the base of your penis. At times, men prefer wearing cock rings around both the testicles and penis for added pleasure.
While there are different types of cock rings out there, most are typically made of rubber, silicone, metal, or even leather.
Although tiny, cock rings have a significant impact on an individual's sexual performance. They work by constricting penile blood flow, allowing users to maintain harder and more durable erections.
This is great for men with ED (erectile dysfunction).
Cock rings come in different types. For instance, some cock rings are adjustable, meaning you can tighten or loosen them as needed. You can also choose from vibrating or non-vibrating cock rings, depending on your preferences.
Vibrating cock rings are hugely popular as they add to the overall sensation during partnered sex. These cock rings can either stimulate the clitoris or perineum, allowing users to achieve intense orgasms.
You can also choose non-vibrating cock rings, as they're still well-equipped to restrict blood flow and get the job done.
One thing to note about cock rings, however, is that they shouldn't be worn for too long. Ideally, cock rings shouldn't be on for more than 30 to 40 minutes, lest they start causing discomfort or even injuries.
You can only restrict blood flow for so long!
Anal Toys (For Men)
Unlike cock rings and penis vibrators that target the penis, an anal toy focuses more on hitting the P-spot and massaging the perineum. Let's take a look at some of the most popular anal toys out there.
Butt Plugs
A butt plug is a type of anal toy designed to massage the P-spot for enhanced sexual pleasure. The good thing with these bulb-shaped toys is that they're versatile and can be worn during sex or other activities.
This type of anal toy works by creating pressure, which stimulates the perineum and/or prostate for stronger orgasms.
Besides increasing arousal, a butt plug is an anal toy that is useful in preparation for anal sex. When worn, the anal toy stretches the anus, which helps relax the muscles, allowing for a more pleasurable experience during insertion.
Basically, you stretch yourself out a bit!
Be warned, though, that butt plugs can cause irritation, infection, or even injury if not used correctly. This anal toy requires a high level of hygiene and lubrication. Remember to start with smaller butt plugs as you work your way up.
Anal Beads
Anal beads, as the name suggests, are a unique type of anal toy that is made up of interconnected balls or beads. To use this anal toy, you'll need to insert it carefully (with the help of lube) into the anus.
The pleasure when using anal beads is usually derived when the anal toy is slowly pulled out. You can use them when masturbating solo or during partnered sex.
Whatever floats your boat!
But just like other types of anal toys, you'll need to be careful when inserting and removing anal beads. It's also advisable to start with smaller beads if it's your first time using this anal toy.
Prostate Massagers
Prostate massagers are anal toys specifically designed to stimulate the prostate gland. In case you're wondering what the prostate gland is, it's a tiny gland located below the bladder.
Healthline have a whole page on Prostate Orgasms if you need some help.
Let's take a quick look at the different types of prostate massagers.
Vibrating prostate massagers: These anal toys feature motors that vibrate to create that much-desired prostate stimulation. Vibrations tickle your P-spot so you can just lie back and relax.

Curved prostate massagers: Although most prostate massagers usually have a type of curvature, there are some that are entirely curved to provide intense prostate stimulation.

Prostate massagers with perineum stimulators: These anal toys stand out due to their additional feature – a dedicated perineum stimulator. The extension works by applying pressure to the perineum, allowing the user to experience double stimulation.
Besides enhanced pleasure and stronger orgasms, prostate massagers also help improve prostate health. Massaging the prostate regularly helps improve blood flow to the gland, in the process reducing the chances of prostate cancer.
These anal toys also help improve urinary function when used correctly.
Automatic Male Masturbators
Automatic male masturbators are sex toys for men designed to pleasure and provide extra stimulation to the penis. These male sex toys are usually powered by motors that vibrate or produce rotating movements to create that pleasurable effect.
Let's take a quick look at some of the popular automatic sex toys for men.
Penis vibrators: Penis vibrators use motors to create different types of vibrations for penis stimulations. You'll find some models with textured sleeves to recreate penetrative sex.

Suction masturbators: These sex toys for men use a suction mechanism or vacuum to create a sensual pulsating or sucking sensation. You might also refer to these as blowjob machines.

Rotating masturbators: These male masturbators use oscillating or suction mechanisms to create a stroking or massaging sensation on the penis.

Combination masturbators: Some sex toys for men combine different vibration patterns to create intense sensations.
The Best Male Sex Toy – Wrapping Up
When choosing the best male sex toy, it's vital to go for high-quality products that, besides serving you for long, will provide maximum satisfaction.
The Autoblow AI ranks as our best male sex toy as it's ultra quiet and comes packed with tons of advanced features. And that it uses AI to spruce up the vibration and patterns only boosts your chances of experiencing mind-blowing orgasms.
If a cock ring sounds better to you, then you might want to try out the Lelo TOR 2, a high-quality vibrating cock ring that's perfect for both solo and partnered play.
Whichever male sex toy you choose to invest in, it's best to consider factors such as the features on offer, the cost, materials used, and targeted pleasure points.
It's also vital to observe proper hygiene when using male sex toys.
As fun as they may be, they can also lead to infections and injuries if not used correctly. We strongly advise that you go through the user manual to know the ins and outs of your preferred toy.
Now that you're in the know about the best male sex toys, let the games begin!