Having a penis doesn't stop you from enjoying the benefits that today's sex toy industry has to offer. In fact, you can now find more male adult toys than ever to tickle (or vibrate) your pickle.
And yes, you have a G-spot in your butt, too.
You'll encounter a lot of options in your pursuit of satisfaction, so we made things easier for you by listing the best male adult toys on the market.
Let's get into it.
First Look at the Top Male Adult Toys
1. Autoblow AI – Best male adult toy overall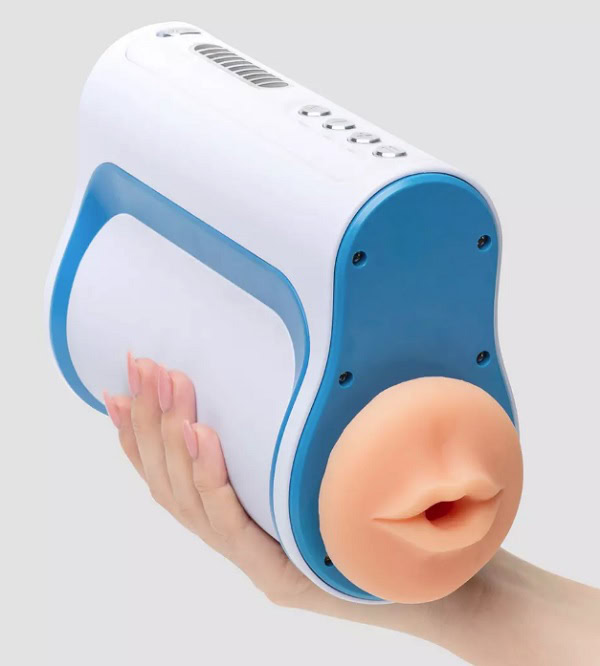 AI might not yet know how to rule the world, but it sure knows how to get you off and rock your world.
You just need to plug the Autoblow AI in since it doesn't work on batteries, but as long as you're near the wall outlet, it's not an issue, and you never need to worry about batteries again.
It has 6 voice commands: Slower, Faster, Pause, Next, Go and Finish Me, and we'll let you discover the sweet surprise that comes after saying the words "Finish Me".
Yes, it's expensive, but it's literally a blowjob machine powered by machine learning. What did you expect?
Features
Responds to 6 voice commands
Never gives the same BJ twice
Adjustable grip size for preferred tightness
AI studied 6000 hours of porn
Price $220
Click here to get satisfied by Autoblow AI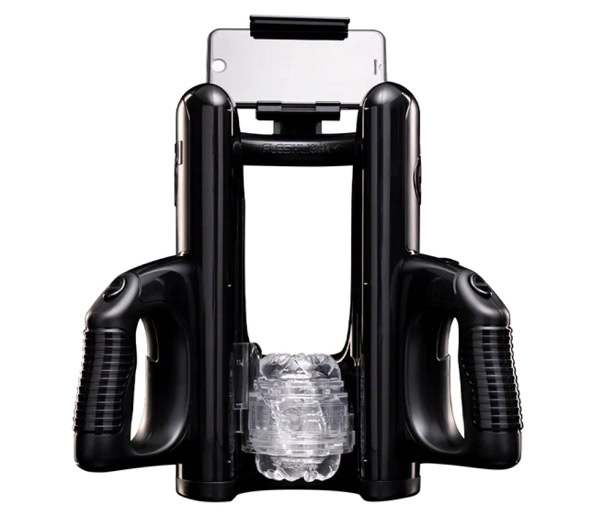 If you're looking for the best masturbation sleeve that you could try out as a beginner, you should definitely check out this sex toy.
The Fleshlight Quickshot Vantage is open on both ends and has a transparent design.
This can lead to a fun night together with your partner or just some quality alone time with ultimate penis pleasure thanks to the bumps and lumps of the interior texture.
Features
Spices up oral sex with a partner
Voyeuristic benefit of the transparent design
Easier to clean thanks to the open ends
Insertable length is 3.5 inches
Price $34.95
Enjoy the transparent design of Fleshlight Quickshot Vantage
3. Lovense Max 2 – Best wireless male masturbator
If you're in a long-distance relationship, you're going to love some of these male adult toys, especially the Lovense Max 2.
Your partner can control this male masturbator from a distance by using the Lovense app, so they can give you vibrating sensations around your penis while not being in the room with you.
And of course, you can control if yourself too!
If you were looking for a virtual BJ –this is the closest it gets to it! There are full vibrations and 360-degree contractions to get you off just right in a VERY intense manner.
Features
Easily controlled from afar by using the app
Vibrates & gives a suction effect
Suction control by using the air valve
Intense pleasure, thanks to the bumpy internal sleeve
Price $99.99
Get unlimited BJs with the help of Lovense Max 2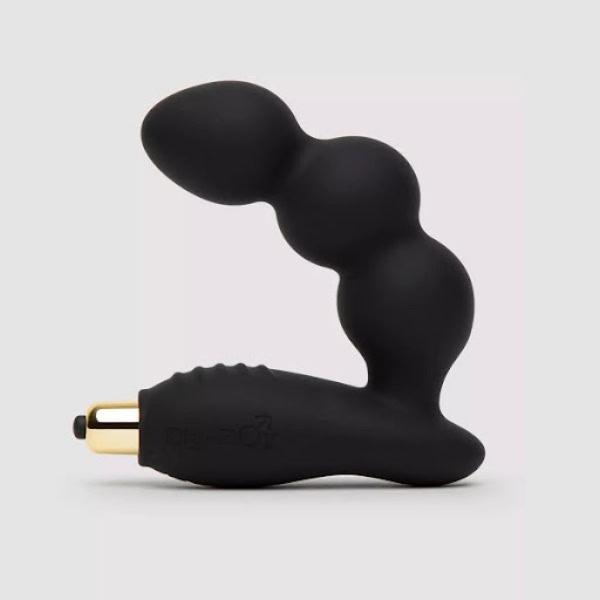 Anal toys are more popular than ever, and their customers are of all sorts of sexual orientations, straight men included.
This hands-free vibrator has 7 functions and is designed to stimulate both the prostate and perineum.
You can use this big boy during penetration while you're with your partner, or when you're alone, for instance, in your bathtub since this sex toy is waterproof.
Features
Large proportions for intense pleasure
Hands-free operation enables many positions
Stimulates both prostate and perineum
100% hypoallergenic & waterproof
Price $49.99
Enjoy a prostate massage with the Big Boy
5. NJOY Pure Wand – Best sex toy for prostate play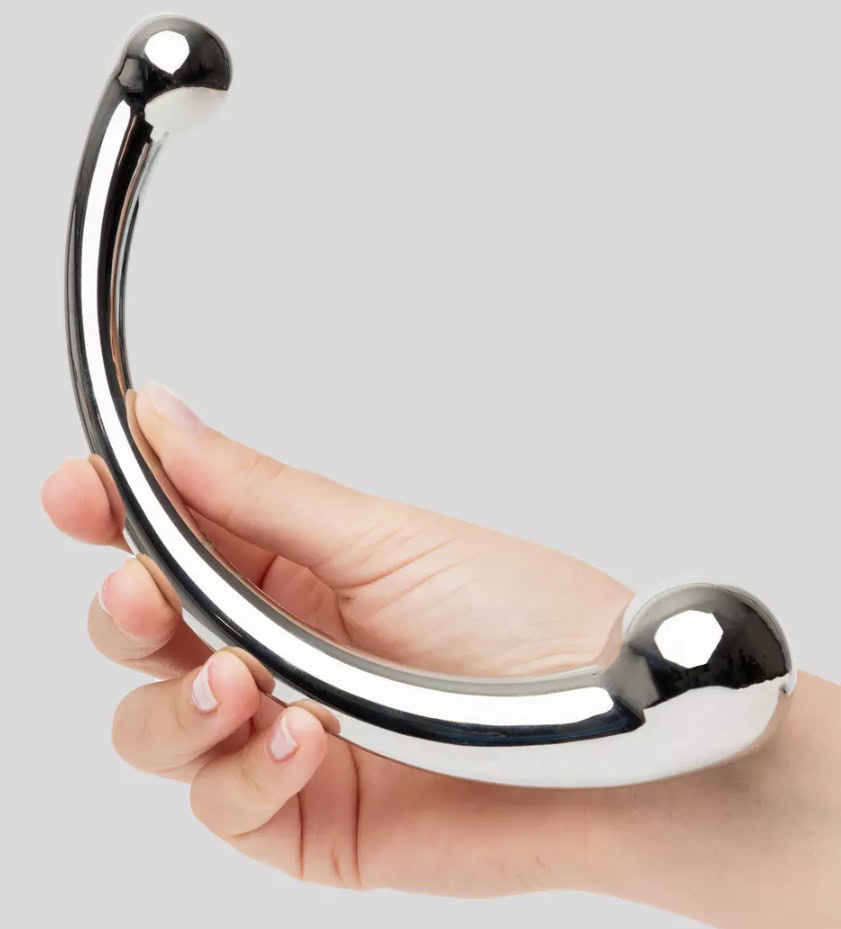 This stainless steel sex toy lets you enjoy prostate play whether you are masturbating alone or playing around with your partner.
Its curved shape lets you easily rock this sex toy back and forth to trigger a prostate orgasm.
The double-ended design makes it possible for you to try two different sizes – one more intense than the other!
Stainless steel anal toys like these hold cold and heat pretty well, so they're great for temperature play too. You can get really creative here, but it definitely requires some practice!
Features
Curved shape allows easy movement
Double-ended design allows two sizes
Great for temperature play
Long-lasting and easy to clean
Price $120
Feel intense prostate orgasms with the NJOY Pure Wand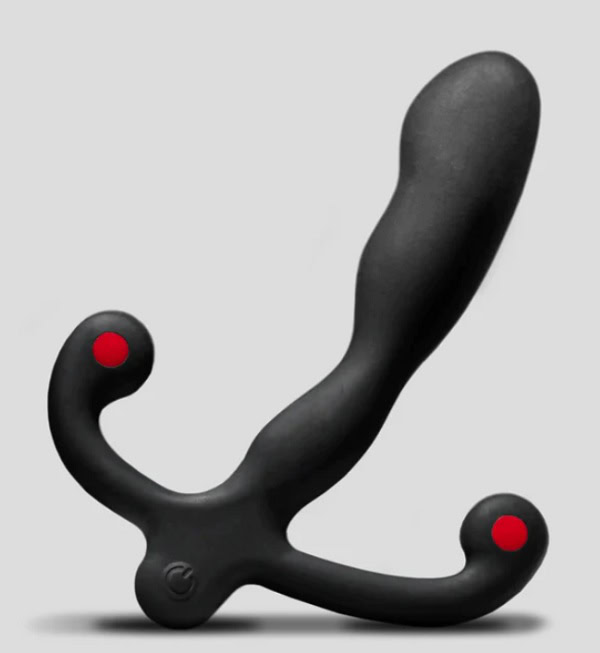 Non-vibrating anal toys take some getting used to, but once you find the right spot, P-spot, G-spot, or however you wish to call it, you're there!
This is the best choice for beginners with anal toys because of its relatively small size, so some advanced customers may prefer larger anal toys.
The prostate massagers' shape and size guarantee intense pleasure, but you'll need to practice to take full advantage of non-vibrating hands-free prostate stimulation.
Features
A flexible, small sex toy, perfect for beginners
Insertable length is 4 inches, and its a non-vibrating sex toy
Hands-free prostate stimulation
100% silicone & a matte surface feel
Price $69.95
Discover new types of pleasure with Aneros Helix Syn Trident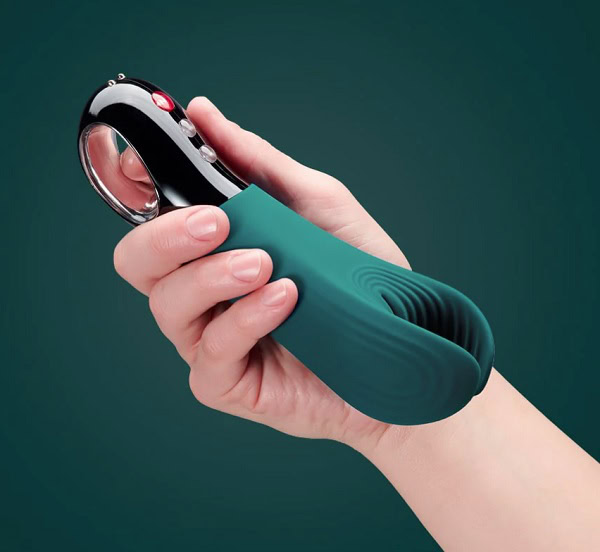 Male adult toys offer a lot of varieties, so you can also find very satisfying vibrating strokers such as the Fun Factory Manta.
If you're bored with regular penis strokers, you should definitely try this one, whether it's while receiving a vibe-enhanced BJ from your partner, or while playing with yourself.
You can even use this toy during sex, but you will not get bored with it even if you use it on your own. The design includes ridges to hold lubricant, which results in a better glide.
Use it on your penis, nipples, your partner's clitoris… get creative!
Features
Vibrating sex toy with 6 vibration speeds
Stroke up-down or hold in place
Intensified BJs if used with a partner
Waterproof & easy to clean
Price $139.99
Get creative with the FUN FACTORY Manta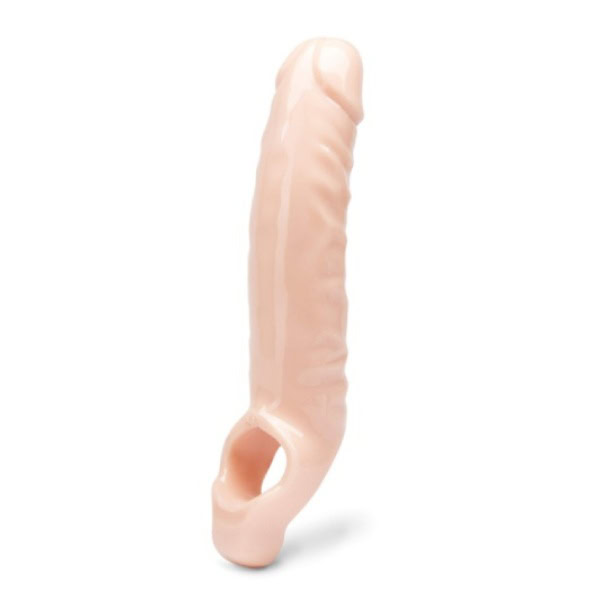 What if you could give yourself and your partner those extra 3 inches? Turns out, all you need are male adult toys to fulfill those fantasies.
The realistic shape of this stretchy clear sleeve will turn you into a porn star, at least when it comes to size.
Ball loop slips hold this sex toy in place, and you just need to use lube to slide your penis inside.
In addition to the extra 1 to 3 inches depending on your current size, this is one of the male adult toys that can result in long-lasting action since it desensitizes you.
Win-win for everyone.
Features
Adds 1 to 3 inches
Easy to put on with lube
Stays in place during action
Clear view & realistic design
Price $25.99
Get 3 Extra Inches with the Mega Mighty Penis Extender
9. Fleshlight Riley Reid – One of the most realistic male adult toys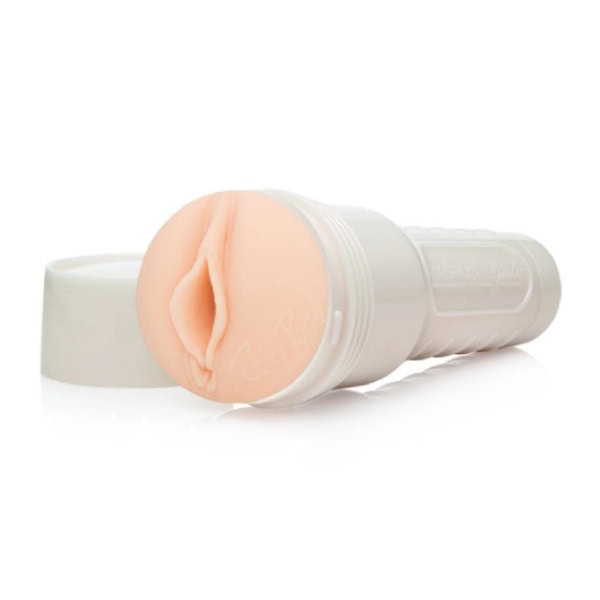 Ever wanted to be satisfied by Riley Reid? Well, you can actually have a part of this petite brunette's smoking hot body.
This masturbating device is the exact replica of Riley Reid's body, and it's tight and realistic.
All you need is some water-based lube and a night to yourself… or a night with your partner.
Use the special end-cap to make things more realistic and control suction, and don't forget about a Fleshlight Sleeve Warmer for temperature play.
Features
A replica of Riley Reid's body
Realistic & tight design
Easy to use, control suction & wash
Good for solo and couple play
Price $79.95
Have your way with Riley Reid's Fleshlight
10. Lelo Tor 2 – Best Cock Ring

If you have a penis, you may need to put a ring on it, and Lelo Tor 2 is the best cock ring out there.
It does the most important work for you – helps maintain your erection, makes the erection stiffer, and makes it easier to last longer during the action.
In addition, this cock ring can also pleasure your partner if you use it together, by hitting their perineum or clit during the action.
Strong vibrations can give pleasure to both you and your partner, and you can choose between 6 varieties of vibration intensities.
Features
Satisfying for both partners
Helps maintain a stiff erection
Helps prevent premature ejaculation
Strong vibrations but a quiet cock ring
Price $129
Click here to get Loro Tor 2- the best cock ring.
Upgrade your solo play by sliding on this stroker and watching the action happen thanks to its clear, stretchy material that you can easily move up and down.
This is an open-ended stroker, so it suits all sizes and is great for beginners who hesitate to try some of the more advanced male adult toys.
Clear textured stroker is like a pleasure tube for your penis that you can use to enhance hand jobs, BJs, or solo play.
Cheap, cheerful, and effective.
Features
Great for enhancing hand jobs or BJs
Comfortable, stretchy, clear material
Open-ended and suits all sizes
Improved solo action
Price $9.99
Enjoy the cheap thrills of the LoveHoney BASICS Clear Textured Stroker
12. Aneros Progasm – Best of the larger anal toys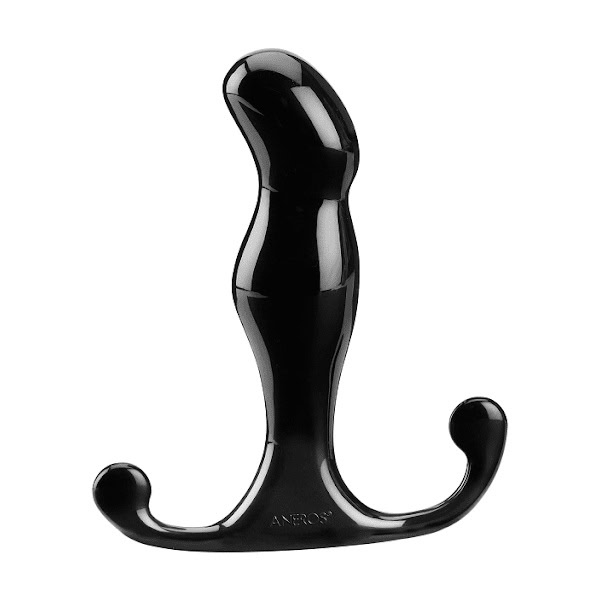 We already mentioned some relatively small anal toys, so here's something for those who prefer larger anal toys – the Aneros Progasm.
This is one of the male adult toys that includes a big, angled head for prostate stimulation, as well as a big midsection for more sensations.
Want 4 of your erogenous zones stimulated simultaneously? Then this is one of the best male adult toys that you can find.
Due to its large size, it's more appropriate for advanced users, not total beginners when it comes to male adult toys.
Features
One of the largest anal toys
For experienced and advanced users
Additional sensations thanks to round perineum tab and kundalini "K-Tab"
Intense prostate milking
Price $59.95
Get the most of anal toys thanks to Aneros Progasm
13. TENGA Flip Zero – Best non-vibrating masturbation sleeve
While most male adult toys in the category of masturbation sleeves are smooth on the inside, this one looks like the inside of a spaceship.
That's exactly what makes TENGA Flip Zero special and the best non-vibrating masturbation sleeve on our list.
All the things that you can see on the inside of this sex toy contribute to different sensations that result in intense orgasms.
The good news is that these anal toys are pretty tight, and the bad news is that they might be too tight for larger penises.
Features
Different internal textures available
Great vacuum suction and tightness
Easy to flip open and clean
Unique design offers different sensations
Price $99
Click here to try TENGA Flip Zero masturbation sleeve
Some male adult toys can literally save a long-distance relationship, or at least make it more enjoyable and more interesting.
Lovense Edge Prostate Massager definitely makes a long-distance relationship more satisfying, since your partner can control the device from anywhere in the world.
It stimulates both the prostate and the perineum, and you can adjust the neck based on your preferences and anatomy.
Cool stuff.
Features
Easily controlled by an app
Adjustable neck
Stimulates both the prostate and the perineum
Must be used with silicone-based lubes
Price $129
Discover the benefits of long-distance prostate stimulaiton
Now a men's sex toy that needs no introduction – the Fleshlight Stamina Training Unit.
Don't see this as just one of the male adult toys made to bring you pleasure. This is a training unit that can help you improve in the bedroom.
Increase stamina, improve your techniques, spice up your performance, and intensify your orgasms.
If you don't care about it being a specific person's body part replica, try Fleshlight Stamina Training Unit (Vagina Orifice).
There are also anal and mouth-style orifices too… whatever tickles your fancy!
Features
You can tighten or loosen the end-cap
Use only water-based lubes
Try the Fleshlight Sleeve Warmer
Great for satisfying practice time
Price $69.95
Practice your pump with the Fleshlight Stamina Training Unit 
16. Lovense Gush – App-controlled penis vibrator
Did you know that a penis vibrator can also be controlled by an app?
Again, this is great for you if you're in a long-distance relationship because you can give the app to your partner, but it's also great for solo play since you don't have to reach down to adjust the vibration levels.
There are 3 vibration levels and 10 patterns to choose from, and the band for increasing the tightness and intensity is included.
The flexible design and adjustable size make it possible for anyone to use this toy, which is designed to fit around the head/glans of your penis and provide intense vibrations.
Features
Control this glans massager with an app
Flexible design and adjustable size
3 vibration levels & 10 patterns
Easily increase the tightness and intensity
Price $119
Massage Your Penis Head Tonight with the Lovense Gush
There's one more type of male adult toys that is important to mention here – a performance-enhancing penis pump.
Tracey Cox Edge is great for improving erectile health, stamina, and performance.
It offers 2 interchangeable attachments and 3 levels of suction, and it is USB rechargeable.
Put on the stretchy silicone sleeve first, and if you keep doing this on a regular basis, it's likely to result in a permanent increase in endurance, as well as size.
Just be aware that you need to keep using regularly, or your gains will slowly go away.
Features
Easy-to-use automatic penis pump
Can help with erectile health and performance
Can temporarily increase penis size
Comfortable silicone sleeve
Price $99.99
Use the TRACEY COX Edge based on instructions from Tracey Cox herself
The Main Types of Adult Male Toys Explained
Cock ring, penis sleeve, anal toys, or dildos? Male adult toys come in all sorts of shapes and sizes.
Confused by all of these options? If you are new to male adult toys, no worries cause we got you covered.
Even if you are experienced with some of these male adult toys, we are going to explain each type of sex toy so that you can decide what works best for you.
Prostate & Anal Toys
Using anal toys is quite simple, you just need to slide the toy up your butt with an adequate amount of lube, but there's more to it than that.
Prostate massagers are similar to G-spot stimulators, except that they stimulate the prostate and can lead to full-body orgasms, not the plain old penile orgasms.
These male adult toys come in many shapes and sizes and can be vibrating or non-vibrating.
Vibrating Versus Non-Vibrating Prostate Massagers
You get to choose which male adult toys you like better – vibrating or non-vibrating prostate massagers.
While it's obvious how vibrations can cause you pleasure, with non-vibrating options you rely on movement to reach satisfaction.
Basically, you need to practice flexing your pelvic floor muscles and anal sphincter. It takes some time to master, but the results can be INTENSE.
Both of these options are great, and you should try both of them to see which one gets you off better.
Penis Vibrators
A penis vibrator can be anything from dildos to sleeves, and it can even be a cock ring.
While some men prefer the same kind of vibrating dildos that women use, most enjoy the sensations of vibrations around their penis by using penis sleeves or a cock ring.
After all, they're designed with penises in mind!
Penis Strokers & Sleeves
A penis sleeve or stoker might even be the most popular sex toy among men. You slide the penis sleeve over your erection, and you can usually adjust the girth and length.
Most popular ones are made of silicone and look like the real thing. A popular type of these male adult toys is a penis extender (also a sleeve) that you can use to add an inch or a few to your existing size.
Pop your penis in, add some lube, and get pumping. Simple!
Cock Rings
A cock ring can help you last longer during action than usual, and it does this by limiting the flow of fluids in the erection.
They are especially good for those who have trouble maintaining an erection since a cock ring can help with this too.
The best part is that wearing a cock ring makes your penis look larger as well. Also, some cock rings vibrate, which may add additional pleasure for you and your partner!
Automatic Male Masturbators
These male adult toys practically do all the work for you, and Autoblow AI is a great example of an automatic male masturbator. 
These come with more features than your usual male adult toys, such as machine learning which helps Autoblow AI give you a different BJ every time.
Fleshlights
Fleshlight is actually just one type of male masturbation sleeve.
These male adult toys simulate oral and anal sex, pulsate, vibrate, and even heat up for ultimate pleasure.
Some of them are actual replicas of celebrity bodies, such as Riley Ried Fleshlight that we mentioned earlier.
Male Adult Toys FAQs
Here are the answers to some questions you might have about male adult toys and their usage:
Where Can I Buy Men's Sex Toys?
You can buy male adult toys by clicking on some of the links underneath each of the reviews that you've read so far. Simply follow the link and make a purchase like you usually would when shopping online.
The only difference is that shopping for male adult toys is usually very discreet, so you won't see "male adult toys" written on your package or somewhere else.
As long as you're buying from trusted retailers or manufacturers, you should be fine!
Do Cock Rings Help With ED?
Yes, a cock ring can help with ED. It does so by keeping the blood in the erection for longer than usual. Naturally, the pleasurable vibrations also help in maintaining the erection. 
You just need to put a cock ring around your penis and watch it in action. Pick one of the recommended cock rings from our list, such as Lelo TOR 2! 
The TOR 2 even has vibration for his (and her) pleasure!
Does Using Anal Toys Make Me Gay?
No, unless you are already gay, using anal toys doesn't make you gay. The prostate is a source of incredible orgasms, and around 46 percent of men in the United States only have claimed that they own at least one anal sex toy. 
These male adult toys are used by all types of men, straight, gay, bi… Using this type of toy means that you have discovered the male equivalent of a G-spot and enjoy full-body orgasms, not just penile orgasms.
Why deny yourself of that pleasure?
Also, if you're not used to keeping your bottom clean, I would suggest you check out our Guide to Anal Douching.
So, in the end, which is the best sex toy for you in 2023?
With so many options to choose from, don't be afraid of experimenting to see what you like best.
Try prostate massagers, penis sleeves, fleshlight replicas, or any of the male adult toys that you've read about so far.
Only you know what works best for you, but you have to try it all to find out.
Sex toys are not taboo so much these days, and many people of all genders have a collection of toys at home.
So, don't let boredom creep into your bedroom, regardless of your relationship status. Most of these toys can be used to enhance the experience with a partner, but they are also incredibly satisfying to use on your own.
Even if you are already experienced with these fun gadgets, there's always more to discover. For instance, you probably haven't yet tried anything like the Autoblow AI – a machine-learning blowjob machine. 
Amazing.
Try it now and discover new levels of intense orgasms, whether it's with your partner or during solo play.
We recommend starting with Autoblow AI even if you are new to this world of excitement, but be warned, you might get hooked on male adult toys once you realize the levels of pleasure you can achieve with them.
Have fun!RELATED: Freechat sites for flirty fun!