If you're thinking about exploring BDSM, you might be wondering what type of BDSM sex toys you should try to elevate your kinky play.
Well, you've come to the right place.
We take you through the types of BDSM sex toys you can buy, what they do, and how to use them, all while keeping it simple.
After all, BDSM relies on communication.
Be prepared to have a lot of fun. You'll be pushing those boundaries (safely) in no time.
What Are BDSM Sex Toys? The 5 Main Types Explained
BDSM toys help to make your BDSM play kinkier, more satisfying, and, ultimately, safe. Like standard sex toys, they help to heighten your pleasure and make physical stimulation more intense.
But BDSM toys have a little edge to them.
Some help you get aroused without any stimulation or touch, while others allow you to explore the boundaries between pleasure and pain.
Sound good?
Whether you want to stay on the vanilla end as you get started, or you're intrigued by bondage gear and more extreme toys, simply pick what you are comfortable trying and take it from there.
To give you an idea, here are the types of BDSM sex toys available:
1. Bondage Toys – Handcuffs, Restraints… you know the drill
Bondage sex toys and bondage gear are all about sensory deprivation. This is one of the most important elements of bondage and involves putting a huge amount of trust in your partner or dom while you are restrained.
You've probably tried it before – handcuffs and blindfolds make it into most people's sex life at some point, particularly since "Fifty Shades of Grey" hit the screens, but other bondage sex toys won't even be on your radar.
Bondage sex toys include:

Cuffs – Used to attach the submissive partner to BDSM furniture, the dominant partner, or themselves; these give endless opportunities for roleplay, power exchanges, or extreme restraint.

Blindfolds – These heighten your senses and take sight out of the picture. What is your dom going to do to you next?
Bondage rope – Whether you're tying someone to the bed or tieing them into a position where they can wait for you, there is a whole load of fun to be had with these bondage sex toys. They don't chafe your skin or leave rope burns, so your BDSM play stays secret.
Spreader bars and yokes – Designed to spread your leg or arms, these are used on the sub, leaving their body exposed and vulnerable to your touch. One of the best Bondage sex toys out there.
Collars – Perfect for power exchanges. Slip them on your sub, make them kneel down, and drag them around (nicely). Collars signify ownership.
Arm binders – The next step up from cuffs, these bind the entire arms and give very little room to wiggle as your body is teased. Perfect for ramping things up!
Gags – Gags take away your ability to speak and up the drool factor, which can be a huge turn-on for both doms and subs.
Anal hooks – Less gruesome than they sound, these are great for butt play and allow other bondage sex toys, like ropes, to be attached to them.
2. Impact Play – Spanking, Whipping, all that good stuff
Impact play involves spanking or whipping your partner with your hand or BDSM toys, like a paddle or a flogger.
It can be a real turn-on for both the sub and the dom, despite crossing the threshold between pleasure and pain.
You can agree upfront on how hard you go and how much pain the sub can tolerate. Pick a safe word that you both agree to and start exploring.
Depending on which BDSM toys you choose, you'll create a different sensation:
Floggers – These are incredibly versatile and allow you to switch between pain and incredibly sensual sensations. You can whip your sub with them or switch to brushing the strands over their body.
BDSM Whips – Whips instill more pain and fear than a flogger and perhaps should come into play as you up your BDSM game. Use them to intimidate your sub by whipping the floor or make them feel pain by striking their skin.
Paddles – The wide surface area of a paddle covers a larger area, meaning the impact is better dispersed. Spanking your sub on the ass repeatedly means the area will slowly become redder—a huge turn-on for both parties.

The Leather "Slut" Impression Paddle is a great play to start!
Canes – Like whips, canes can be used to instill fear as well as excitement. The sound of them "whooshing" through the air can arouse anyone that is into impact play.
3. Sensation Play – Feathers, Candle Wax, that kind of thing
If pain isn't your thing, you're in luck. BDSM is as much about pleasure as it is about pain. With sensation play, you'll be focused more on touch than pain, which can be equally as erotic.
That's not to say that pain can't come into it… if you want it to.
Sensation play is still about power dynamics—the sub gives all of their power to their dom during play. They'll either enhance a sense or deprive a sense (like wearing a blindfold) to heighten others. The more sensations you experience, the more aroused you will get.
BDSM sex toys you can expect to find in this type of play include:
1. Candles – Dripping candle wax (from special candles) onto various body parts is incredibly sensual. Wearing bondage gear like a blindfold can heighten your pleasure. While there may be a tiny element of pain here, it's really not that much.

2. Wartenberg wheels – These handheld spiky wheels can be rollered all over the body. The spikes are sharp enough to leave an impression on your skin, but not sharp enough to break the skin.
You can apply varying levels of pressure with these handheld BDSM toys. Light and gentle pressure will give a tickling sensation, whereas harder pressure will give a much deeper sensation.

3. Glass or stainless steel BDSM toys – Temperature play is one of the best parts of BDSM. A glass dildo or a stainless steel butt plug can create some incredible sensations.
Simply drop them into some hot or cold water, or even pop them in the freezer for 5-10 minutes to heighten the experience. Just make sure they're clean and not TOO hot or cold.

4. Nipple clamps – We all know that nipples are incredibly sensitive, but they are also powerful erogenous zones. Most people have tried tugging, nibbling, and biting them, but have you ever applied pressure to them with a nipple clamp?
Believe us; it's worth it. Try tugging them as well as tightening them to different levels for varying sensations.

5. Feather ticklers – Feathers strike an incredible balance between soft tickling and exquisite sensations. Best of all, they don't need any real skill.
Use bondage gear like a blindfold to enhance the experience and experiment with long strokes and light touches on different parts of their body. Watch their senses come alive.
The Sex & Mischief Feather Tickler is a great starting tool!
4. Edging – Make Them Squirm in Anticipation
Orgasm control is an intense experience, but it also brings a lot of pleasure. As a dom, you can "edge" your sub so they get close to orgasming, before stopping and denying their orgasm.
While it may seem cruel, it's absolutely divine and will drive you wild.
Edging often leads to amplified orgasms and increased sensations when you are finally allowed to let it all out. While you can edge without BDSM sex toys, it's far more enjoyable when you include them.
BDSM sex toys that can help include:
Wand vibrators – Wand vibrators like the Lovense Domi 2 are incredibly powerful and can be used to build your subs' pleasure until they almost reach orgasm. Simply back off before they hit that moment and let the sensations subside before starting again—multiple times.


Strokers – Just like vibrators, strokers and fleshlights used for male masturbation can also be used to take them to the edge. Simply ease off before climax, repeat multiple times, and build up that sexual frustration. He'll be begging you to cum in no time.
Prostate massagers – If you're into butt play and anal toys, you'll be pleased to know that these can also be used for edging. Because prostate massagers give a more intense orgasm, be prepared for some extreme pleasure when you finally release.
5. Extreme BDSM Toys – Not For the Faint Of Heart!
For those of you who like the extreme, there are plenty of BDSM sex toys that take things up a notch (or a lot of notches…)
Forget your normal bondage sex toys. We're talking estim, electrosex, and cock and ball torture.
Have we got your attention?
These aren't for the faint-hearted, though, so make sure you're ready to take the next step before you try them. They will certainly get the sparks flying.
1. Estim and electrosex toys – These might sound shocking, but they are a great way to give some power to your orgasms and are perfect for a dom who likes to torture their sub (in a pleasurable way, of course).
They send low-voltage, high-frequency electricity through the toy you're using to give some incredibly pleasurable zaps.
There are plenty to choose from—electric anal toys like butt plugs, electric cock rings, electro wands, pads for contactless spanking, aura probes, and roller electrodes. The list is endless.
2. CBT (Cock and ball torture) – CBT covers a whole range of kinky restraints and sensations that can be given to your penis and balls. From spiked cock rings and spiked chastity cages to humblers and ball stretchers and urethral sounds. Each provides different levels of pleasure and pain.
You can also include impact play and some bondage sex toys into this category if you really want to turn things up a notch.
3. Inflatable dildos and anal toys – These test your tolerance to stretch. Simply lube them up, pop them in, and inflate them. Depending on which you use, you'll experience some incredible girth (up to 8 inches) and up to 23 inches in length. Perfect for those of you interested in trying out extreme anal stretching.
Our Recommended Sex Toys for BDSM – First Look
1. Lovense Domi 2 – Best BDSM Sex Toys Overall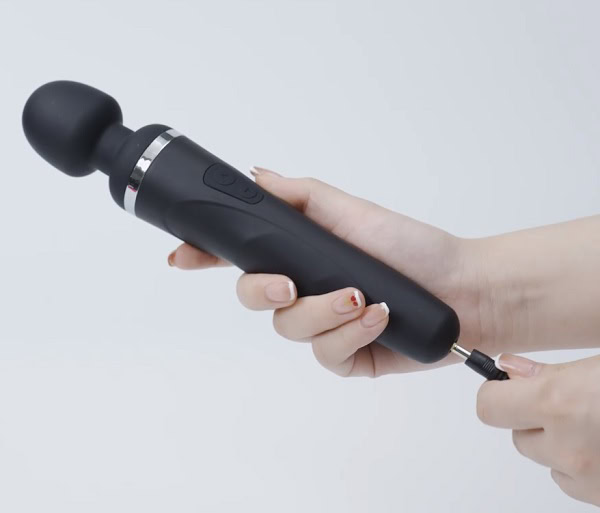 Features
Rechargeable
Silicone head gives an ultra-soft feel
Remote controlled
Perfect for edging
Price
$139.99
This powerful wand vibrator is perfect for edging. Build your partner up so they are close to orgasm, then back off. Repeat this multiple times until you decide to let them orgasm.
If that's not enough for you, you can try it on nipples, a penis, or anywhere else on your body.
Whether you are practicing sensory play, edging, or teaming it with some bondage gear, your senses will be overloaded. You'll be begging to cum in no time.
>>Check the price of the Lovense Domi 2, the best BDSM sex toys
Features
Powerful thrusting
Easily adjustable
Adjustable thrust speed and depth
Portable
Price
$1,249.99
If you're experimenting with anal depth training or you're just trying to be a better sub, this sex machine should be on your radar.
Yes, it's very expensive. But it's an investment!
Perfect for both solo and couples play, the adjustable depth and thrust speed of the machine mean you can increase intensity as you become more relaxed and can open up your anal passage more.
Whether you are looking for BDSM toys that can help you achieve deeper penetration or simply trying to increase the girth of what you can take, this machine should definitely be at the top of your list.
>>Explore BDSM sex toys for butt play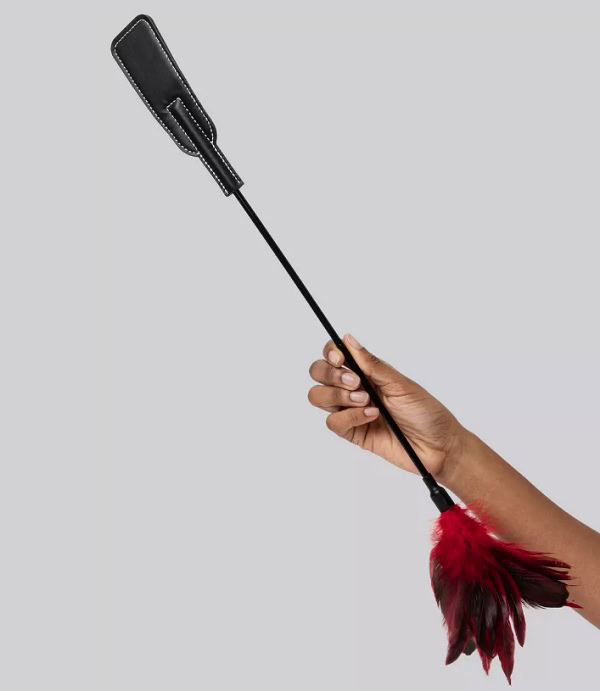 Features
Perfect for sensory play
Great for BDSM newbies
Low cost
Multiple colors available
Price
$6.99
If you're new to BDSM, this Sex & Mischief Feather Tickler is one of the best BDSM sex toys that you can include in your kit.
You'll be able to explore sensory play with its long black feathers and the spine-tingling touches that these give… especially if you're blindfolded and/or tied up!
Absolutely exquisite.
BDSM isn't all about pain or taking you to your limits. While these BDSM toys are more on the vanilla end, they'll heighten your arousal in no time. That's what makes it one of the best bondage sex toys that we've found.
With its low cost and the promise of so much pleasure, it's a serious no-brainer. What can you lose?
>>Find the Sex & Mischief Feather Tickler, and other Bondage Sex Toys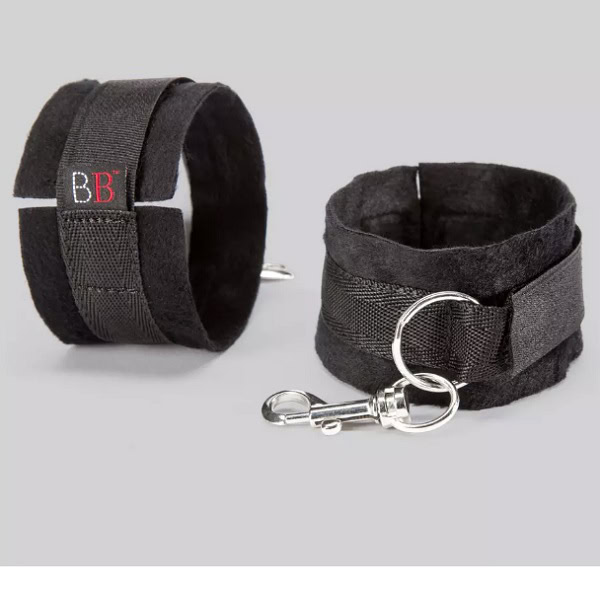 Features
Full body restraint
No permanent fittings or fixtures
Velcro cuffs for easy release
Easily adjustable

Price
$49.99
If you're looking for bondage sex toys that don't need a handyman to help set them up, the Bondage Boutique "Bound to Please" Under Mattress Restraint is perfect.
Just slip it under your mattress, adjust the straps, and you'll have leg and wrist cuffs ready to restrain your sub. With their arms and legs tied down, you'll have full control of their pleasure.
An added bonus? You can easily tuck it under your mattress when not in use, so sexy time can turn into bondage time without much set-up needed.
Whether you want to team this bondage gear or some form of sensory play, impact play, or extreme BDSM toys, it's up to you. It will certainly add some serious heat to your BDSM play.
>>Check out bondage gear and restraint toys like this under-mattress restraint
5. Lovense Gemini – Best Vibrating Nipple Clamps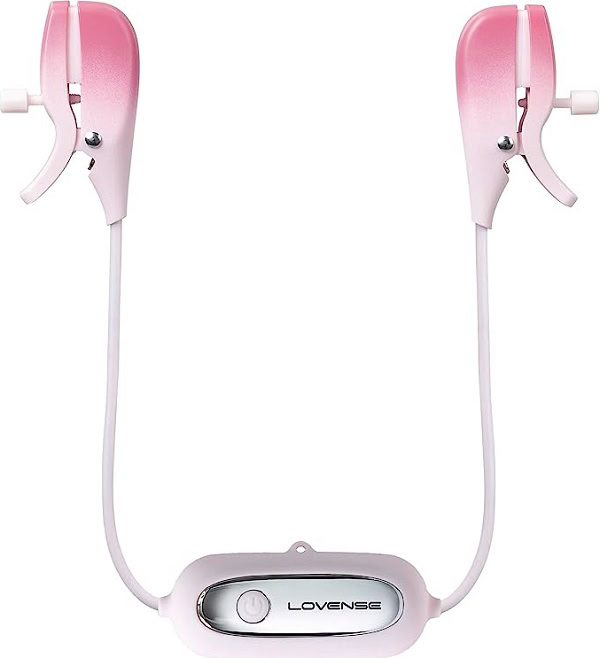 Features
Rechargeable
Adjustable dual vibrations
Waterproof
Remote controlled
Price
$69
You can vibe with a lot more than just vibrators, especially when you're exploring BDSM sex toys. These vibrating nipple clamps could even give you your very own nipple orgasm.
Yes, that is a thing. Your nipples are powerful erogenous zones, so why wouldn't you want to experiment a bit?
These clamps allow you to test out how much pressure your sub can take. Adjust the screws to alter the pressure, add a variety of vibrations, and give them a tug for some incredible sensation play.
These are great for beginners but equally as erotic for those of you who've been enjoying BDSM toys for some time.
>>Find BDSM sex toys for sensory play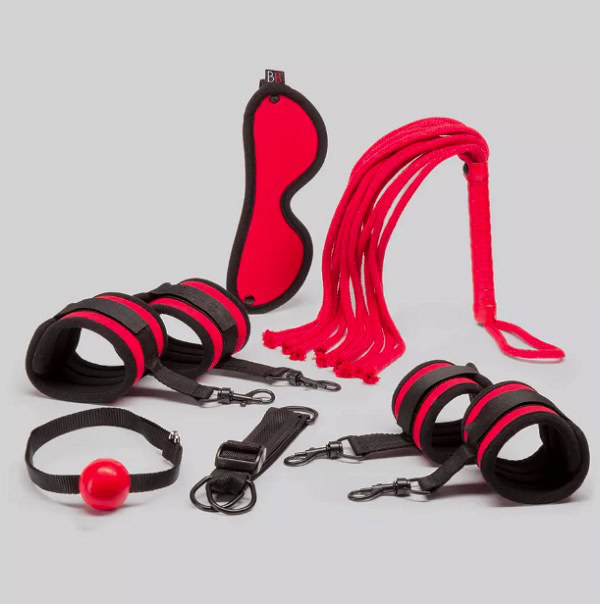 Features
6-piece bondage sex toys kit
Soft flogger for low-impact spanks
Small, adjustable ball gag
Velcro cuffs
Soft blindfold for comfort
Price
$49.99
BDSM beginners need to start somewhere, and this beginner's bondage sex toys kit is the perfect place. With six bondage sex toys in the set, you'll have plenty to explore.
The set includes:
Wrist cuffs
Ankle cuffs
Bondage strap
Ball gag
Soft flogger
Blindfold
With a mixture of bondage sex toys and BDSM toys, you'll be able to explore the pleasure of using restraints, spanking, and the sensations that you get from various strokes and tickles – while you decide whether you like the pleasure and pain these toys can bring.
You'll even be able to put your sub in a hogtie restraint using the bondage strap without the hassle of actually learning to tie bondage ropes.
Sounds good to me.
>>Check out this 6-piece bondage sex toys kit
Features
Firm enough for an audible "thwack"
The cut-out "SLUT" logo leaves an imprint on your sub's bum
Secure wrist loop for confident spanks
Made from leather
Price
$29.99
Paddles are perfect BDSM sex toys for showing your sub who's boss. And with the cut-out "SLUT" logo on this one, you'll temporarily leave an imprint of the words, which can be a real turn-on for both of you.
Humiliate them!
Made from leather, this paddle has a wide head, which spreads the impact over a larger area, making it less painful than some of the other impact toys. Its split surface will deliver an audible thwack without too much force so that you can enjoy the sound without the pain.
>>Find this impact play toy and other BDSM sex toys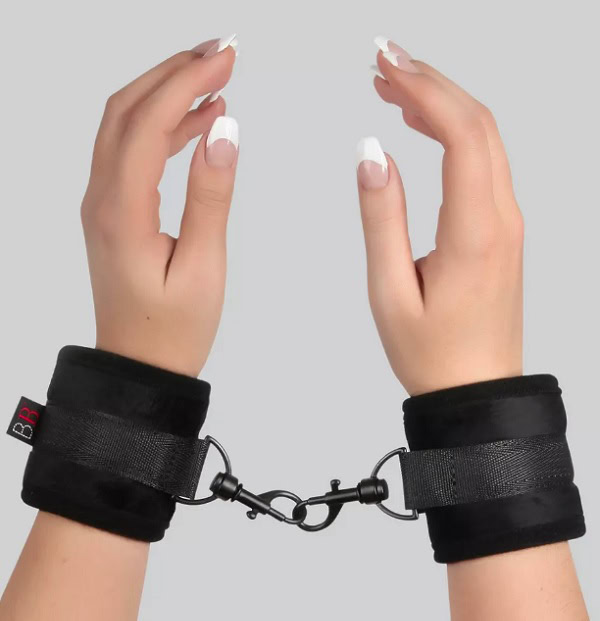 Features
Soft cuffs – perfect for beginners
Quick release clips
It can be used with chains or restraints
Adjustable to fit most wrists
Price
$16.99
Handcuffs are the ultimate bondage gear—they limit your movement and put you totally in the hands of the person with the key. While these soft handcuffs don't need a key to unlock them, you still won't be able to move.
They're linked by swivel lobster clips and secured around the wrists with a velcro fastening, keeping you fully restrained until your dom decides to release you.
We love these kinds of BDSM sex toys. Just think of all the fun you can have while you're restrained with all of the other BDSM toys that you can pick from!
>>Click here for bondage gear like handcuffs
9. Position Master – Top Bondage Gear for Quick Convenience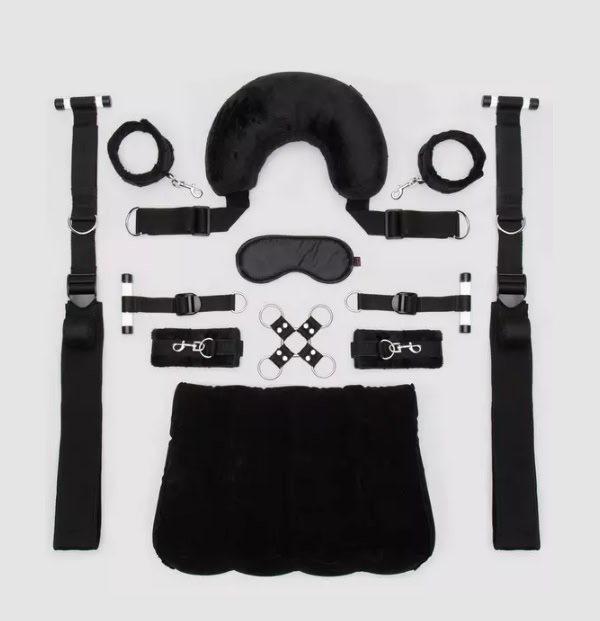 Features
Sturdy connector straps
Easy clean
Cushioned neck strap
Velcro cuff fasteners
Price
$79.95
If you want to try out some bondage restraints but don't want to learn how to knot bondage ropes, the Fetish Fantasy Position Master is your best friend.
Designed to be easy to use, the sturdy connector straps will keep your sub firmly in place so that there is no chance of them wiggling free. The velcro straps on the ankle and wrist cuffs provide quick and easy release in case it all gets a bit much for them.
There are so many different positions that you can put your sub in with these BDSM sex toys that you definitely won't get bored of using them.
>>Find bondage gear and restraints here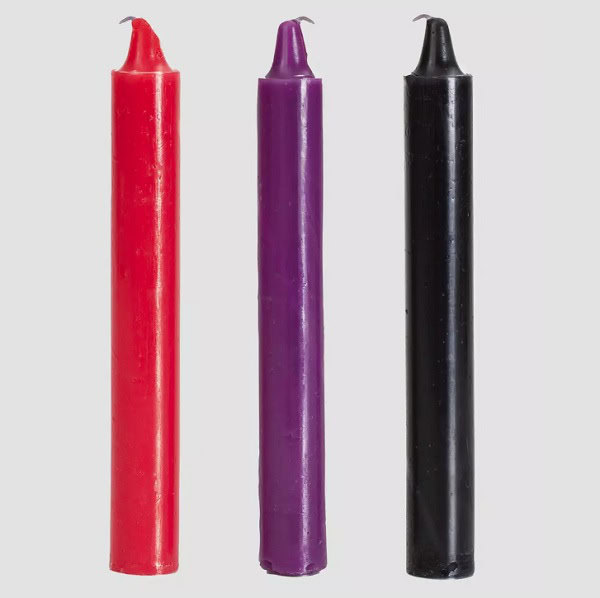 Features
Good for wax play
Great for beginners
Ambience meets sensory play
Low-cost
Price
If you want to up your sensory play, you can't go wrong with these Japanese drip candles. Light them to create an ambiance in the room, then let your dom drip their candle wax across various parts of your body.
We like dripping it onto your nipples, your tummy, and on your inner thigh – most other areas should be left to the professionals!
You might want to wear a blindfold. Not only will it heighten your pleasure, but it will also stop you from panicking if it does start to get close to your nether regions.
>>Check out these Japanese drip candles and other BDSM sex toys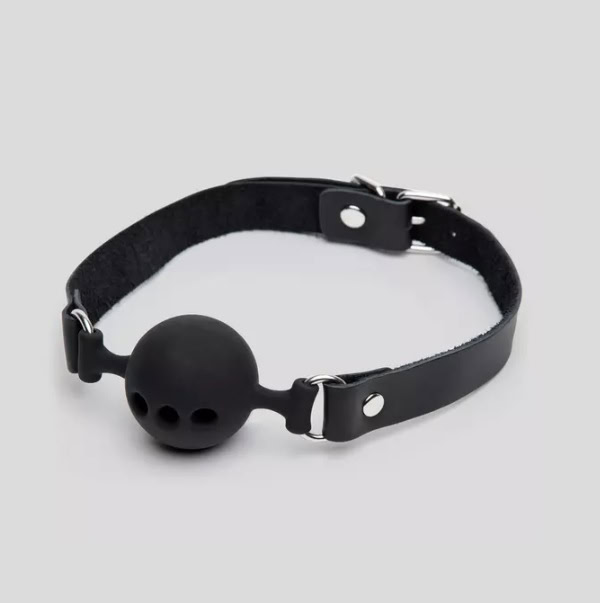 Features
Double padding increases comfort
Pliable silicone ball with breathable holes
Adjustable strap length
Vegan leather straps
Price
$24.99
For those of you looking to take your next step, gags are a huge turn-on (for both doms and subs). As well as taking away your ability to speak, they also dramatically up the drool factor.
While you will certainly be moaning with this on, you won't be able to use a safe word, so it's important that you discuss how to tap out if you need to.
This ball gag comes in a pliable silicone material, which makes it more comfortable on your jaw, which makes it one of the best starter BDSM toys to try.
>>Find ball gags and other BDSM sex toys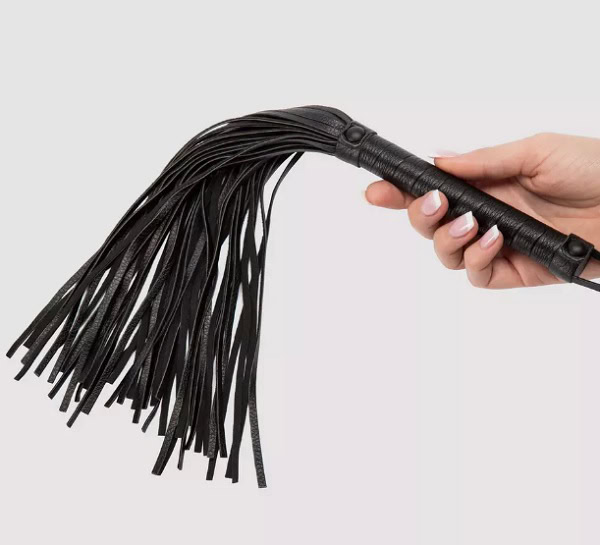 Features
Great for tickling, teasing, and spanking
Loud spanking noise
24-inch flogger to punish your sub
Faux leather
Price
$19.99
Whether you want to whip your sub or run the strands of the flogger over them when they are tied up for some incredibly sensual pleasure, this staple kink tool is one of the best BDSM sex toys for the job.
We love its versatility and its sleek look. There's something about a black multi-strand flogger that makes us quiver.
Whether you are new to impact play or an old hand at it, we know you'll have hours of fun with this BDSM sex toy.
>>Find BDSM sex toys like this flogger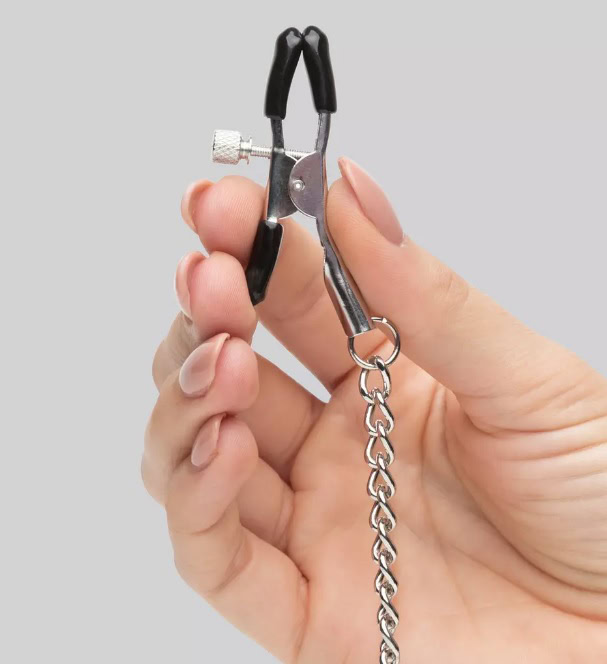 Features
Adjustable crocodile clamps
PVC-coated tips for comfort
Twin chains for tugging or weights
Latex free
Price
$16.99
Ever had a nipple orgasm? If not, these BDSM sex toys could help you get there. Your nipples are powerful erogenous zones, and tugging, pressure, and pain can create incredible arousal.
You can even add some weights to the chains to see what your limits are. Believe us – you'll experience some exquisite sensations.
Whether you are a beginner or someone who has been using these BDSM sex toys for some time, the adjustable crocodile clamps mean you can vary the pressure depending on how much you can tolerate.
>>Find these nipple clamps and other bondage sex toys
Should You Use Sex Toys For BDSM?
Yes! Some of the best sex toys for couples have a BDSM element to them!
BDSM sex toys will heighten your pain or pleasure, depending on which you use. Whether you choose bondage gear, extreme BDSM toys like spiked cock rings, or opt for sensual play toys like nipple clamps, candles or glass anal toys is up to you and your sub.
Exploring your boundaries between pleasure and pain is an eye-opening and incredibly arousing experience.
3 Basic Safety Tips For BDSM Sex Toys
1. Establish Ground Rules
BDSM is all about communication, so be sure to talk about what you are happy to do.
Whether you are playing with a long-term partner or someone you are seeing casually, negotiate what you are willing to do and agree to stick to this.
2. Use Safe Words
When you're exploring restraint, pain, and pleasure, it's important to have safe words and a hard stop so that you both enjoy (and consent) to the experience.
There may be times where things get too uncomfortable for you, and you want to tap out. Using a safe word will stop BDSM play immediately.
The idea is that safe words like "banana" or "lollipop" are used because shouting something like "no" or "stop" might be part of the fantasy you're creating.
However, you're unlikely to shout "BANANA!" in a moment of passion.
The traffic light system is an easy way to communicate how you're feeling or put an end to things. It's easy to remember, and there can be no confusion.

Red means stop
Yellow means slow down or reel it in a bit as you're close to what you can cope with
Green means you're comfortable, and your partner can go for it
Safe, simple, and effective.
3. Establish Consent
Just because you're exploring pain when you enter BDSM play doesn't mean anything goes. The same rules apply whether you are having vanilla sex or exploring with BDSM sex toys. Just because bondage gear is in play doesn't take away your rights.
No means no.
>>Find out more tips for healthy BDSM play
Conclusion – BDSM is Fun, When You Do It Right!
Whether it's your first time exploring BDSM sex toys, or you've been toying with the idea of bondage gear for some time, hopefully, we've given you an insight into the pleasure that you can get from BDSM toys and bondage sex toys.
If you're wondering where to start, we recommend trying edging with the Lovense Domi 2 or some light impact play with the Leather Slut Impression Paddle. 
It's a whole world of fun.
Just remember, as long it's consensual, and you're enjoying yourself, you're free to explore your kinks and fantasies to the max.
Have fun and stay safe!