Let's face it—you can't really do BDSM without BDSM sex toys. That, however, doesn't mean that all BDSM toys out there are good.
Or safe.
You don't want to know how we know this—just trust us on this one, OK? But we do know a thing or two about BDSM, and we're here to share the best BDSM toys.
From beginner to advanced and everything in between—here's what's worth your money (and safe!) to go in or around your jewels.
We'll start at beginner-level gear, and get more advanced from there. Sound good?
Let's dive in!
Beginner BDSM Sex Toys
Let's start from the beginning, as one should. Here are the nice and easy BDSM toys that are suitable for those who are just getting into the lifestyle.
Lovense Domi 2 – Best Beginner BDSM Sex Toy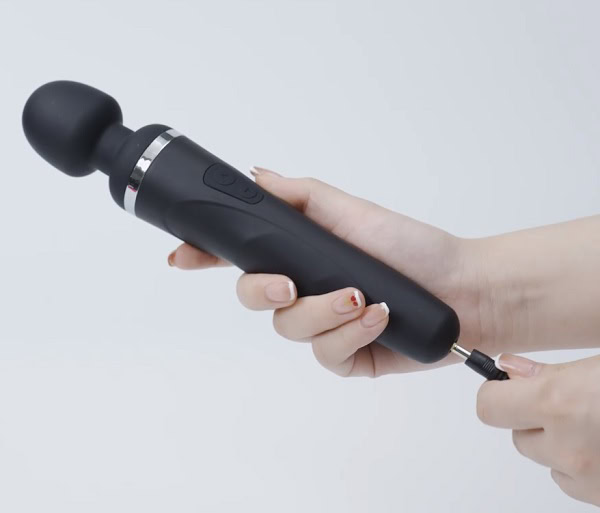 Top Features
Currently $99 (regular price $199)
Long battery life
Long-distance control via the app
1.74 inches of girth
The new and improved Domi 2 from Lovense definitely deserves the top spot, and it's definitely worth upgrading if you already have the OG Domi.
Domi 2 has 3 times longer battery life, y'all!
It's a powerful wand massager with a reinforced neck that can be pressed against the skin. You can use it as a clit massager or as an anal vibrator if you don't have a vagina.
It's a great sex toy for bondage and all kinds of roleplay as well as edging and forced orgasms on a person of any gender.
The best part?
It can be remote-controlled via the Lovense app (which we absolutely love), so it's even useful for long-distance relationships. Oh, there are also UNLIMITED vibration patterns.
All in all, Domi 2 is such an amazing sex toy that everyone needs it in their life, even those not into bondage or SM.
>>>Get your Domi 2, the ultimate sex toy for beginner bondage lovers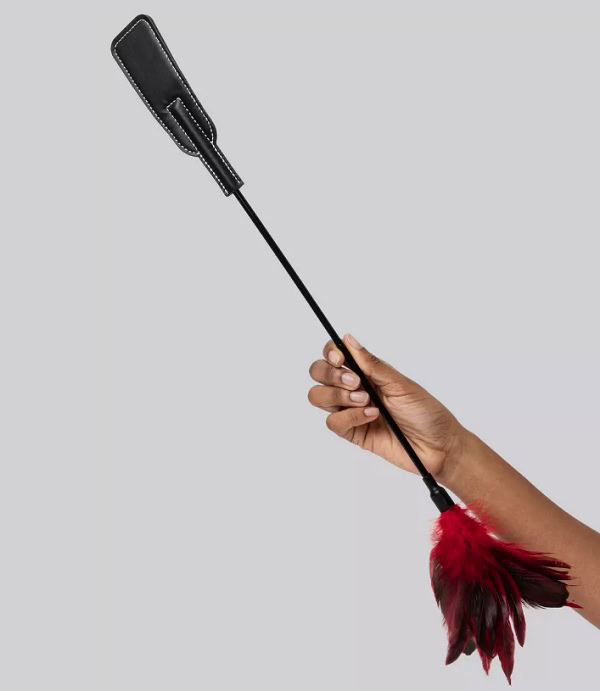 Top Features
$6.99
3 colors: black, red, and purple
Voluminous, soft feathers
A feather tickler is a great sex toy and a good way to add that little tease to your bondage or S&M sessions.
LoveHoney's Sex & Mischief Feather Tickler is a high-quality sex toy produced by a reliable producer with luxurious, soft feathers.
The best part? It's only $6.99, making it one of the most affordable high-quality BDSM toys.
The Sex & Mischief Feather Tickler is a simple yet effective BDSM sex toy you can use with blindfolds and restraints to spice things up and add that little gentleness to the rough.
>>>Spice up your bondage sessions with this Feather Tickler!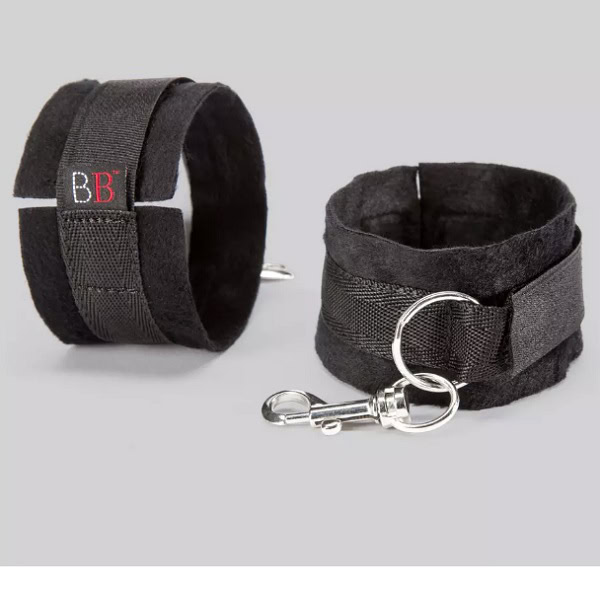 Top Features
$49.99
Compact but mighty
3 colors: black, white, and red
If you're just getting into bondage, it's important to know you don't have to have a special BDSM dungeon for you two to have a whole lot of fun.
Bondage Boutique 'Bound to Please' Under Mattress Restraint is another cool sex toy from Love Honey that's practical and doesn't require much space but provides lots of pleasure.
It's adjustable and goes with any sized bed (up to super king!).
You place the body of the restraint under the mattress, and then you've got straps for both your hands and legs.
The Bondage Boutique 'Bound to Please' is definitely the best beginners' restraint for those just getting started with BDSM.
>>>Order your Bondage Boutique 'Bound to Please' restraint today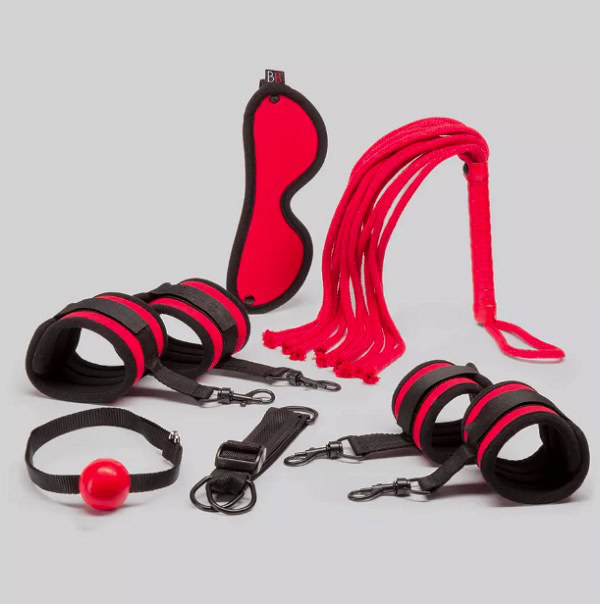 Top Features
$49.99
Blindfold, small ball gag, soft flogger, wrist cuffs, & ankle cuffs
Adjustable pieces
If you're of the 'go big or go home' mindset but still a beginner at BDSM, Love Honey's got the perfect BDSM sex toy for you—the Red Hot Passion Bondage Kit.
The kit's got 6 pieces, and it's all you need to hit the ground running but in a safe and easy beginners' way.
The blindfold, ball gag, and both wrist and ankle cuffs are all adjustable.
The kit comes in the sexy black and red combination, and with Love Honey, you just know that the materials are body-safe and luxurious.
>>>Get your Red Hot Passion Bondage Kit straight from Love Honey
Top Features
Now $69 (regular price $139)
Vibrating & app-controlled
Cute baby pink color
What's better than nipple clamps? Vibrating nipple clamps you can remote-control via the Lovense app.
You read that right—the Gemini Vibrating Nipple Clamps have unlimited vibrating patterns your partner can control even from afar.
They are wearable, so it's a perfect sex toy for those into public play.
It's no wonder they are on most lists of best nipple clamps. And nipple clamps aren't just BDSM sex toys for the ladies. Literally, everyone's got nipples, so they can be used on men and anyone else, too.
The best part?
Your Gemini Vibrating Nipple Clamps will remember your favorite patterns even when they're not connected to a phone.
>>>Buy the best BDSM sex toys for nipples
Mid-Level BDSM Toys
Alright, so you've dabbled into BDSM already, and beginner's BDSM sex toys just don't cut it anymore, but you're still not ready for the hardcore stuff.
We've thought about you, too, and we bring you the best intermediate BDSM toys.
Soft Handcuffs – BDSM Sex Toys for All Kinds of Restraining Positions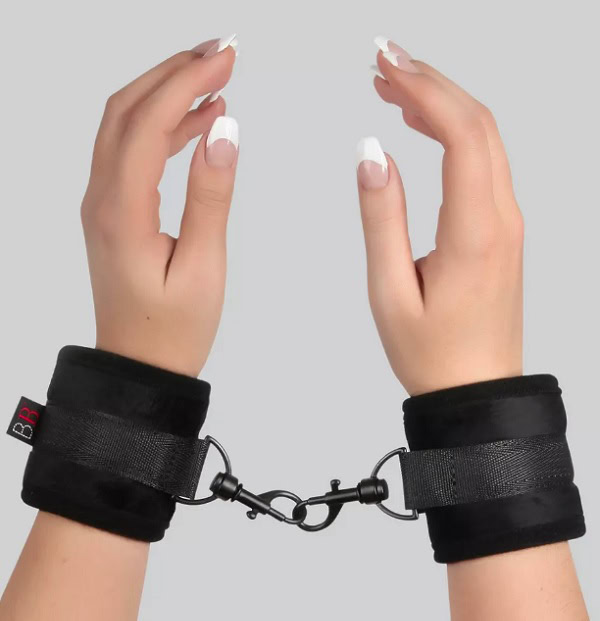 Top Features
$16.99
Compatible with other chains and restraints
Nice and soft
Because chains and restraints are what bondage is all about, we've got another chaining sex toy for you two—Bondage Boutique Soft Handcuffs.
They're one of the BDSM sex toys that are perfect once you get a hold of the lifestyle and are ready to experiment some more with different ways of restraining your partner.
These soft handcuffs are compatible with all your other chains and restraints, so you two will be able to enjoy some of the best bondage sex positions out there.
The faux fur that goes around the wrists is pretty soft, while the hardware parts are strong and reliable, so you know this BDSM toy will last you a while without being too painful to use!
>>>Complete your BDSM sex toys with Bondage Boutique Soft Handcuffs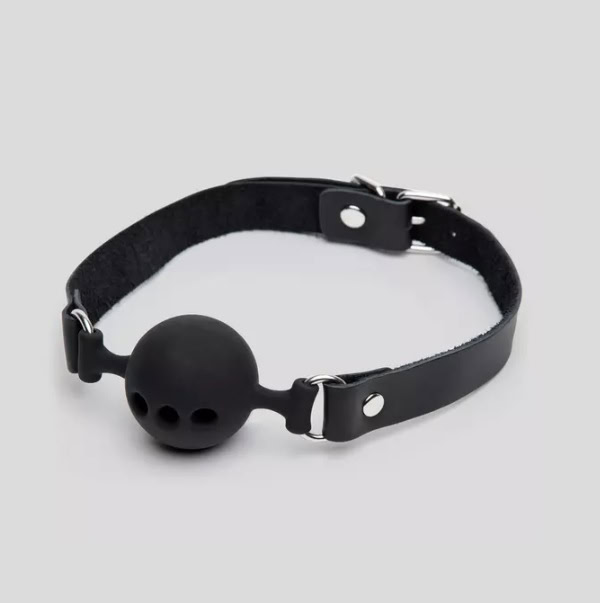 Top Features
$24.99
No smell or taste
Easy to breathe
Completely vegan
Cock rings and anal dildos have nothing on ball gags when it comes to BDSM sex. The key is to find the ball gag made of silicone, so you don't get that bad rubber smell (or taste) when wearing it.
That's just what Boundless Breathable Silicone Ball Gag brings us—a body-safe ball gag with no taste or smell.
It's also breathable, so you won't even feel it when wearing it, and your senses can focus on everything else that's going on.
The best part?
It's completely vegan, inside and out, so it's the perfect BDSM toy for all our vegan power play lovers.
>>>Add Boundless Breathable Silicone Ball Gag to your BDSM toys
Top Features
$29.99
High-quality cowhide leather
Makes sexy sounds
A paddle is the queen of BDSM toys, and that's just facts. Even if you have one (or more) already, there's always room for more.
Especially if the paddle comes in high-quality leather and leaves a 'SLUT' impression on your partner's skin!
And that's just what the Leather Slut Impression Paddle does.
What better way to leave your mark on your partner than to leave the word "slut" on their skin? Assuming they're into that, of course!
Just run it through her first, just in case, so you can relax while talking and playing dirty without the fear of being a jerk.
>>>Enrich your BDSM toys collection with the Slut Impression Paddle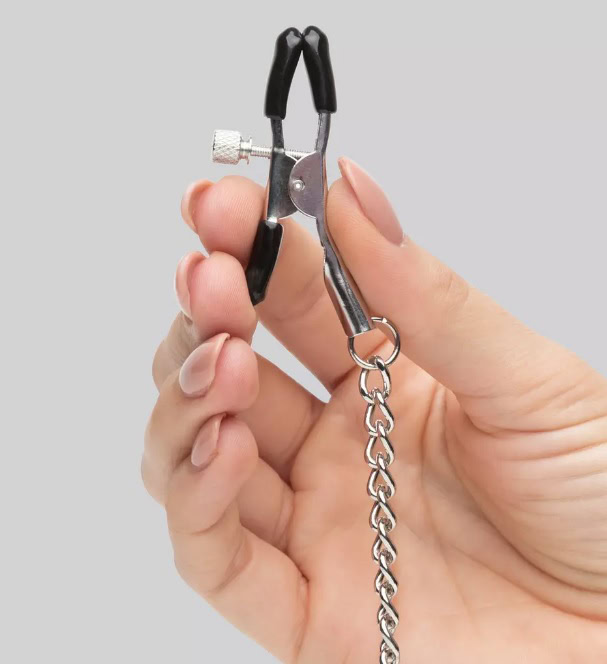 Top Features
$16.99
Tugging and weight play enabled
For intense stimulation
Alright, now things are getting heated and ready to set off the advanced BDSM toys.
Bondage Boutique Adjustable Nipple Clamps With Chain are some of the baddest nipple clamps out there.
They aren't for the faint-hearted, that's for sure.
The twin chains allow for some thrilling but intense nipple clamping but also tugging or weight play for those who are really serious about BDSM.
The best thing about these nipple clamps is that they are suitable for beginning alike since you can adjust the tension to your level of comfort.
Start really testing the limits!
>>>Add Bondage Boutique Adjustable Nipple Clamps to your BDSM sex toys
Advanced BDSM Sex Toys
Now, we're talking! Let's go over the absolute best BDSM sex toys for all of the seasoned BDSM enjoyers out there.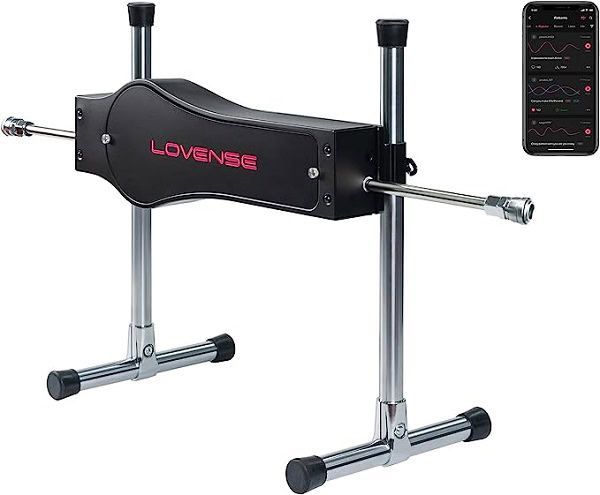 Top Features
Now $699 (Regular price $1,399)
Remote-controlled via the app
Two arms with dildos
All hail the queen of all BDSM sex toys—the Lovense Sex Machine. It's just as pro as it sounds, perfect for our advanced BDSM enjoyers.
The Lovense Sex Machine's got not one but two arms with dildos so it can be used by two people at the same time.
You can use these as anal dildos, vaginal dildos, or however you see fit!
The dildos are made of body-safe silicone, while the body of the sex machine is made of high-quality, durable metal.
It does different angles, stroke speeds, and stroke lengths.
Wanna see how much you can push your limits? The Lovense Sex Machine is a great place to start.
>>>Get your Lovense Sex Machine, the queen of BDSM sex toys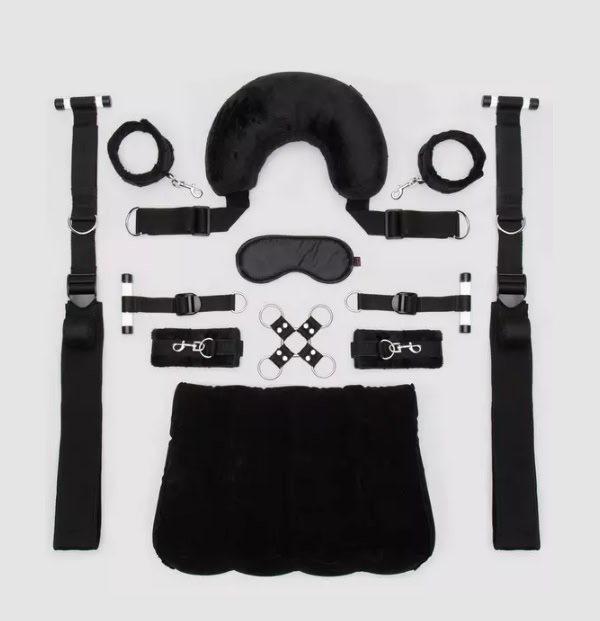 Top Features
$79.95
Wrist and ankle cuffs with a neck harness
Different kinds of positions
Fetish Fantasy Position Master is here to help you not let your physical limits get in the way of your pleasure.
With this sex toy, there's no way your partner's legs tiring will ruin the moment just as things start to get good.
The Position Master has both wrist and ankle cuffs and a neck harness that will allow you to enjoy different kinds of positions.
The parts may be soft, but they will keep you and your partner firmly in place for all kinds of bound-up situations.
>>>Up your BDSM sex toys with the Fetish Fantasy Position Master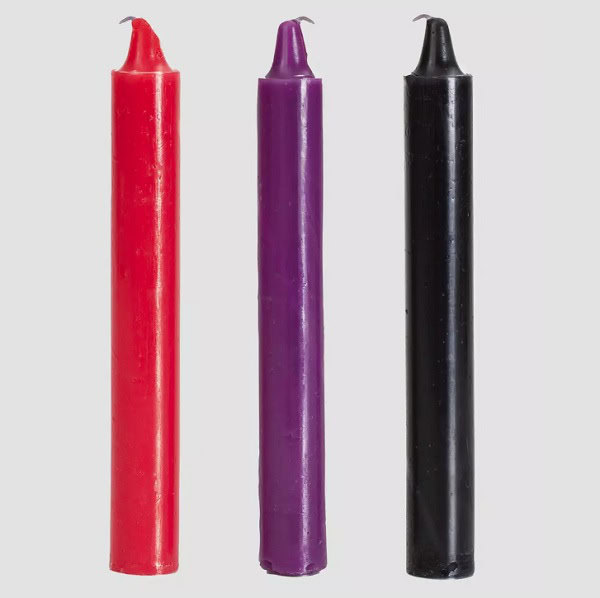 Top Features
$29.95
3 colors: purple, black, and red
7 inches
Candles are great BDSM sex toys as they give you that pain-induced tantalizing BDSM is all about.
The good thing about Japanese Drip Candles is that they're made of non-toxic materials, so you won't actually get burnt or have any allergic reactions.
They can't really hurt you, but they still give you that much-appreciated feeling of fear and pain.
Each of these candles is 7 inches tall, and the pack comes with 3 candles in 3 different colors—purple, black, and red.
>>>Buy Japanese Drip Candles, the best BDSM sex toys for wax games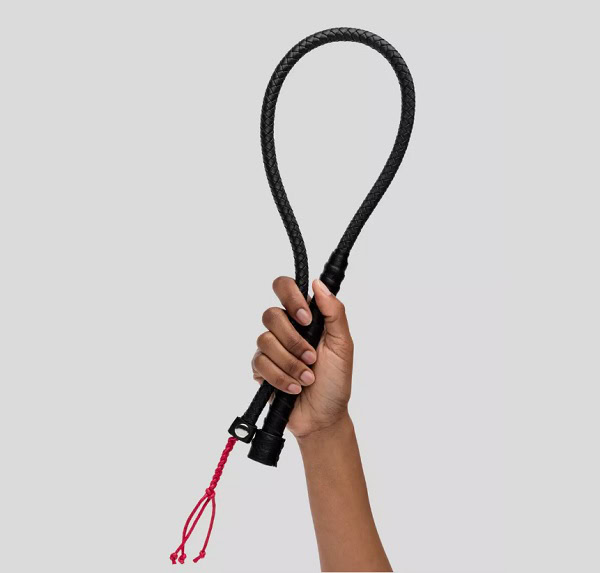 Top Features
$29.99
30 inches long
Tassels at the tip for stinging cracks
No list of BDSM sex toys would be complete without a whip, so here's our top pick—the Bondage Boutique Faux Leather Rope Whip.
Vegan readers, you read that right—this whip is made of top-quality FAUX leather, so it's vegan-friendly, too.
It's 30 inches long, and it allows for intense whipping sessions to bring your partner back to obedience.
What makes this whip stand out, though, is the tassels at the tip, which allow for those extra stinging cracks as it hits the body.
>>>Complete your BDSM sex toys with this Faux Leather Rope Whip
Basic Safety Tips for Bondage Toys
To keep your BDSM adventures crazy-kinky, you need to know how to keep them safe. Here are the basic safety tips when playing with BDSM sex toys:
Consent is EVERYTHING – Consent plays a key role in BDSM sex, like in any other kind of sex. With BDSM sex, though, both the dom and the sub need to make sure the sub is actually consenting to a certain act and not just saying it to please the dom.
The traffic light system works – The dom can run a check with the sub to see how comfortable they are with the scene. GREEN is for all is good, YELLOW means proceed with caution, while RED is for when the sub has reached their limits and needs things to stop.
A safe word is a must – The safe word is there so the sub can send a signal when they want everything to stop. Unlike the red traffic light, the safe word is when the act completely stops…at least for a while.
Know where it's safe to hit – It's important to know where to hit and where not to hit to avoid causing harm. Basically, you shouldn't hit the belly (where the vital organs are), and you should be careful with muscle joints and tendons. Be very careful!
Everyday Health has a great article on BDSM Fundamentals & Safety Rules if you want to find out more.
What Kinds of BDSM Sex Toys Are There?
There are ALL kinds of BDSM sex toys and extreme sex toys out there, and even just naming them would require an entirely separate article. So, here are the most popular ones:
Restraints – You can't have bondage without restraints. There are all kinds of restraints, from chains to cuffs to ropes to chokers to spreader bars and ropes.
Gags and blindfolds – For when you don't want to muffle your partner's screams or sharpen their other senses.
Impact toys – These are made for hitting and spanking and include whips, floggers, paddles, canes, and whatever you got on you.
Other sex toys – These include dildos, anal dildos, cock rings, anal vibrators, chastity belts, cock cages, nipple clamps, vagina pumps, penis plugs, and more.
BDSM outfits – From catsuits to pantyhose to latex dresses to hoods and masks—there are all sorts of outfits you can play with.
The Final Verdict on BDSM Toys
The right BDSM sex toys can really help you turn your sex life up a notch…or two, or three… You just need to know how to pick them.
Lovense Domi 2, Leather SLUT Impression Paddle, and Fetish Fantasy Position Master are great BDSM sex toys that won't let anyone down, whether you're a beginner or a seasoned BDSM pro.
Believe us.
Even if you're single, there are many BDSM dating sites that allow you to search for people with the same kinks and desires as you.
Whatever sex toy from this list you choose, you won't make a mistake. Just make sure the communication between you and your partner is on point, and you two are going to have one heck of a time.