While dating apps have definitely made it easier to find people who are available, they can be hit and miss at times. Sometimes, there is TOO MUCH choice for you and your potential partners.
It's like scrolling Netflix for hours – when there's so many choices, you don't know where to start!
Well, we're here to fix that. Not all dating apps are the same—a few of them provide high-end services that cut through the clutter and set you up with the ideal partner.
If that sounds good to you, read on. We're about to let you in on eight of the best matchmaking services that will help you find love.
Let's get to it!
The Best Matchmaking Services For Finding Love
In a rush? Here's a quick overview of the best matchmaker services:
First Look
1. Tawkify – Best Matchmaking Service Overall
Top Features
Professional matchmaking service
Extensive searches by personal (human) matchmakers
Excellent TrustPilot Rating (4.6/5)
Custom date planning
Background checks on all clients
Number of Users
1 million+
Types of Users
Wealthy people, professionals
Price
Basic membership $99 per month
Video connect package: $799
Full packages start at $4,000
If you've got the cash, using a professional matchmaking service like Tawkify could be a great idea. It definitely falls into the luxury matchmaking category, but if you don't mind spending out, it could be a good investment.
This is one of the few matchmaking services that uses human matchmakers… they don't rely on algorithms.
How does Tawkify Work?
To get the ball rolling, just visit the website and answer a few questions about what you're looking for in a relationship. If you're a good fit, and they think they can find you a match, one of their dating experts will be in touch.
Here's the best bit, though; as well as doing extensive searches to find your ideal partner, Tawkify's professional matchmakers will also set up your dates and even coach you if you need the help. Winner.
How Expensive is Tawkify?
Exclusive matchmaking services like this come with a fairly hefty price tag.
While the basic membership of $99 per month allows you to be on the books of Tawkify's members (and available for matching), full packages start at $4000 but can go much higher depending on how many dates you want each month.
If that seems a bit too much, or you don't want to make such a big financial commitment to the dating process, Tawkify also offers video connect packages for $799. These allow you to enjoy two virtual dates a month. If you gel with your match, you can arrange your own dates after that.
Overall Thoughts
While it might seem a far cry from some of the more mainstream online dating sites out there, for those of you with the money and who want to date wealthy people or professionals, this kind of elite dating service could be a good investment.
>>Find a serious relationship with Tawkify and enjoy their elite matchmaking services.
2. Millionaire Match – Top Millionaire Matchmaker App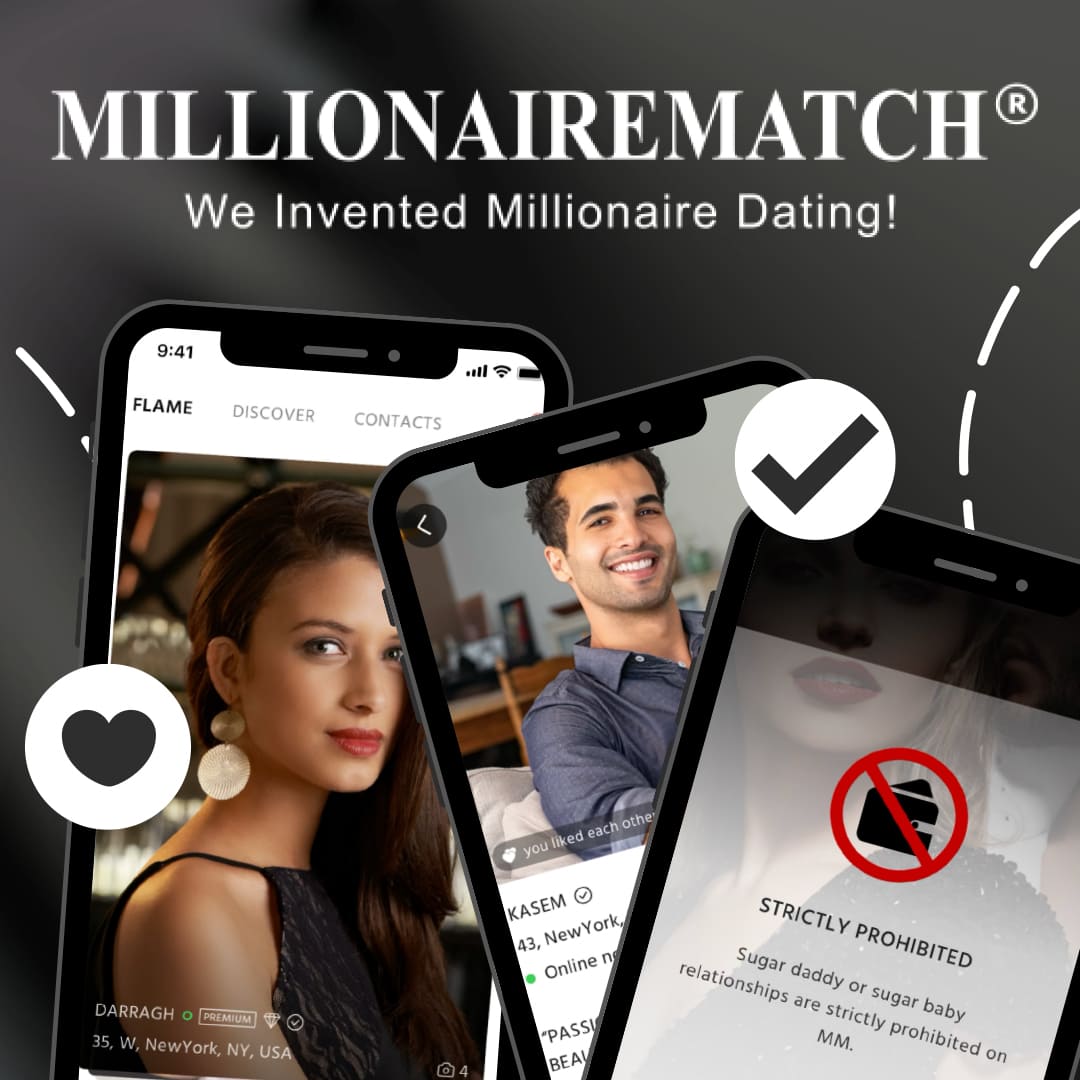 Top Features
Operating for 22 years
Connects you to people with the same social status
Professional matchmaker and dating coaching
Chat and messenger feature
VIP memberships
Number of Users
5 million overall, with 2.5 million in the US.
Types of Users
Wealthy people, CEOs, pro athletes, supermodels, and celebrities
Price
1 month: $70/month
3 months: $56/month
6 months: $45/month
For those of you who like the finer things in life or just don't have the time to scroll through dating apps, Millionaire Match could be a good option.
It offers a mix of personal and digital matchmaking, which aims to connect you to people with the same financial or social status, depending on the membership option you choose.
VIP members not only get help with their profile creation, but they'll also get access to the site's personal matchmaker and date curation services
Regular members aren't quite so pampered, but the digital matchmaking algorithm is still top-notch and will set you up with some solid matches. You'll have to scroll and pick who you like and send messages yourself, but you'll still find plenty of wealthy men and women.
>>Sign up to Millionaire Match and get in on the wealthy dating pool. 
3. Seeking – Online Dating With the Rich and Successful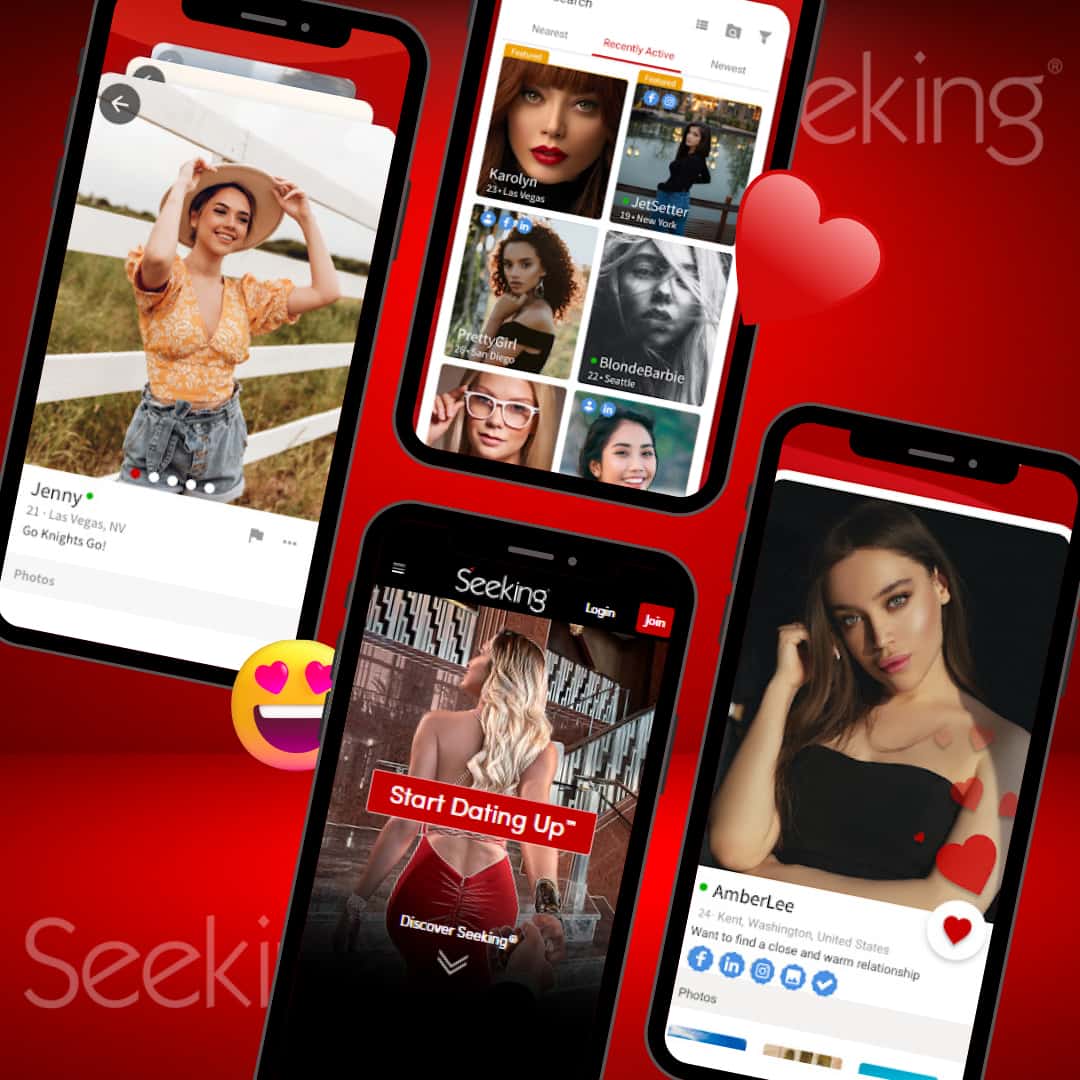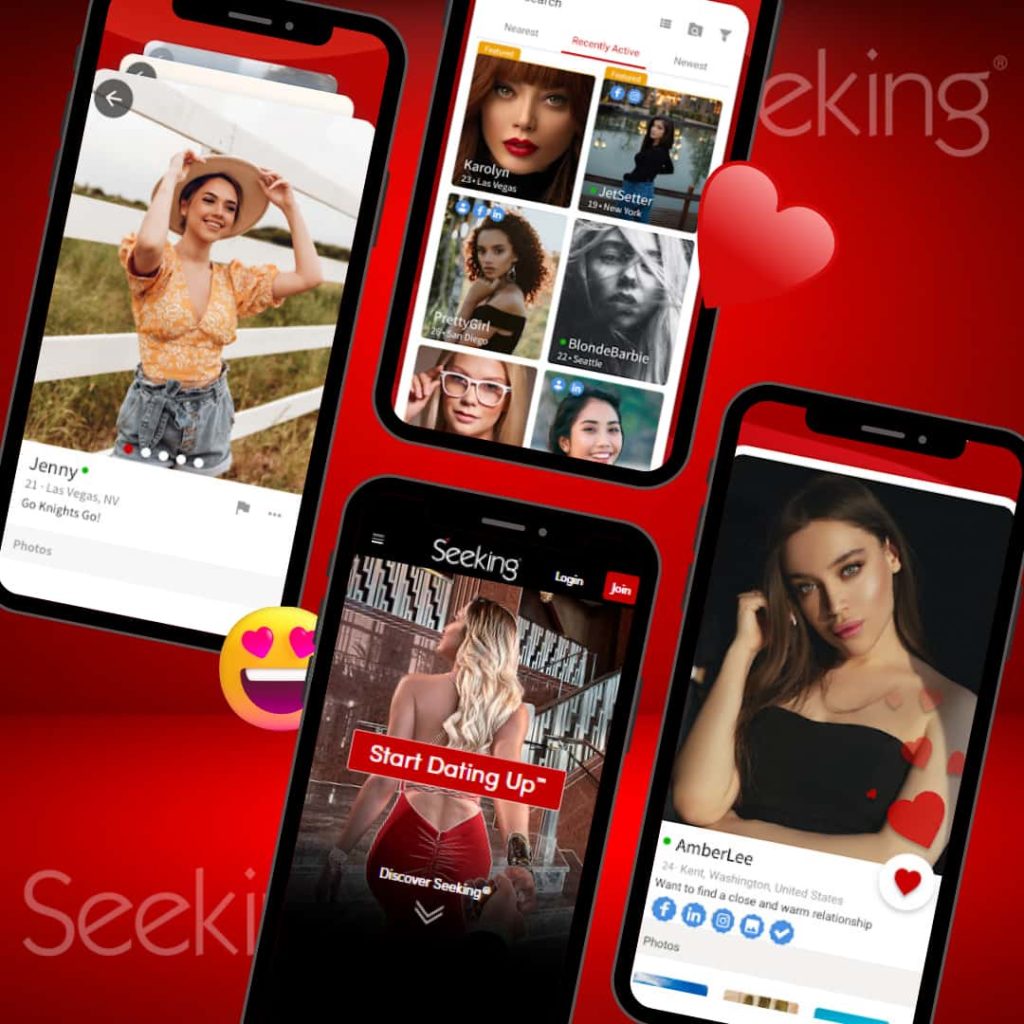 Top Features
Background checks and verified profiles
Date up or with people of your own social status
4:1 women-to-male ratio
Find a long-term relationship or keep it casual
Number of Users
40 million users
Types of Users
Well-established business people and people born into money.
Price
Free for women
Premium—$109.95/month,
Diamond— $274.99/month
Seeking is well known for its stack of successful and attractive members—in fact, it's got a great reputation for being a wealthy dating site.
You'll find plenty of business owners, people born into money, and rich professionals on the site, as well as attractive women who are looking to date up.
While it doesn't have a personal matchmaking service, it does have lots of neat features which we think earns it a spot in our top eight matchmaking services.
You'll find lots of verification features when you sign up, including annual income verification and background checks. The site prides itself on honesty, so it's no surprise that these are here.
While it is a bit pricey, it's far lower than some of the other matchmaking services out there. If you're a woman, though, you won't have to pay at all!
>>Sign up to Seeking and find rich potential partners on this high-end dating site.
4. EliteSingles – High-End Matchmaking Services 
Top Features
Intelligent matchmaking service
Extensive personality questionnaire
Verification checks
Mostly people over 30
Number of Users
12.5 million
Types of Users
Young professionals, wealthy people.
Price
$99.95 for 1 month
$158.85 for 3 months
For anyone looking for a high-end matchmaking site, Elite Singles is one of the top sites out there. Aimed at busy professionals with a bit of cash, the site uses an intelligent matchmaking service to pair you with others.
You'll have to fill out a pretty extensive personality questionnaire before you start, but it's well worth spending some time on. Because the site doesn't offer personal matchmaking, you'll need to make sure that this is filled out correctly.
You don't need to worry about scrolling like you're on Tinder, though. The site attracts people a bit more serious about finding a date, and most are over the age of 30.
While a millionaire might be a bit of a push, you will find plenty of well-established men and women here, all looking for that perfect match; hopefully, it will end in love.
>>Find wealthy professionals with Elite Singles dating services.
5. eHarmony – Best Matchmaking Service for Long-Term Relationships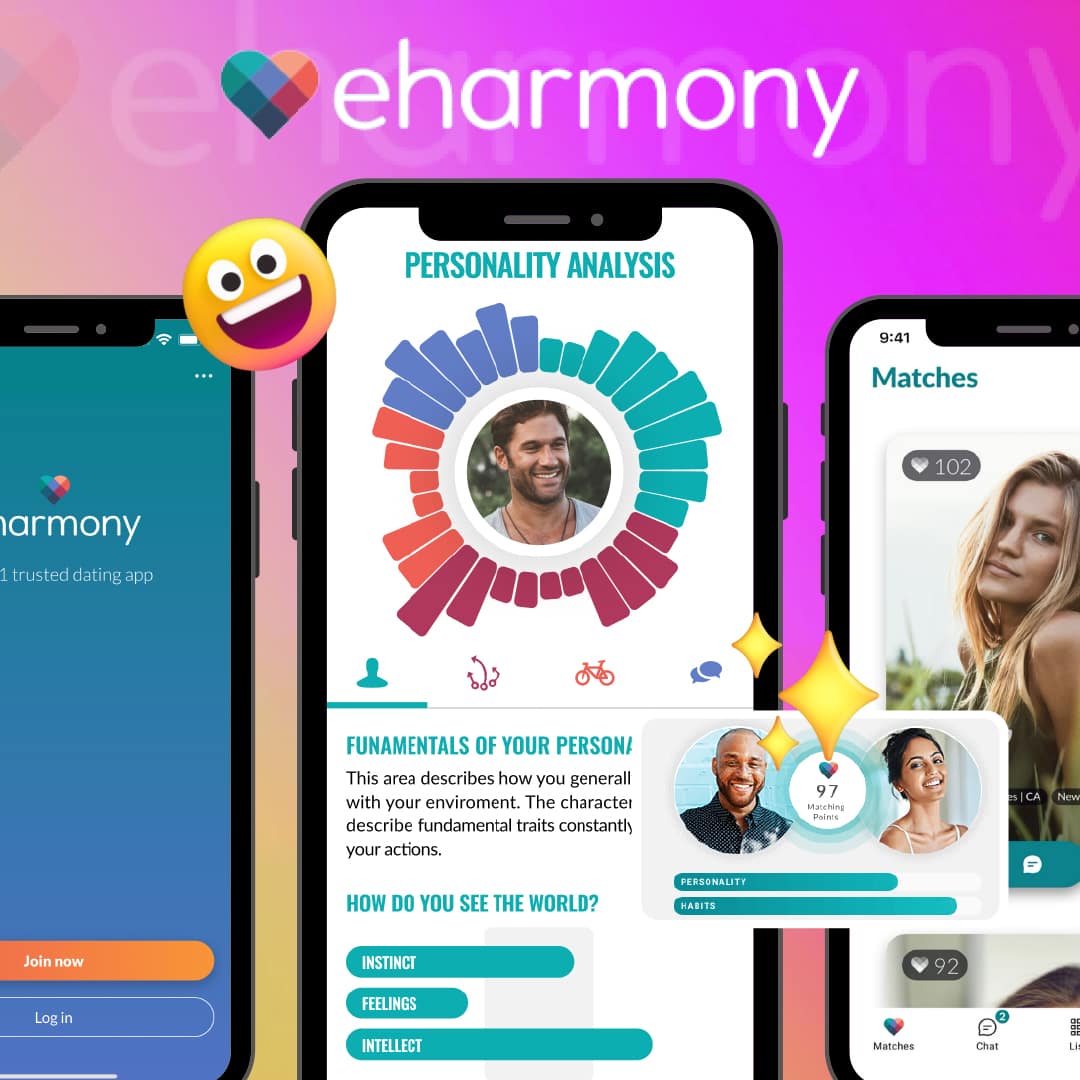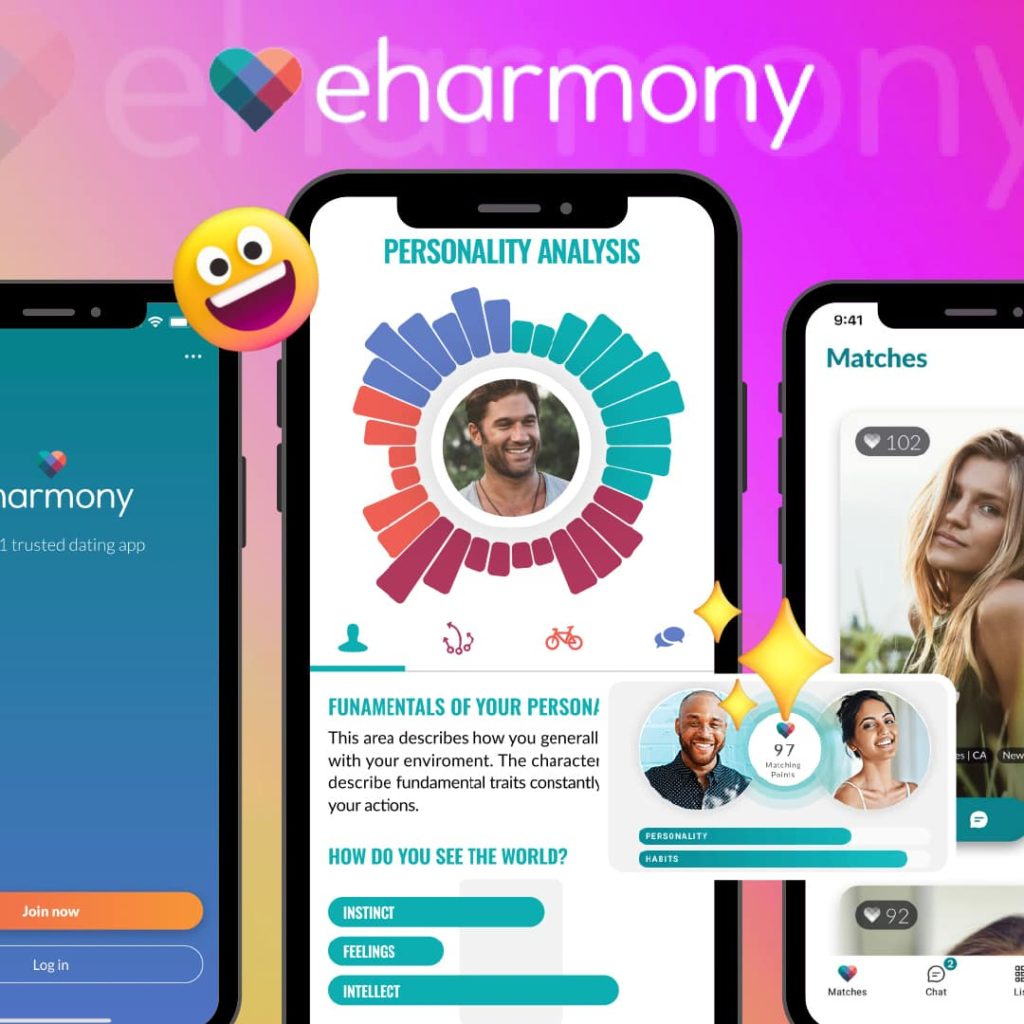 Top Features
Balanced ratio of men-to-women
Intelligent matchmaking
Compatibility quiz
High success rate
Affordable
Number of Users
12.5 million
Types of Users
People looking for serious relationships from all walks of life.
Price
Basic membership – free
6-month premium membership – $69.90 per month
eHarmony is geared up to help you find love. It's one of the mainstream matchmaking services for people looking for serious relationships.
You'll find all types of people here, from your average girl next door to a super wealthy exec, and while it's a far more affordable option than some of the services you'll find with professional matchmakers out there, it actually has a very high success rate.
Its compatibility questionnaire and intelligent matchmaking algorithm is the main reason. While you do have to scroll yourself, it will make sure you are paired with people that you will actually gel with.
As a result, it's attracted a good mix of men and women, which will definitely give you a better online dating experience and a good chance of meeting compatible matches.
While you might not find a millionaire here, it definitely deserves a place on our elite matchmaking list.
>>Sign up for eHarmony's matchmaking services and find meaningful relationships.
6. BlackPeopleMeet – Best Niche Online Dating Service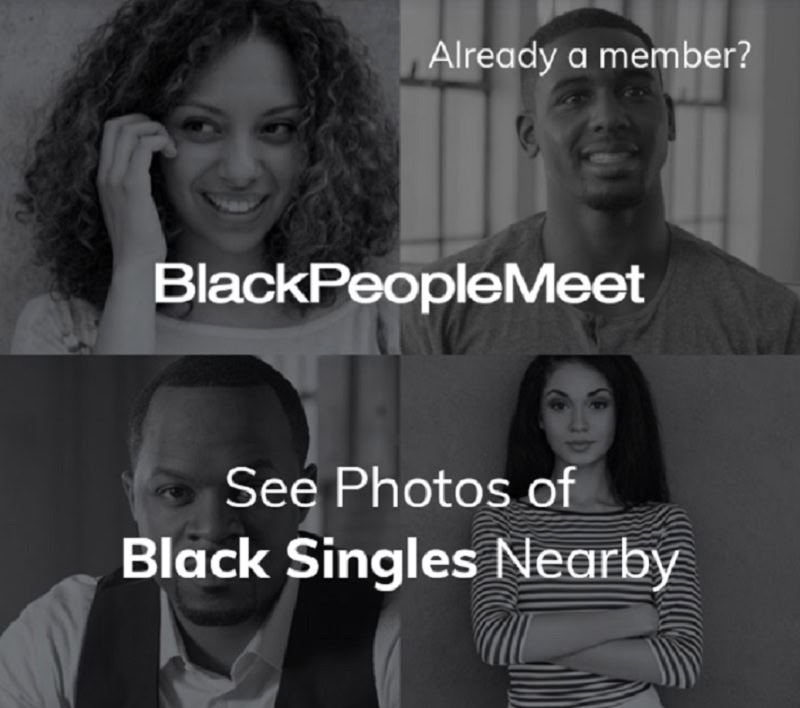 Top Features
Compatibility tests
Personality profiling
Icebreakers shown on profiles
High success rate
Number of Users
5 million users
Types of Users
Successful black singles looking for casual or lasting relationships.
Price
$16.75 for 1 month
$13.95/month for 3 months
$11.95/month for 6 months
BlackPeopleMeet is a premier matchmaking service for black singles who are looking for casual or long-lasting relationships. The niche online dating site is one of the largest in the US and has a pretty stellar reputation amongst people looking for both casual and serious relationships.
Despite predominantly being used by black singles, you can actually join the dating services, whatever race you are. Its inclusive nature is one of the things that sets this site apart from others.
You'll find some pretty detailed compatibility quizzes when you sign up for the matchmaking service, which is used to create your personality profile. This gets attached to your profile so that other users can take a peak and see if you could be a good match.
As well as profile verification, the matchmaking service also works hard to protect your privacy. Its ConnectMe messaging system means you don't have to share your phone number with potential matches, and you can even set the privacy of your photos.
We think that's pretty neat.
>>Find successful professionals on BlackPeopleMeet.
7. ChristianMingle – Top Christian Matchmaking Company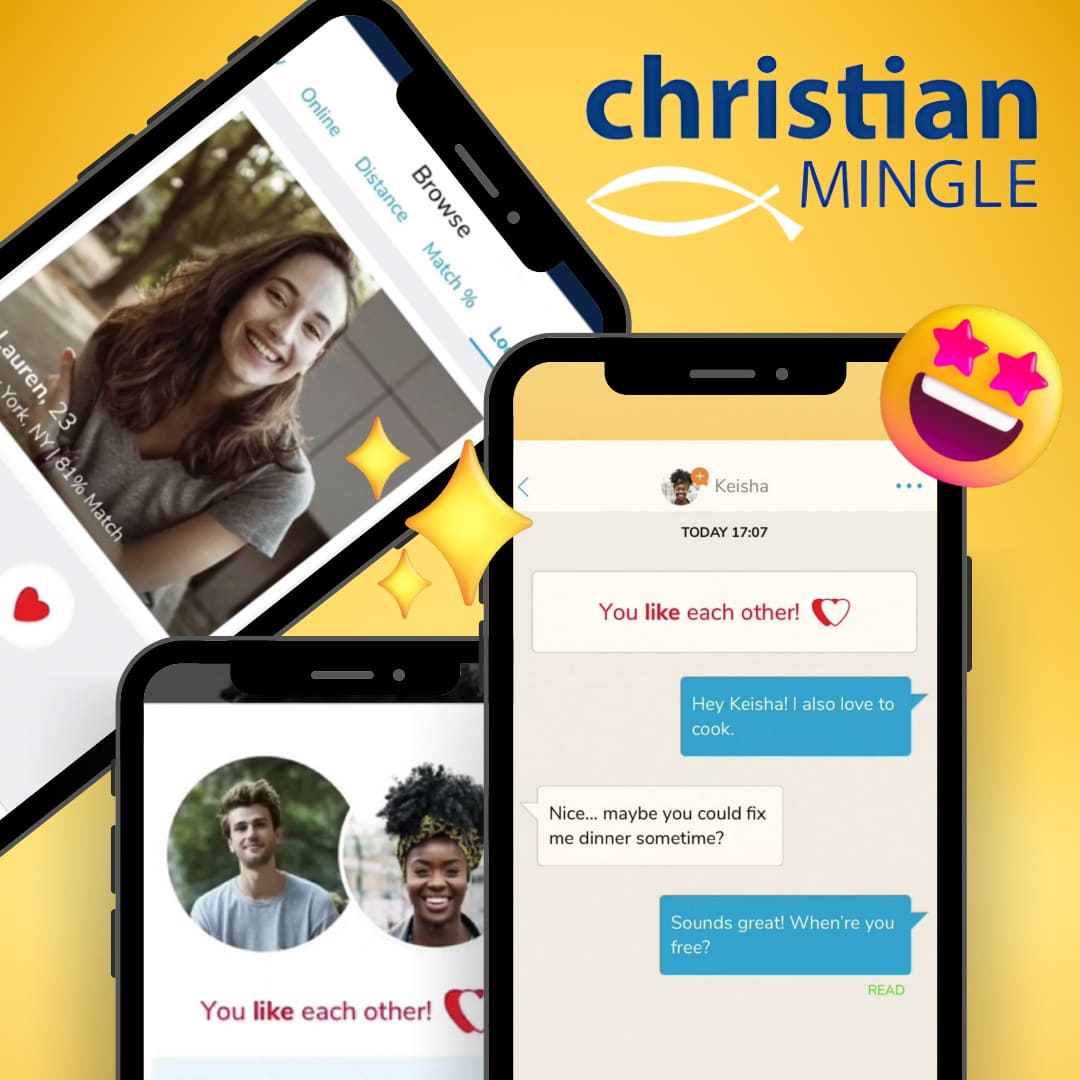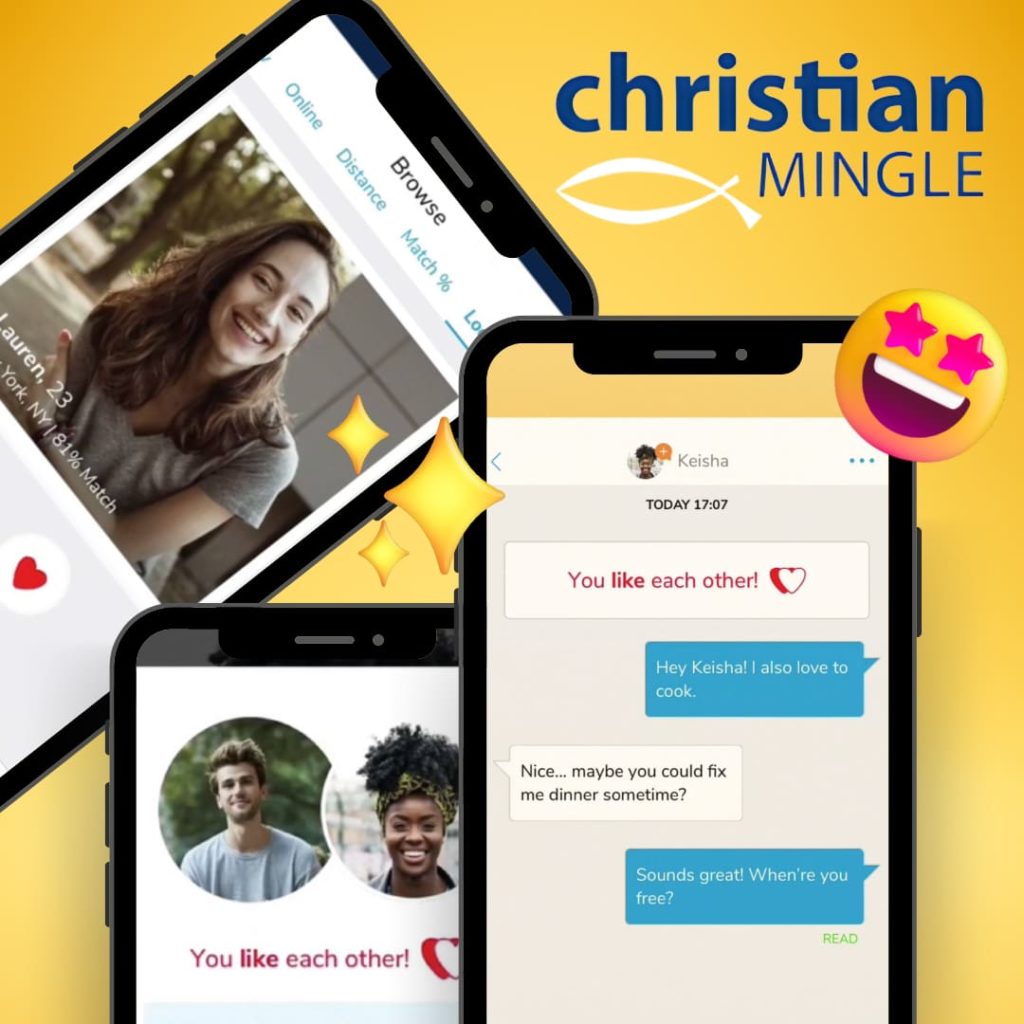 Top Features
Daily matchmaking
Match percentage lets you know how compatible you are
Discovery preferences based on location, age, and gender
Balanced male-to-female ratio
Number of Users
16 million people
Types of Users
Christians looking for a serious relationship
Price
$39.99/month for 3 months
$29.99/month for 6 months
$19.99/month for 12 months
This faith-based matchmaking company's got some pretty good features. It's the most popular Christian dating site, attracting 16 million people to try out its professional matchmaker services.
While it is all automated, the system behind it has some pretty good reviews, and there are plenty of success stories to attest to it being as good as people say it is.
29% of online Christian marriages start from the site, which is pretty high for sites with matchmaking packages.
There's a pretty even ratio of men to women, and most of them are looking for long-lasting relationships. Because the site's matchmaking system prioritizes what's important to each user, the chances of this are high because your matches end up being pretty spot on.
The site has even won numerous awards, including becoming an honoree in the Webby Awards. With all that going for it, it's definitely worth taking a look at if you want a faith-based relationship. You can even try it out with a free trial. What have you got to lose?
>>Find your perfect match on ChristianMingle.
8. SilverSingles – Best Selective Search for Over 50s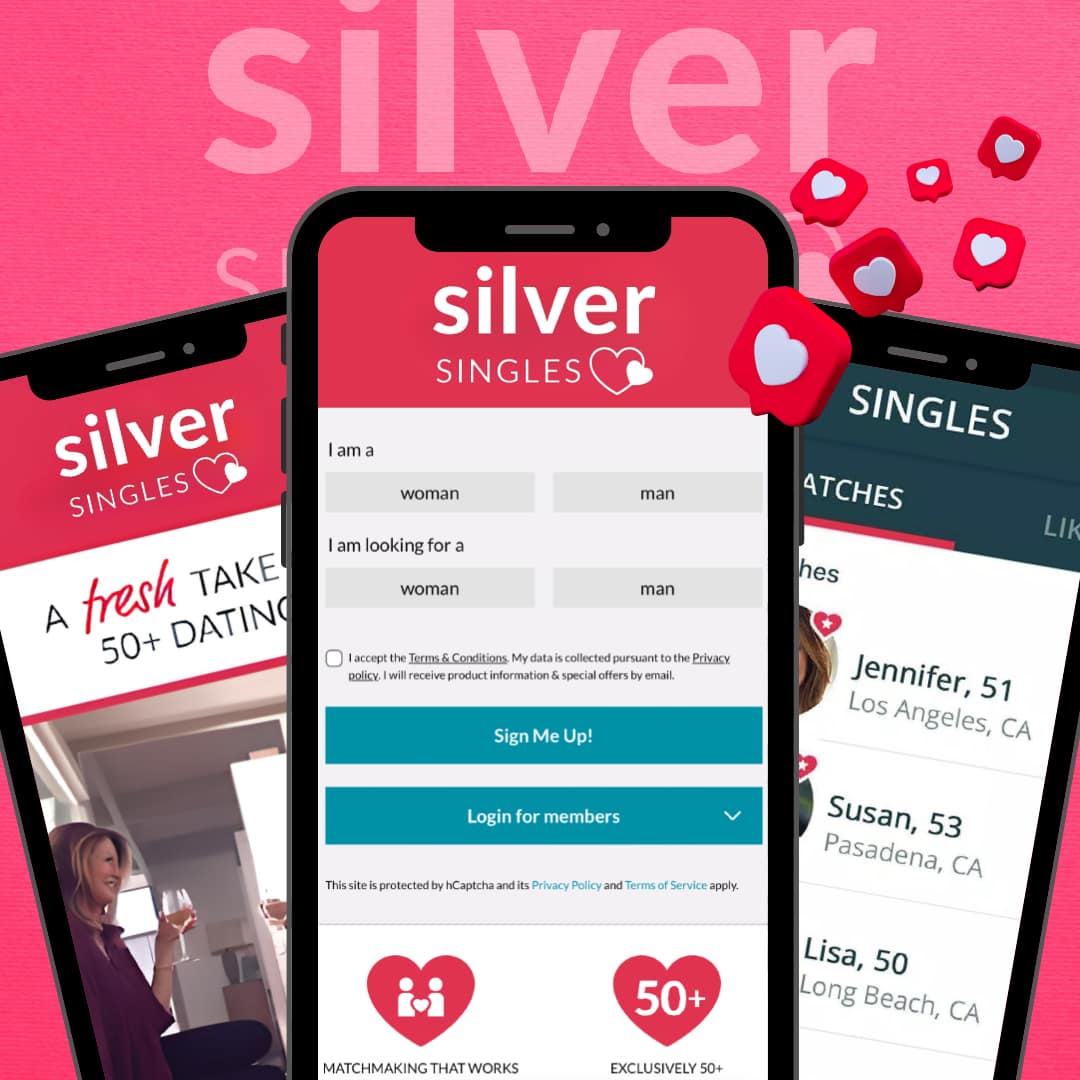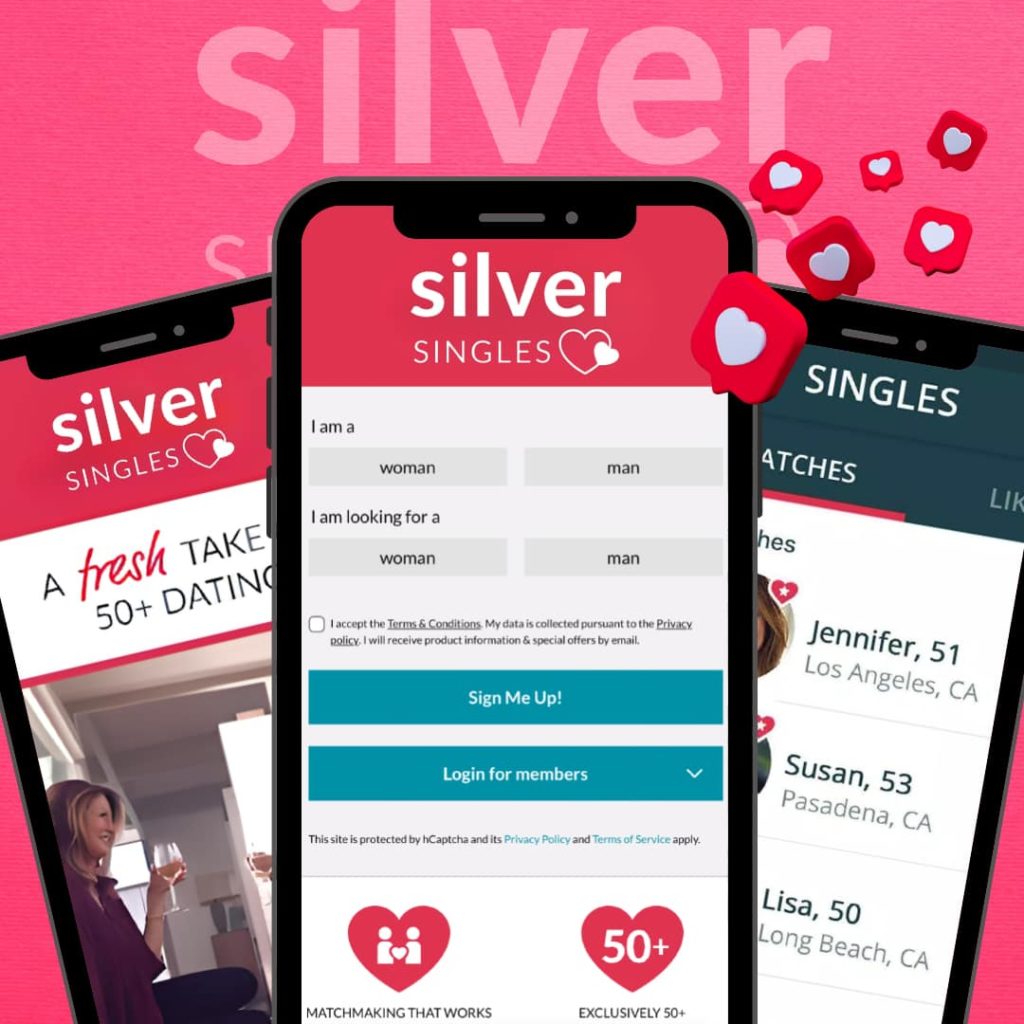 Top Features
Personality testing and compatibility score
3-7 potential matches recommended daily
Find a long-term relationship
Secure SSL encryption
Number of Users
800,000 people
Types of Users
Older people looking for love and companionship
Price
$49.95/month for three months
$37.95/month for six months
$27.95/month for twelve months
If you're looking for a site that works just like you have your own professional matchmakers, look no further than SilverSingles. Aimed at the over 50s, the site aims to make the dating process simple by taking the matchmaking out of your hands.
Instead, you'll have to fill out a personality test, which will give you a compatibility score that is then shown against each of the people you're matched with. The higher the score, the more likely you are to gel with them.
While you can't search the site yourself, that's kind of the purpose of joining this site. You're here to get the professional matchmaking services on offer, so it shouldn't be too much of an issue.
You'll be presented with 3 to 7 matches a day, which should be ample choice to get you started without bogging you down. If you see someone you like, drop them a message and take it from there.
>>Find potential partners with SilverSingles premium matchmaking packages.
Love Matchmaker Services FAQs
Still got some questions about the top matchmaking companies on our list? Take a look at our FAQs.
Is It Worth It to Pay for a Matchmaker?
Yes. Paying matchmaking companies can be a good investment if you're ready to find a serious relationship.
While they vary from luxury matchmaking, like Tawkify, to more mainstream matchmakers, like eHarmony, the dating sites in our review use a number of ways to find potential partners that you would gel with. 
Are There Any Affordable Matchmaking Services for Regular People?
Yes, there are affordable matchmaking services for regular people. eHarmony would be a great site to try. Its basic membership is free, or you can sign up for its premium package for $69.90/month for 6 months.
It's not the cheapest dating site ever, but it's got a great matchmaking algorithm compared to many of the free hookup sites and dating sites around.
Are There Any Matchmaking Services for Young Professionals?
Yes, EliteSingles is an executive matchmaking service that targets young professionals. It's a high-end matchmaking service that helps people over 30 find a serious relationship.
Are Matchmakers Better Than Online Dating?
It depends. If you are looking for a long-lasting relationship, you are more likely to find one using personalized services like Tawkify and Seeking than the likes of Tinder, which is geared up more for hookups.
Which Dating App Produces the Most Marriages?
eHarmony is the dating site that produces the most marriages. 600,000 people who met in the company's matchmaking process went on to get married. It's a huge number and shows that matchmaking services have great potential.
It's certainly one of the most influential adult dating sites of all time.
Conclusion – Using a Professional Matchmaking Service to Find Love
While finding love can be a challenge, using a luxury matchmaking service could actually be a good investment.
Whether you go for one of the elite packages on Tawkify or stick to a more regular site like eHarmony, hopefully, you'll see an improvement in your potential matches.
With eight of the best sites out there in our top picks, you've got everything you need for a top matchmaking experience.