There's no shame in admitting that not everyone has a consistent sex life. For some, just the thought alone of finding a partner for the bedroom rodeos is an uphill task – regardless of whether it's due to burnout, shyness, or just a plain lack of incentive to hit the bars.
But with the best adult dating sites, "putting yourself back out there" has never been easier.
These adult dating platforms boast millions of active members and are host to unique features, shortening the distance between you and your next hookup potential.
To help you out, we take an in-depth look at some of the best hookup sites worth your time and, even more importantly, your money.
Top Adult Dating Sites for Easy, Casual Dating
1. AdultFriendFinder – Best Adult Dating Site Overall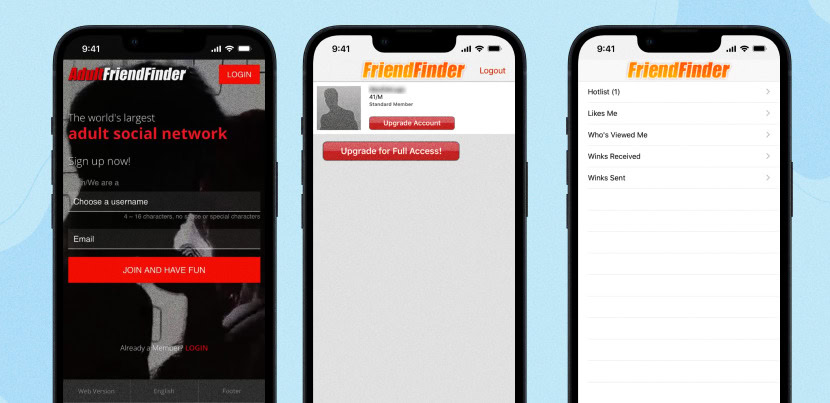 Pros
Millions of active, open-minded members
Wide range of kinks and fantasies
Tons of advanced features
Tips and tricks magazine
Cons
Limited free features
Web layout could use some improvement
Pricing
1 Month – $19.95
3 Months – $38.85
12 Months – $119.4
If you're in dire need of creaming the Twinkie, try your luck with AdultFriendFinder. It's your best bet to get laid as early as this weekend or, if your keyboard game is exquisite, whenever your 'busy' schedule allows.
The power is in your hands!
With AdultFriendFinder, we're talking about arguably the biggest, free adult dating site on the interwebs. Once signed up, you'll be interacting with millions of active members, all of them interested in the same thing – casual sex.
Casual sex is mostly a thing of physical attraction, so take a few candids and spruce up your profile to match your personality and make you shine.
If you're particular about your partners, consider Adult Friend Finder the uncapped hero of diversity. You can narrow down your searches based on filters like location, age, kinks, race, body type, and even sexual orientation.
Adult Friend Finder knows how to keep its users entertained.
In addition to viewing live videos, you can also make merry with features like What's Hot (ranking of most popular users), magazines (success-story blogs and tips for newbs), and chat rooms.
No wonder it boasts a cool +80 million users.
That said, you're bound to run into ads and the odd bot or two, which is a given with such a huge pool of users.
Create your free AFF account here for hot meetup opportunities.
2. Ashley Madison – Discreet Sex Dating Site for Anonymous Affairs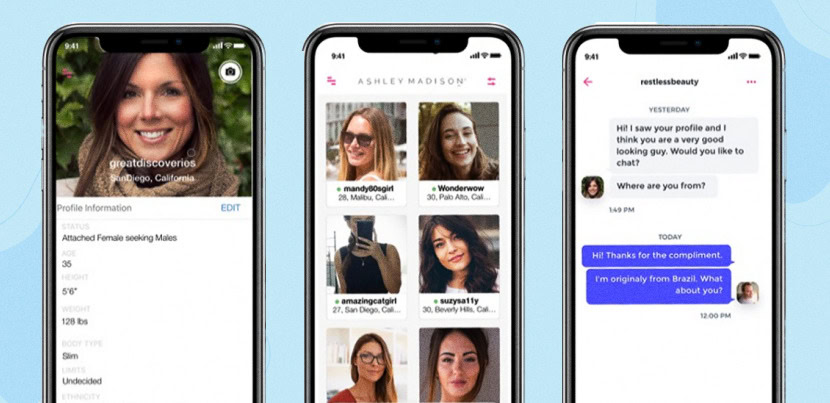 Pros
Designed for extramarital affairs
Advanced security features
Prioritizes anonymity and discretion
Free for women
Cons
Credit system can prove costly
Can prove competitive
Pricing
100 Credits – $49
500 Credits – $149
1,000 Credits -$ 249
Without beating about the bush, Ashley Madison is all about affairs, hookups, and casual relationships.
I mean, even its slogan, "Life is short. Have an affair" tells all about what to expect on this notoriously popular site.
Here's how it works.
Ladies seeking men get to use the hookup site for free. But men and ladies seeking other ladies will have to buy tokens to flirt on Ashley Madison's secure streets.
Oh, and it's not only for married folks.
Even single men and women can try their luck and see if they can ignite that fading spark in a married user's life. So as you get started, remember to upload that killer photo and set up a charming bio.
Keep things nasty – if you can handle the heat, that is.
While everyone wants to cheat on Ashley Madison, no one wants to get caught, right? So, in addition to discreet billing, the adult dating website also allows you to tweak its robust privacy settings to suit your preferences.
Some users just want to sign up, buy credits and get fast hookups to reduce the odds of getting caught.
Luckily, Ashley Madison has just the right tools to set you ahead – priority man and priority mail. As a premium member, these features can have your profile stand out, and have your sent messages prioritized.
Spice up your bedroom 'affairs' by registering on Ashley Madison today.
3. SearchingForSingles – Best Adult Dating Site for Sex Chats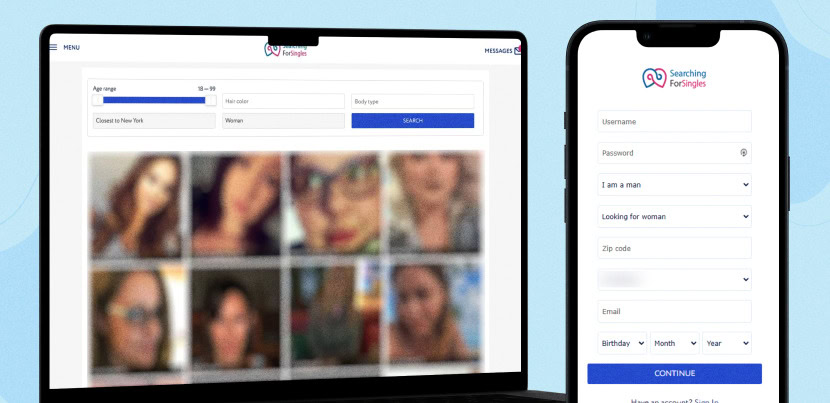 Pros
Several search filters
Easy to use
Suitable for flirting and fast hookups
Most members active
Big on anonymity and discretion
Cons
Not the most responsive support team
Several incomplete profiles
Pricing
1 Month Silver – $12.95
3 Months Gold – $32.85
6 Months Platinum – $53.70
If you're up for some late-night sexting, then look no further than SearchForSingles. Once you sign up, you'll find thousands of horny members looking to engage in naughty nighttime talks before hitting the sack.
But it doesn't stop at sexting.
There are plenty of members willing to go all the way to fulfill their wildest fantasies. Your work is simple, browse through profiles and find a member that's just naughty as you are.
Easy peasy, right?
On average, it'll take you some 5-10 minutes to sign up and set your profile up. While the fast sign-up is a big win, it also increases the chances of stumbling into fake profiles.
So be on the lookout for incomplete, suspicious profiles.
If there's one area SearchingForSingles has outdone itself, it has to be its search function. With just a click of a button, you can specify the type of profiles you want to be displayed. Extra handy filters include age, interests, body size, location, and even lifestyle.
We like that SearchingForSingles keeps things neat and simple.
Even the average, non-tech-savvy guy can work his way through the website without breaking a sweat. Pretty neat if you ask me!
Join SearchingForSingles today to spice up your night with steamy sexts.
4. Passion – Casual Adult Finder Site for Couples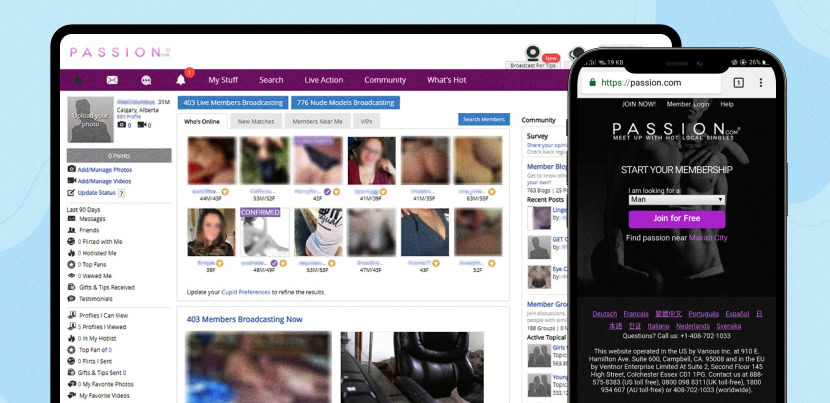 Pros
Allows for couple registration
Open to a wide range of fetishes
Millions of members across the globe
Suitable for fast hookups
Members can join and form chatrooms
Cons
Several fake profiles
Accounts rarely monitored
Pricing
1 Month – $39.95
3 Months – $80.85
12 Months – $239.4
Passion is one dating site that cuts the BS and hits the nail squarely on the head. No rules, no limitations, just you, your partner, and your wildest fantasies.
What we like the most, is that this adult dating site allows users to sign up as gay or straight couples.
Now there's no need to go behind your partner, is there?
While the first few messages you get to read are free, you need a membership to access the full communication options.
You can also research potential matches based on any kinks. So if you're into BDSM, swinging or just basic couple play– just know that Passion's got you.
It also helps that you can use a variety of search filters like location, age, and kink to find the right type of partner (s).
Did you know that you can view a wide range of adult movies on Passion?
You can find anything from amateur videos to taboo clips and even self-play JOI. And the fact that you can access private chat rooms (at an additional cost) makes it an enthralling option for members who just want virtual action.
Bring your wild side out to play by signing up on Passion here.
5. NoStringsAttached – Excellent Adult Dating Site for Cyber Sex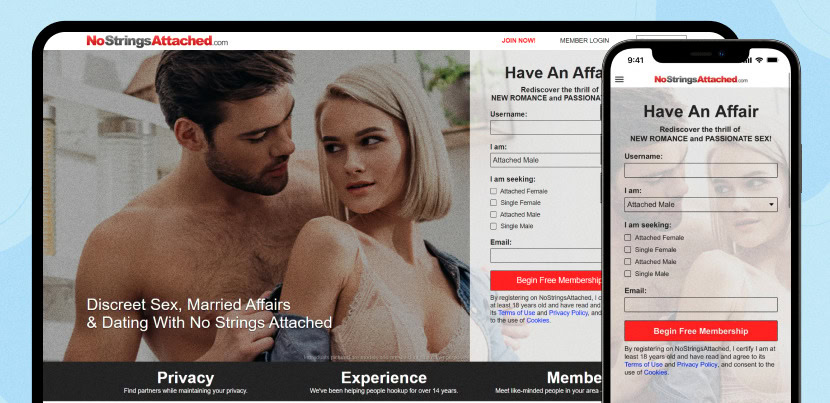 Pros
One-on-one video chats available
Large member base
Different sexual preferences
Fast hookups
Customizable searches
Cons
Ads are present
Most profiles don't have profile pictures
Pricing
1 Month – $29.95
3 Months – $59.95
12 Months -$149.95
Tired of boring dating sites with nothing more than basic photos to offer? If so, then perhaps NoStringsAttached might get your heart pumping.
Besides giving you access to millions of sexy users in need of casual sex, it allows you to join a vibrant community, courtesy of its active live chats and blogs.
No more feeling weird about your fantasies.
The site design is a bit basic, to be honest, but that's just about the only major downside with this gold mine of an adult site.
It's a relatively cheap membership price compared to other sites, and this allows you full access to messages, profiles, and other basic features.
Be warned that content leans more on the explicit side, so you're better off trying elsewhere if NSFW stuff isn't your cup of tea.
While not every member prefers webcam broadcasts, you're almost guaranteed to find close to 100 members engaging in live play at any time of logging in.
It's never a dull day on NoStringsAttached, that's for sure.
In addition to viewing member and model live cams, you can also take advantage of features like Hotlist (a list of your favorite members) and set up match notifications (for new matches).
Try out NoStringsAttached for some casual, non-judgmental fun.
6. Alt.com – Alternative Adult Dating Website for Hook Ups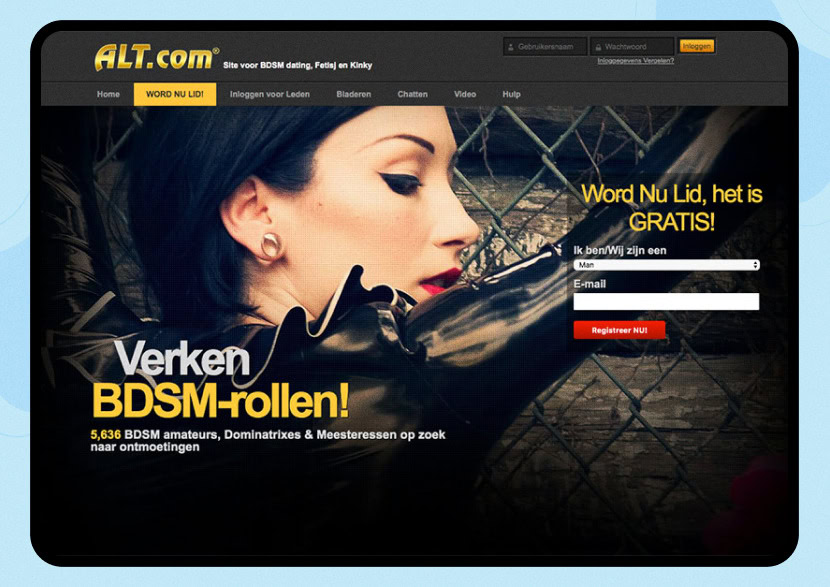 Pros
Open to a wide range of kinks
Purity test conducted during sign up
Video chat option
Several search filters
Cons
Several profiles don't have pictures
Many fake profiles
Pricing
1 Month Silver – $19.95
3 Months Silver – $35.97
12 Months Silver – $99.97
1 Month Gold – $29.95
3 Months Gold – $59.97
12 Months Gold – $149.97
Alt.com brings the heat to the adult dating game, meaning you might have to leave the kitchen if you can't keep up.
It's that steamy!
Almost everyone on this hugely populated site is after alternative sex, and you can rest assured that even the most creative(but legal) sexual fantasies will come off as normal on this platform.
Although mostly meant for BDSM fantasies, Alt also doubles up as a community for open-minded users keen to explore alternative lifestyles.
Although full of real active members, be wary of some pesky fake profiles and scammers, as they're quite many, to be honest.
The purity test is a wonderful feature that shows just how kinky you are.
It lets Alt know the kind of profiles to suggest on your feed, which improves the overall user experience.
It's nice that signing up on Alt.com is a breeze and that site navigation is also easy. Plus finding someone specific takes no more than a minute, especially since you can easily customize your searches.
Create your free account on Alt.com for a wild trip down fantasy lane.
7. Feeld – Best Adult Dating App for Swinging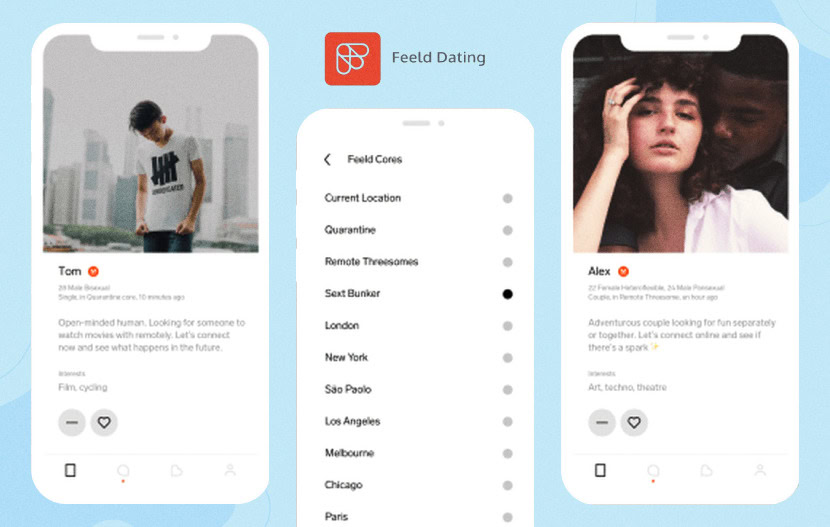 Pros
Couple accounts allowed
Intuitive, easy-to-navigate app
Most members are open-minded
Strict verification
Cons
Facebook verification mandatory
No web version is available
Pricing
1 Month Majestic – $11.99
3 Months Majestic – $23.99
Feeld takes a different approach to adult dating by incorporating the needs of both singles and curious couples.
While most members are men, there's no shortage of attractive ladies (single and in relationships) that are down for a quick encounter.
One problem with this dating app is that it relies heavily on Facebook sync and also uses Facebook to verify accounts. This presents a slight risk of some of your Facebook friends finding out you use the app – but you can hide your Facebook profile by upgrading to premium.
Feeld is big on simplicity and doesn't overwhelm users with tons of information or features.
You'll just create your account and jump straight to matching. The swipe-like system also makes it easy to browse through several profiles until you find one.
Heterosexual? Pansexual? Bisexual? Trans? No problem. Feeld has over 20 sexuality and gender identity options, which sorta makes it a safe place for all sorts of people, regardless of sexual orientation.
Download the Feeld app and interact in a judgment-free zone.
8. Tinder – Best Sex Dating App for Geo-Based Matching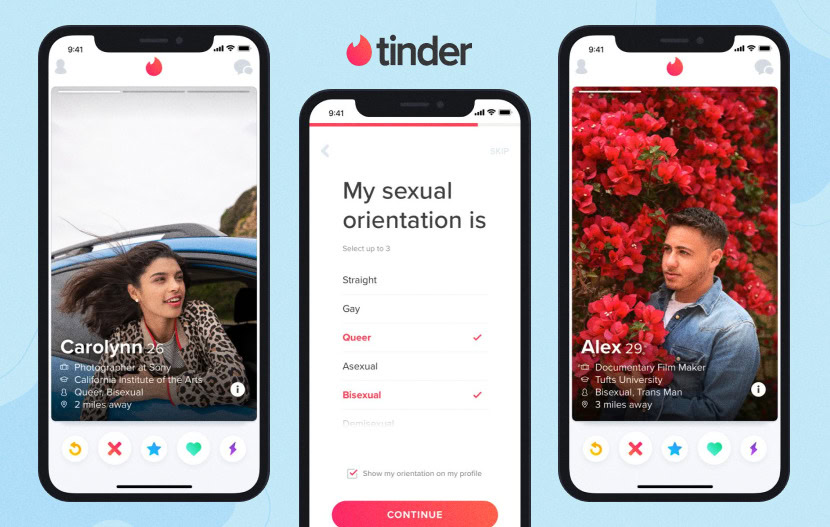 Pros
Simple, easy-to-use app
Straightforward sign-up
Millions of active members
Several advanced features
Cons
Not ideal for a mature audience
Complicated pricing structure
Pricing
1 Month Tinder Plus – $17.99
6 Months Tinder Plus – $53.99
12 Months Tinder Plus – $71.99
1 Month Tinder Gold – $26.99
6 Months Tinder Gold – $80.99
12 Months Tinder Gold – $107.99
1 Month Tinder Platinum – $35.99
6 Months Tinder Platinum – $107.99
12 Months Tinder Platinum – $134.99
Tinder has been around for a minute and is undoubtedly one of the most popular dating apps around.
But just as it is popular, so too, is it competitive. This means getting some action on Tinder will largely depend on your profile more than anything.
Everyone loves a looker-on Tinder, so it's best to upload several of your best photos. And they should showcase your personality somehow, too.
The geo-matching algorithm used by Tinder means you'll be getting suggestions based on your location.
Perfect for that quick one-night stand, right?
Tinder's swipe style matching caused ripples in the online dating scene. And it didn't stop there. Boost, rewind, and passport are some of Tinder's best features.
You can make your profile stand out, rewind a left swipe or browse matches globally.
Sign up on Tinder to start swiping and find your next date.
9. Zoosk – Best Adult Dating Site for Both Casual and Serious Dating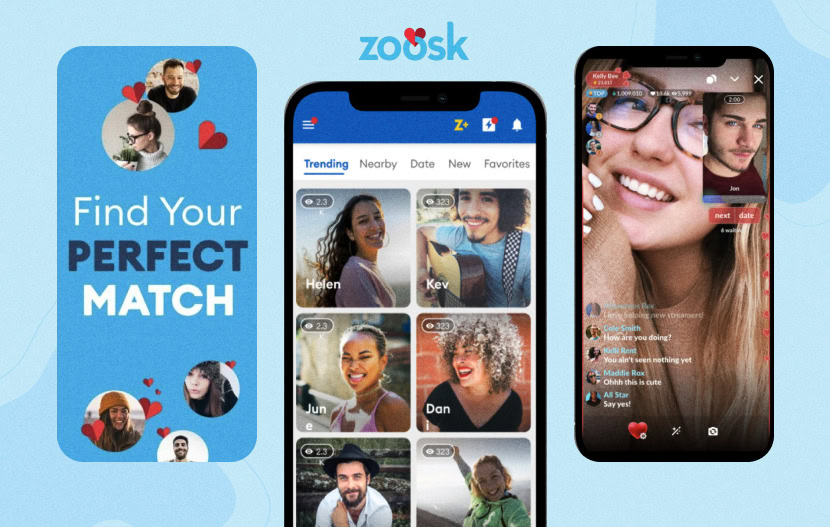 Pros
Most profiles are detailed
Long-term and casual dating
Superior matchmaking algorithm
Healthy gender ratio
Cons
Sign up process is lengthy
Not ideal for fast hookups
Pricing
1 Month – $29.95
3 Months – $59.95
6 Months – $74.99
12 Months – $149.95
While we wouldn't recommend Zoosk for fast hookups, it's a nice option if you're after a casual relationship that can become serious.
Most members are in their late twenties to mid-thirties and are looking to settle down.
So if you're in that headspace where you want to find someone with similar sexual preferences who you can enjoy forever with, then Zoosk can work wonders.
It's nice that Zoosk uses a unique yet advanced algorithm to suggest profiles on your feed. The algorithm compiles the data you provided during sign-up and only recommends members with suitable preferences.
A good number of profiles on Zoosk are complete, which allows members to review profiles before initiating contact. You can learn enough about a member within the first few minutes of viewing the profile.
Join Zoosk today and take advantage of its advanced matchmaking algorithm.
10. Hinge – Young Adult Dating App on The Rise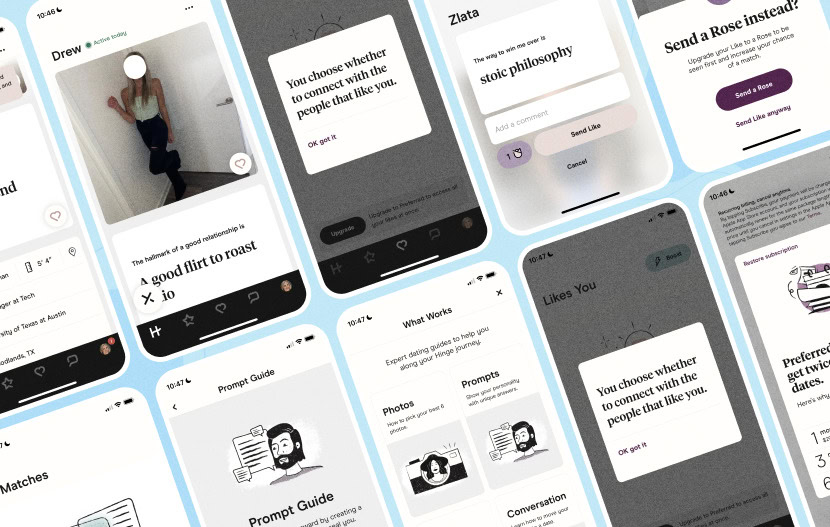 Pros
Compatibility-based matching
Suitable for long-term dating
Easy to use
Profiles regularly monitored
Cons
App can lag at times
Not as popular as other apps
Pricing
1 Month – $9.99
3 Months – $20.97
6 Months – $29.94
It's not always that you want casual encounters from a site. At times, good vibes and companionship might be all you need.
With Hinge, you get a mix of both worlds, real-time flirts that can lead to casual encounters, and an accurate matching algorithm that boosts the odds of finding your better half.
It seems that everyone on Hinge is on a mission to find the perfect partner. Most profiles are active and highly responsive, which is a great deal if you want to find a companion fast.
Hinge is big on making the first impression last.
And as such, members must upload high-quality photos and detailed-enough bios. Your stated preferences during sign-up and bio details will play a huge role in determining profiles that pop up on your feed.
While using the app is free, the premium membership gets you unlimited likes, additional search filters (like political stance and smoking), and instant matching.
Open the doors to your love life by signing up on Hinge today.
11. Bumble – Best Adult Hookup Dating App for Women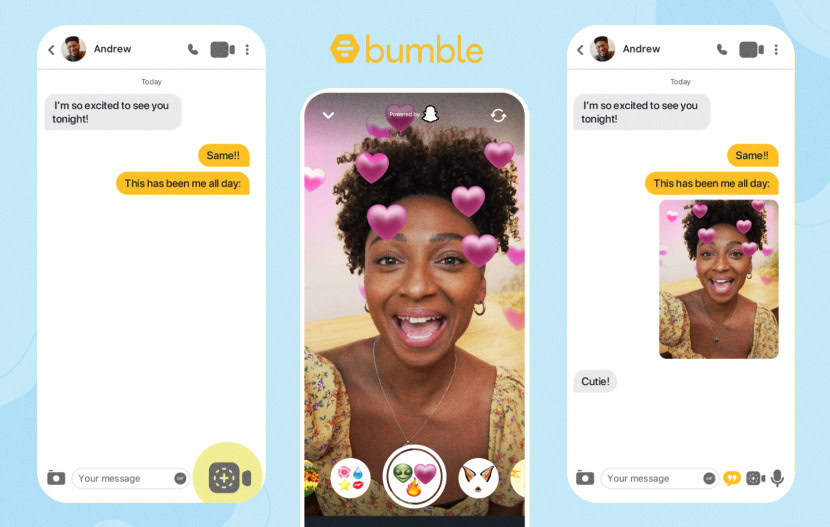 Pros
Only ladies can kickstart conversations
Accounts regularly monitored
Chat room
Several unique features
Cons
Some male members get ghosted
Not the most detailed profiles
Pricing
1 Month – $29.99
3 Months – $59.99
6 Months – $99.99
Lifetime – $149.99
In Bumble, ladies take the imperial role of the queen bee, meaning they have the first and, well, the last say.
Guys have to play the waiting game and hope to get contacted. While some guys get tired of waiting and flee to other apps, others set up decent- enough profiles and wait for ladies to swarm.
And trust us, the system works wonders.
The best way to buzz on Bumble is to log in frequently and respond to initiated contacts as fast as possible since matches expire after 24 hours.
Bumble is an SFW dating app and doesn't allow members to make any crude, sexual or offensive remarks. The Bumble admin team is always monitoring profiles and usually terminates suspicious, idle, or reported accounts.
Bumble integrates tons of unique features to make the dating experience worth the while.
Some of the top features on Bumble include Bumble BFF (to find friends), BumbleBizz (for professional connections and networking), Backtrack, and SuperSwipe.
Create a free Bumble account and take advantage of its communication-enhancing features.
Tips For Succeeding On Hookup Adult Dating Sites
Choose A Suitable Dating Site
The first step to succeeding on hookup sites is choosing the right platform. As you may have noticed from our review, every site caters to a unique market. While some are great for sexual fantasies, others work better for adventurous couples and so on.
Set Up An Outstanding Profile
Now that you've chosen your preferred dating site, the next is to charm other members by setting up a killer profile. To do so, you'll need to upload your best photos and craft a short but catchy bio. Try to be genuine and showcase your personality.
Be As Direct And Interactive As Possible
Being modest or shy beats the logic of signing up on hookup sites and apps in the first place. The trick is to be transparent about your preferences. Whether you're into BDSM, swinging or whatever gets your blood rushing, state it.
Invest In Premium Features
Getting some action on hookup sites isn't as easy as most of us perceive. You'll be competing with thousands of other active users, and the best way to stand out is by using advanced features.
Each hookup website has its features that can act as 'cheats' and help you jump ahead of the queue. So don't hesitate to upgrade to premium if it means getting an edge over others.
Best Sex Dating Sites and Apps – FAQs
How Do I Choose The Best Adult Dating Sites?
You can choose the best adult dating sites by considering a variety of factors like cost, features offered, member quality, ease of use, security, and reputation. We recommend Adult Friend Finder, Ashley Madison, Tinder, and Hinge as reliable options.
Are Adult Dating Apps Safe to Use?
Adult dating apps are safe to use for several reasons.
First, most of these top hookup sites and apps use industry-standard encryption to keep your data safe. Additionally, top adult dating apps have active customer support teams that monitor profiles and flush out any suspicious profiles.
Which Best Adult Dating Site is Completely Free?
Ashley Madison is completely free for ladies in search of men. Additionally, top sites like AdultFriendFinder, Passion, and SearchingForSingles allow members to sign up and view profiles for free. But you'll have to pay to access premium features.
Do Sex Workers Use Casual Dating Sites?
Sex workers do not use casual dating sites as their transactional services are not welcome. Almost all of the best hookup sites have strict policies regarding sexual services and won't hesitate to close any accounts found to solicit or promote illegal behavior.
What Are Some Safety Tips for Dating Online?
Some important safety tips for dating online include doing your diligence before meeting a date, setting up meetups in public places, and taking things slowly until you're sure enough. You should also avoid sharing your details with potential dates.
How Do Adult Dating Sites Show Up on My Bill?
Most adult dating sites show up on your bill anonymously. However, since billing policies vary from one hookup site to another, it's best to inquire first to be on the safe side. But a site like Ashley Madison bills you anonymously to keep your activities discreet.
RELATED READING: Top VR porn scenes
Which Top Adult Dating Site Will Be Yours?
Securing a hookup online has never been easier. But you'll need to play your cards right if at all you're to secure that much-needed hookup.
Signing up on AdultFriendFinder, for instance, is a great way to boost your odds of getting laid. Not only does it have millions of members, but you can also customize your searches based on filters like geographical distance, sexual preferences, and age.
Whichever platform you choose to try your luck on, it's best to avoid rushing things, as no one site is 100% secure.
And when it's time to get down to business, ensure your first spot is a public place and that your friends (or family) are aware of your whereabouts.
May your wildest fantasies become a reality!
RELATED READING: Top cam sites