While sex is not the most important aspect of a thriving marriage, any couple being honest with themselves will admit that a boring, or even dead, bedroom can spell disaster for your partnership.
A common bit of advice for pairs in this predicament is that they need to "spice things up" to reignite their passion for each other. It's good advice, but it's also pretty vague.
Adding some spice to your sex life is important, but how you go about it is just as, if not more, important.
If you and your partner are stuck in a rut, here's a specific recommendation:
Bondage gear and BDSM sex toys.
That might raise some eyebrows and cause pearls to be firmly clutched, but let's actually discuss what BDSM is and how it could change your sex life and marriage as a whole.
Strap in.
What Causes Dead Bedrooms
Before we get into the fun stuff, we do need to address the elephant in the bedroom.
What can lead to your once hot and heavy relationship going cold and limp?
There are some unavoidable sexual speed bumps that come with growing old together, such as decreasing sex drive as you age or slipping into a routine that becomes tedious instead of comfortable.
If those were the only factors, then a bottle of wine, some Viagra, and a copy of the Kama Sutra would be all you need.
The fact of the matter is that modern day-to-day life is a huge cock block.
The stresses of just trying to get through the week can have severe impacts on sexual drive and function, which leads to depression and more stress, which can have severe impacts on sexual drive and function, which leads to depression and more stress, which…
You get the idea.
The vicious cycle of stress and sex is only one part of the problem. Living in this hellish feedback loop can cause conflict in all aspects of marriage and drive a wedge between you and your partner.
Communication breaks down, little things you never noticed before start driving you insane, resentments grow, and all the while you become less and less attracted to the person that used to flood your basement with a glance.
The issues these couples experience are impacted by almost everything that happens outside of the bedroom.
As Based Giga-Chad Oscar Wilde once said "Everything is about sex, except sex."
Is it difficult to beat this sexual Groundhog Day?
Yes.
Is it impossible?
No.
Bondage gear, bondage sex toys, and BDSM sex toys can be a major help.
What is BDSM and What Isn't?
For as much as BDSM, Bondage, and general kink have entered the mainstream (thank you 50 Shades), there are still lots of people who don't quite understand it.
BDSM, which stands for Bondage/Disciple(or Domination)/Sadism/Masochism, conjures images of people in leather and latex whipping the absolute shit out of each other while screaming insults with little regard for someone's boundaries.
That is not accurate.
Kinky folks who are into BDSM may be into pain, either giving or receiving, but pain isn't the main draw.
That Oscar Wilde quote up above? There's one more part of it that often gets forgotten:
"Everything is about sex, except sex. Sex is about power."
Playing with levels of power and control over someone else is probably the biggest part of BDSM. Some people want to be in charge and some want to let someone else take the reins.
Sometimes literally.
Think of the cliche of the Wall Street Stock Bro and his fetish of being treated like dirt by an aggressive Dominatrix. The idea of a powerful person getting off on losing that power for an evening makes sense.
The reverse is just as valid. People who generally experience a lack of control or power in their lives might enjoy being the one calling the shots for a change.
That being said, kinksters do not take that power lightly. Trust and consent are the bedrock of BDSM.
Where do you think the concept of "having a safe word" came from?
Both parties communicate their wants and their boundaries beforehand and stay in constant communication during playtime to keep things safe and fun. Think of it like going to a haunted house attraction or watching a scary movie.
You get a thrill and have a blast because in the back of your mind you know there is no actual danger.
In a Submissive/Dominant relationship, the Sub may seem like they have no control or power, but that is part of the illusion. In reality, they have total control over the situation as long as their Dom is being ethical and listening.
Bondage and related kinks are also not entirely about receiving or inflicting pain, especially punishment that can cause bodily harm.
As intimidating as bondage gear, bondage toys, and BDSM sex toys can look, the experience is more about creating sensations. Those sensations can include pain, but they can also be tickling, tingling, heat, cold, pressure, or any tactile experience that zaps your attention to your body.
The focusing of attention on your body in that moment is another wonderful part of BDSM. Worries and concerns of the day disappear as you're solely focused on what you are feeling in the here and now.
It is, like, super hard to think about picking up dry cleaning and work emails when you're tied up, blindfolded, and having ice cubes rubbed on your nipples.
BDSM is about communication, trust, pleasure and being present in the moment.
Ringing any bells?
BDSM Sex Toys and Activities
Now that we have established what BDSM actually is, let me lead you through some of the different types of BDSM sex toys and some ways you and your beloved can enjoy them.
Our Guide to BDSM Sex Toys also has lots of information.
Bondage
Bondage gear and bondage sex toys are all about restricting a Submissive's ability to move. That could be just their wrists or could even be their full body.
Bondage also includes other ways of restricting someone's actions like using bondage gear like blindfolds to see or a gag so they can't say something awkward and spoil the mood.
Being tied up and blindfolded as a Submissive means you are putting total faith in your Dominate, adding excitement and tension since you don't know what they're about to do and you "can't" stop them.
Obviously, you technically can with a safe word.
It's also obvious what the Dom gets from this: they are the captain now.
If you're thinking that bondage sex toys like handcuffs are the way to go, they do make handcuffs specifically for bondage that can be quickly uncuffed as a safety precaution.
Do NOT use actual cop handcuffs, even if you still have a pair from that night in Reno that ended with you being barred from entering Nevada ever again.
Most stores or websites that offer BDSM sex toys will have a beginner's pack with some straps that you can use on your bed. These straps are soft, comfortable, and can be quickly removed to avoid a Gerald's Game situation.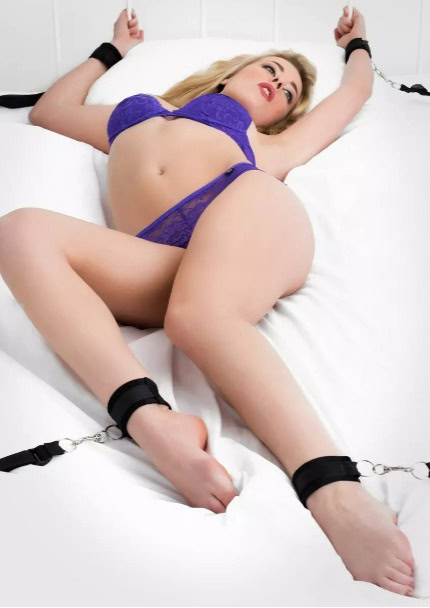 These packs will typically come with an eye mask and some kind of soft BDSM sex toys like feather dusters for teasing your Sub until they can't take it anymore.
If you're not ready for a full-on kit, one of my personal favourite bondage sex toys is self-adhering bondage tape. It's a plastic-y roll of tape that only sticks to itself and not skin. They're great for travelling and tying someone's hands together or limbs to a chair.
Speaking of chairs, there is a wide variety of "bondage furniture" like the infamous St. Andrews Cross, but these are quite the investment.
Ropes are another fan favourite in the BDSM community, but usually not just any rope you can get at a hardware store. And definitely not tying knots you'd learn in Boy Scouts.
Man, I really hope not.
Part of the fun of getting into BDSM sex toys as a couple is learning the ropes, literally and figuratively. There are hundreds of in-person and online resources so you can both feel comfortable learning specific knots that are safe and easy to untie together.
It's like taking a couple's pottery class, but way cooler.
Using bondage sex toys in role-playing scenarios is a great way to connect with your partner by learning more about their fantasies.
Maybe the Mrs. wants to be tied down like a damsel on train tracks while Hubby monologues and twirls his moustache. On other nights, he can get tied up while she interrogates him about being a spy while you both try not to giggle about her Russian accent.
Use your imagination and have fun with it!
Spanking, Whipping, and Flogging
Now we get to the S and M in BDSM.
With any and all of these BDSM sex toys and activities, do some research on proper techniques and talk to each other about how hard either of you wants to go.
Remember: Safety and Communication!
You can spank with just your hand, but there are some fun BDSM toys to up the intensity and theatrics a bit.
Spanking paddles (yes, like the frat house kind) help spread the surface area of impact a little more and save your hands from stinging too much.
You don't need to go for a hard, wooden paddle if you don't want to. There are many types of paddles that are covered in leather or another material that helps soften the blows.
Riding crops and whips are probably one of the most recognizable kinds of BDSM accoutrements. These give a much more centralised and stinging sensation, even with a tiny tap.
The whips for S and M enthusiasts are not like Indiana Jones's bullwhip, which would peel the flesh right off of you. These BDSM sex toys are made specifically for sexual adventures and don't hit as hard while offering the same thrilling sound.
They also just look rad as hell.
Floggers, which are those pom-pom-looking unbraided whips, give an almost electric sting that peppers your skin and makes it more sensitive to touch.
You can even swing with a bit more gusto, as the floppy fronds spread out as they travel through space and help slow the impact without sacrificing the feeling.
Paddles, whips, and floggers will probably leave a red mark, but shouldn't be bruising or breaking the skin. Again, communicate and don't be anxious about stopping the festivities if it becomes too much.
Bondage Gear and Outfits
I don't think I need to explain why seeing your partner in bondage gear like a leather harness or latex dress is f*cking awesome.
I will say that bondage gear, along with wigs and masks, is an easy way to address the marital sex issue of being with the same person for so long. I'm not saying that the fix is that you can now pretend you're banging someone else, but no judgement if that is your thing.
For one, it might make you see your long-term partner in a new way, maybe in a way you never could before. If you've been browsing sites like Omegle fantasizing over strangers, this might just be the change you need.
Instead of seeing Gary, your husband of 13 years and avid golfer, you see the dominant, take-charge man you've fantasised about.
It would be hilarious to have him wear a jewelled dog collar that says "Gary", though.
Wearing bondage gear or an outfit can help you see yourself differently, too. Check out any interview with an actor playing a superhero. Donning a costume and new persona can make you feel powerful and confident.
And confidence is sexy as hell.
RELATED: Best VR Sex Toys
Bound, Together
So, how does all this help save your marriage?
Exploring the world of kink and BDSM sex toys with each other can help strengthen your connection in a myriad of ways. Besides just being something novel that shakes things up, it's a new way to express your sexuality and learn more about what makes your partner squeal.
They might even learn some new things about themselves.
It might be a little awkward when you're both starting, but that is sort of the whole point. You're both stepping outside of your comfort zones and being vulnerable, trusting the other person to handle that vulnerability and take charge.
You'll both gain confidence in yourselves and in your marriage as you learn more. That confidence can leak out into your daily lives and help lessen the stress of the world outside your bedroom.
Getting into BDSM sex toys and bondage gear can also help relieve stress by reminding you how to be in the moment and let whatever was bothering you earlier slip away.
Changing up your power dynamics during sex might also fix some power imbalances you've felt in your marriage. It can also help bolster your communication skills and learn more about how your partner physically and emotionally reacts to stress.
Most of all, you'll be boning a lot more. That's just good for everyone.
Here are some quick tips for your BDSM journey:
Don't be afraid to try new things, even if it's something you never thought you would be into.
Don't be afraid to say "no" if something is definitely not your cup of tea. This is for both of you, not just one person.
Reach out to BDSM communities online and in person for advice on BDSM sex toys and starting out. Seriously, it is such a lovely and welcoming group of folks.
BDSM is not about hurting people, physically or emotionally. If you are taking this as an opportunity to physically vent on your partner, then you're just an asshole.
Safety, safety, safety! Go slow at first and constantly communicate. Have a strong safe word, something you don't normally say that sticks out, and respect the other person's boundaries.
Besides that, just have fun and don't take it too seriously. Sex is already a bit silly and weird, and adding a duck mask or heart-shaped paddle makes it weirder.
Just get out of your head, into some leather, and reconnect with that confident, sexy, powerful person you fell for all those years ago.
BDSM Sex Toys Can Save Your Relationship
Life is just too damn short for us to be unhappy in a relationship we know can work.
If you and your partner are trapped in a state of stale sex, adding some BDSM sex toys and activities can reignite that passion you once had.
New things can be a little scary, especially when it involves kinky sex. However, once you two get over the fear, you might be amazed at how much of an impact bondage and BDSM sex toys have on your whole life.
You will feel more confident, less stressed, and hornier for your life partner than ever before while learning cool new skills along the way.
More importantly, you will strengthen your connection as a couple through communication, trust, and adventure.
Oh, and some spanking. 
Check out the Best BDSM Sex Toys, From Beginner to Advanced.