The ANME Founders show is a bi-annual convention in California that highlights the biggest and best in adult novelty manufacturing, all on display for distributors and press to touch and swoon over. 
Surrounded by lingerie, intimate toys, lubricants, sex education, and novelties, this convention left me feeling like an adult in a candy shop as I wandered wide-eyed around the decorated booths. We were lucky enough to gain access to this event as press, and with my husband in tow with his camera and notebook, we scoured for the newest releases in adult novelty products. 
Thankfully, the weather in California was chilly, but that didn't stop the excited sweats from sneaking up on us both as we rounded the corner and caught sight of something enticing. 
The Blush Novelties booth was in full swing, stocked with eye-catching toys that brought us over like moths to an orgasmic flame. In white letters along the wall of their booth, their slogan reads: All Bodies are Beautiful, Worthy & Deserving of Celebration and Pleasure. The words were a beautiful welcome to their company and the intimate and wonderful toys they consistently bring to the table. 
I catch sight of the Wellness collection right away, a gathering of products I've come to know well. This collection from Blush is stocked with toys that are perfect for beginners, and seasoned enough for intermediate players alike. 
Held on a mannequin hand, a bean-shaped toy perched in the Wellness collection signature purple silicone. I gravitated to it, holding it in my hand as I felt how perfectly it slipped between my fingers, the squishy tip providing enough flexibility to press against the skin for a deeper vibration. 
This toy, dubbed the Palm Sense, has 10 vibrating functions and can easily slide between your fingers for a comfortable and secure hold. A prime example of Blush's strides in accessibility in their intimate toys.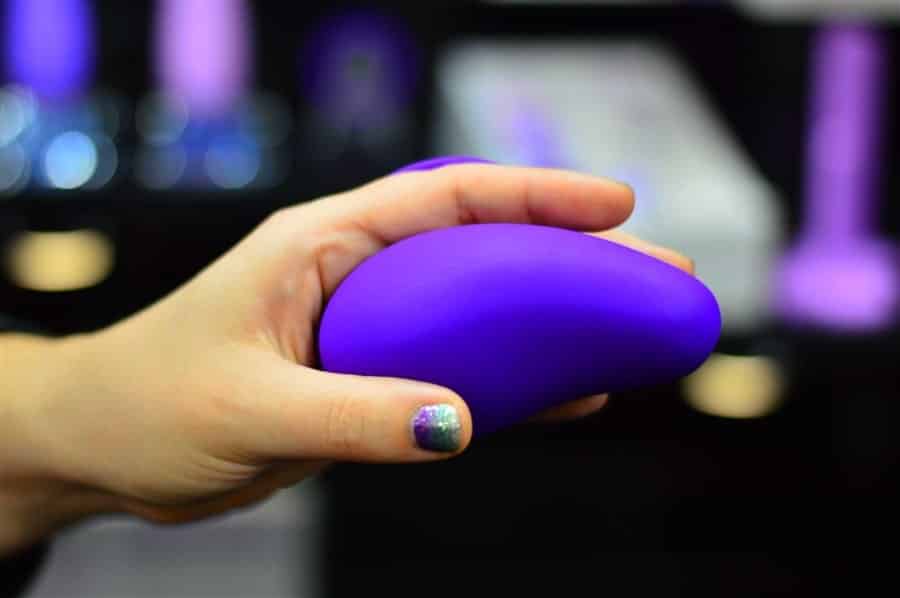 I tried to pry away, but we didn't make it very far. 
Directly beside Wellness, Blush's newer collection Noir makes its debut. A black and white array of sensual BDSM bliss, Noir has three pictures above their toys showcasing the products. One shows a blindfolded model with another behind them, lowering a ball gag towards their mouth. The picture in the middle has a dominating presence, sensually holding the Noir crop in hand. In the third picture, stocking clad legs stand before a couch, the person on the couch staring intensely as they anticipate pleasure.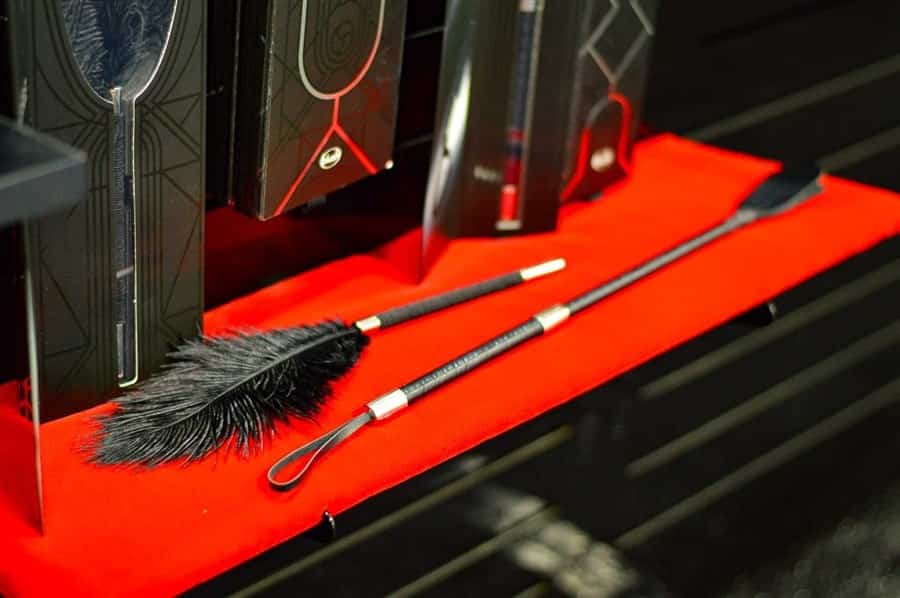 We approached the display, grabbing onto a ball gag unlike any other I've seen. The ball is silicone, the strap fully adjustable. There are three holes through the silicone ball, providing ample room for breathing through your mouth during play. Beside this gag, a black feather tickler and crop lay on a red silk plush. Each product in the Noir collection screams elegance and temptasion, most items displayed appear perfect for those starting their BDSM journey, enticing all the senses as you submit to pleasure.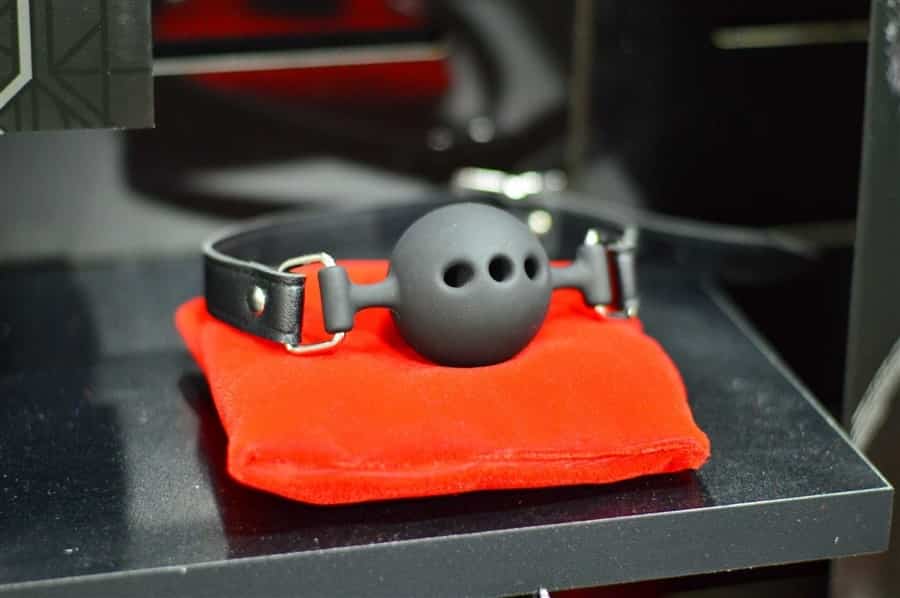 We knew we had to move on, there was much more to be seen!  
Reluctantly we left Blush and made our way through booth after beautiful booth, searching for the newest and best these wonderful manufacturers could provide. The Marriott conference halls were buzzing with excitement and the chatter of meetings as product deals took place. Despite it being the smaller of the bi-yearly ANME events, we were amazed at how many different companies had decided to attend, and the adorable swag they had available. 
Rounding the corner, we caught sight of the well-lit Satisfyer booth. Having danced with some of their pressure wave toys in the past, I had to see what new additions they had in store. A kind face met us right away, leading us to a table amidst the booth, covered in silicone vibrators in an array of bright colors. 
"Want to see something amazing?" 
When we were asked, there was no possible way we'd turn her down. Pulling a phone from her pocket, the woman quickly accessed the Satisfyer app. She showed us how this app is designed to sync up with some of their toys, providing long-distance control, music and sound vibration sensitivity, and a feature we had never seen before: Face-to-face interaction with your partner. 
Calling up her friend at the booth through the app, she showed us how we could not only see the face of the one she called, but could easily give over control of the vibration on the toy in our hands to the other person. It was a feature I would have loved to have during one of my long-distance relationships in the past. The option brings another level of intimacy between the users, connecting them further than ever before as they engage in partnered pleasure.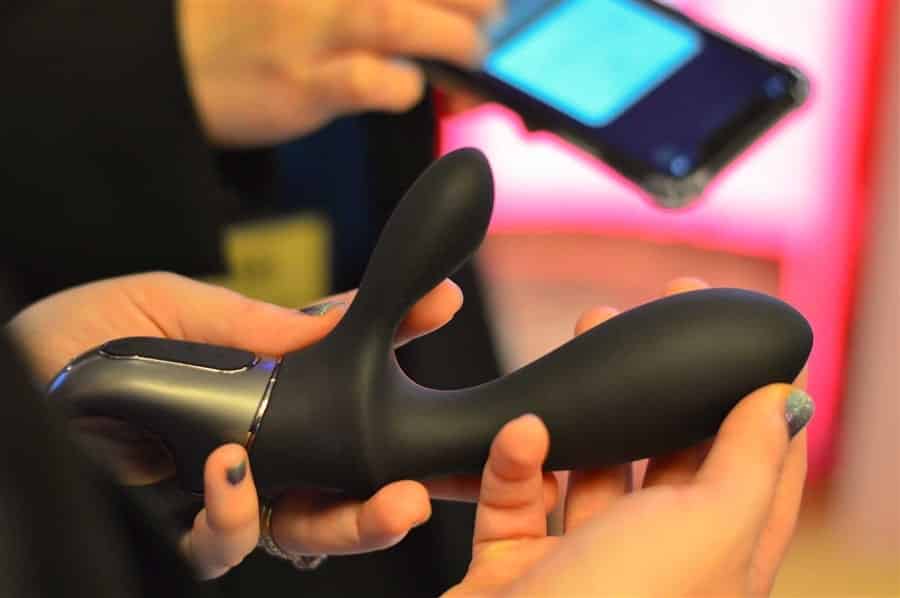 In the next building over, we stumbled upon the Maia Toys booth! 
Both my husband and myself have tried a few of their toys in the past, but it appeared quite a few new designs had been rolled out for the show. The amazing team at the Maia booth was quick to pull out a long, straight silicone toy that reminded me of a massive spoon, showing it off to both of us. At first, I had no idea what I was looking at, but when the toy was bent into a c shape, creating what appeared to be a couple's vibrator, I had to get my hands on it.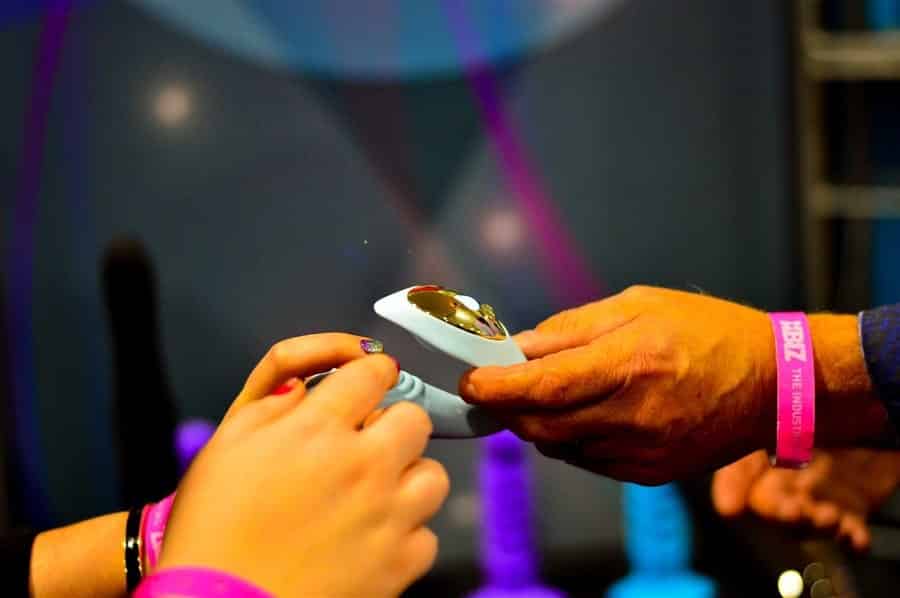 The HARMONIE is a 15-function, USB rechargeable, remote controlled toy that can be bent into both a couple's vibrator, and a solo toy. When bent, the toy's firm silicone keeps shape, keeping the vibration pressure consistent and just the way you want it. On the head of the toy, a roller ball runs back and forth, my mind racing over thoughts of the pleasure it could create on my clitoris. Unique and powerful in my hand, the HARMONIE was a toy I knew I had to possess by any means necessary. 
 I was finally navigated away from the Maia Toys booth. 
Perhaps it was my hunger, but we both found ourselves making a pit stop at the b-Vibe booth on our way out. Why would my hunger cause us to stop at b-Vibe, you may ask? Well, amidst their meticulously designed settings, three plugs caught our eye and our stomachs. The Bump, Swirl, and Twist butt plugs are all bright silicone, perched near fruit and vegetables that compliment their shape and colors. Appearing almost like a carrot and other healthy snacks, these anal plugs are a beautiful addition to any anal collection.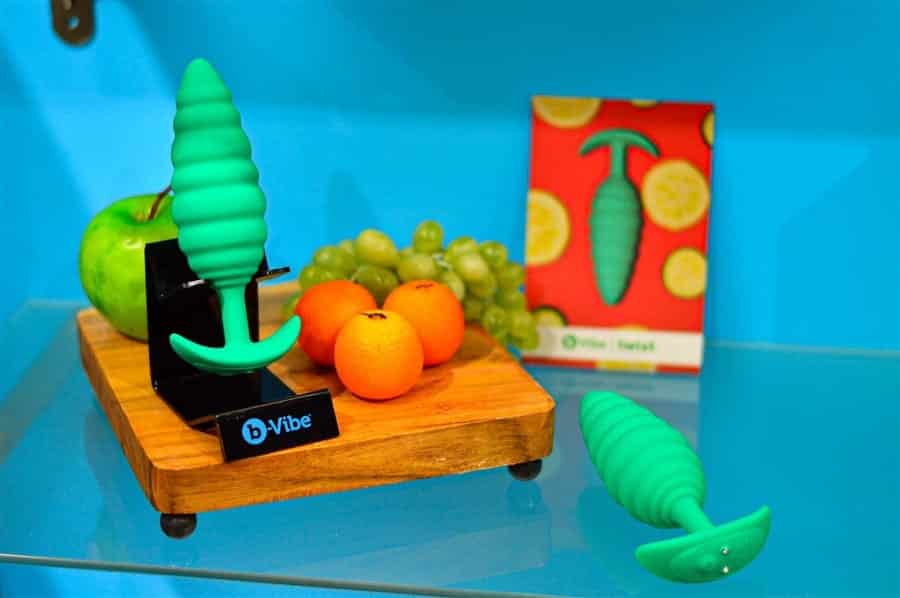 My fingers rubbed over the Bump, Swirl, and Twist, the silicone's texture complimenting their names as each plug provided a new shape and sensation that anal lovers can explore during play. All three plugs have 6 powerful vibration patterns to navigate and are heavy enough to provide a full and filled feeling when used.
B-Vibe never ceases to amaze me with their beautiful designs and comprehensive how-to guides on anal play, so I am not certain why I was so surprised by these new plugs. Nonetheless, b-Vibe strikes again! 
 The food display may have caught our eye, but these plugs caught our heart. 
After eating and perusing some more, we stopped at the Icon Brands booth to take a peek at their vast array of different adult novelties. Unable to resist spanking the TPE booty masturbators and reveling in their realistic wiggles, my husband and I saw something both alluring, and horrifying. 
I have no doubt in my mind having masturbators with faces on them can be a sexy experience and certainly can invoke a new level of realism to masturbation. That being said, the gazes of the faced masturbaters begged I take a closer look.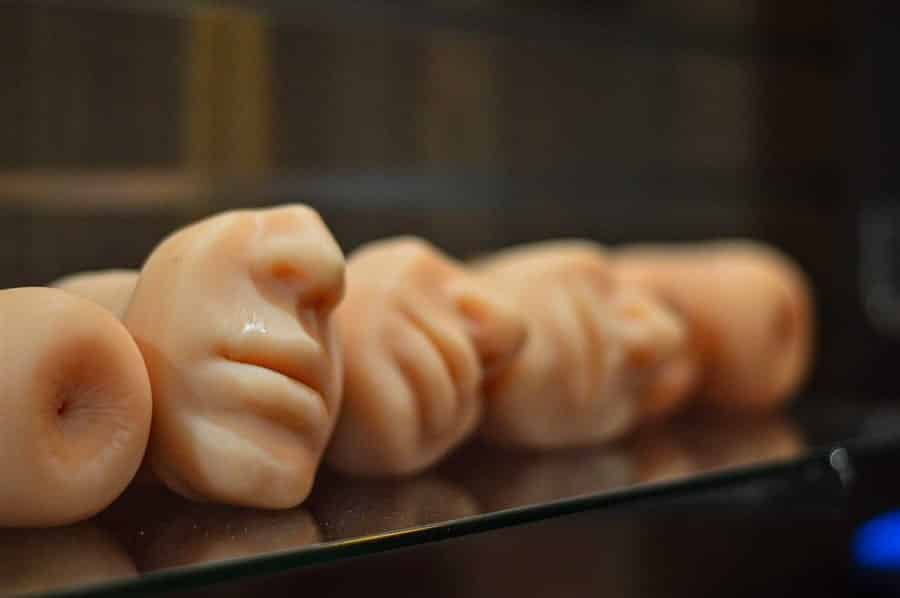 Icon Brands has a large collection of penetrables ranging from large, realistic asses and pussies, to full on sex dolls. For those wanting a more body-safe option, Icon Brands also had a large collection of silicone and glass toys available and newly released. Among them, a dramatically curved g-spot vibrating rabbit dubbed the Linea Duo Rabbit. 
There was quite a bit to see at the Icon Brands booth, but the face masturbators will forever haunt my mind and imagination. The perfect mixture of pleasure and horror. 
The ANME Founders show was such an incredible experience and we were blessed to be able to speak to so many knowledgeable sales staff and manufacturers during the event. It appeared that along with the ever-growing collection of air pulsation toys, app-enabled toys were the most popular highlight among the new products. Of course, we were not surprised and cannot wait to see what new options toys and the pairing of technology will provide in the future.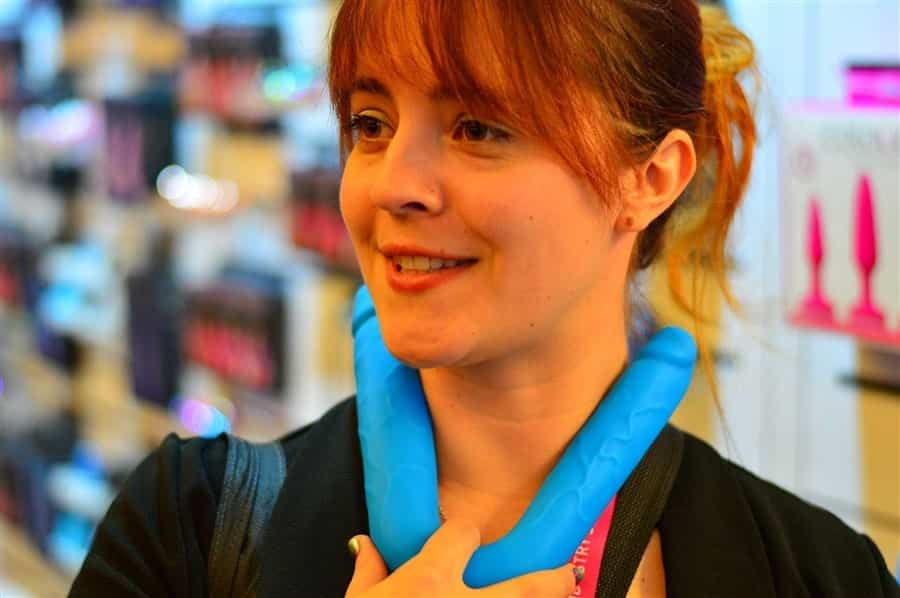 It's more than clear that an immense amount of time, research, and passion went into the creation of these toys and the presentation of the booths at ANME. Each company welcomed us with kindness and knowledge, sharing their new toys with grace and excitement. The adult novelty community is a beautiful one and it will be an adventure to see what changes and new toys are presented during the July show. 
There's no doubt we'll be there to squish all the toys and touch all the vibrators.